Richard Matheny
---
May 2022 - Female Blue Bird
Original
About the Image(s)
This time of the year I get a lot of bird action in my backyard. I have several feeders with perches for the birds to land on for their photo shoots. I have placed the perches at the height that is in line with my personal perch consisting of a patio chair behind the patio table which holds all my photo equipment and an ample supply of Coffee.That set up keeps me on the same focal plane as the birds I am photographing. I keep a good supply of mealworms for the Bluebirds, which they really like. This post/perch that this lady Bluebird is on has a natural cavity on the top which will hold a handful of worms. I found this perch along the bank of a saltwater canal on the north coast of Georgia.I am always looking for things to add to my backyard setup and it's nice to be able to change the sceney now and then. For this image I knew beforehand that the birds are going to land on that post so my camera is pre-focused on that spot.. Of course my camera is on a tripod so, once focused it is just a waiting game.
My equipment was my Nikon D500 and 300mm PF lens with a 1.4 convertor. There is a large tree that supplies a lot of shade to the area.The early sunlight coming at a low angle gives some light but I still have soft lighting because of the shade in the area. My camera settings for this shot were 1/1500 of a sec, and ISO of 1250. I know she was sitting still and I could have used a much lower speed and ISO but these birds never sit still for long, Shooting at F4.
While the original image is just OK it is a little flat. I used Lightroom's updated version with the masking features to warm up and brighten the image. I used the radial gradient mask for directional lighting on the Bluebird. I also used the Brush tool to add some darker exposures where I thought it would add some depth and definition to the image.


---
10 comments posted
---
---
---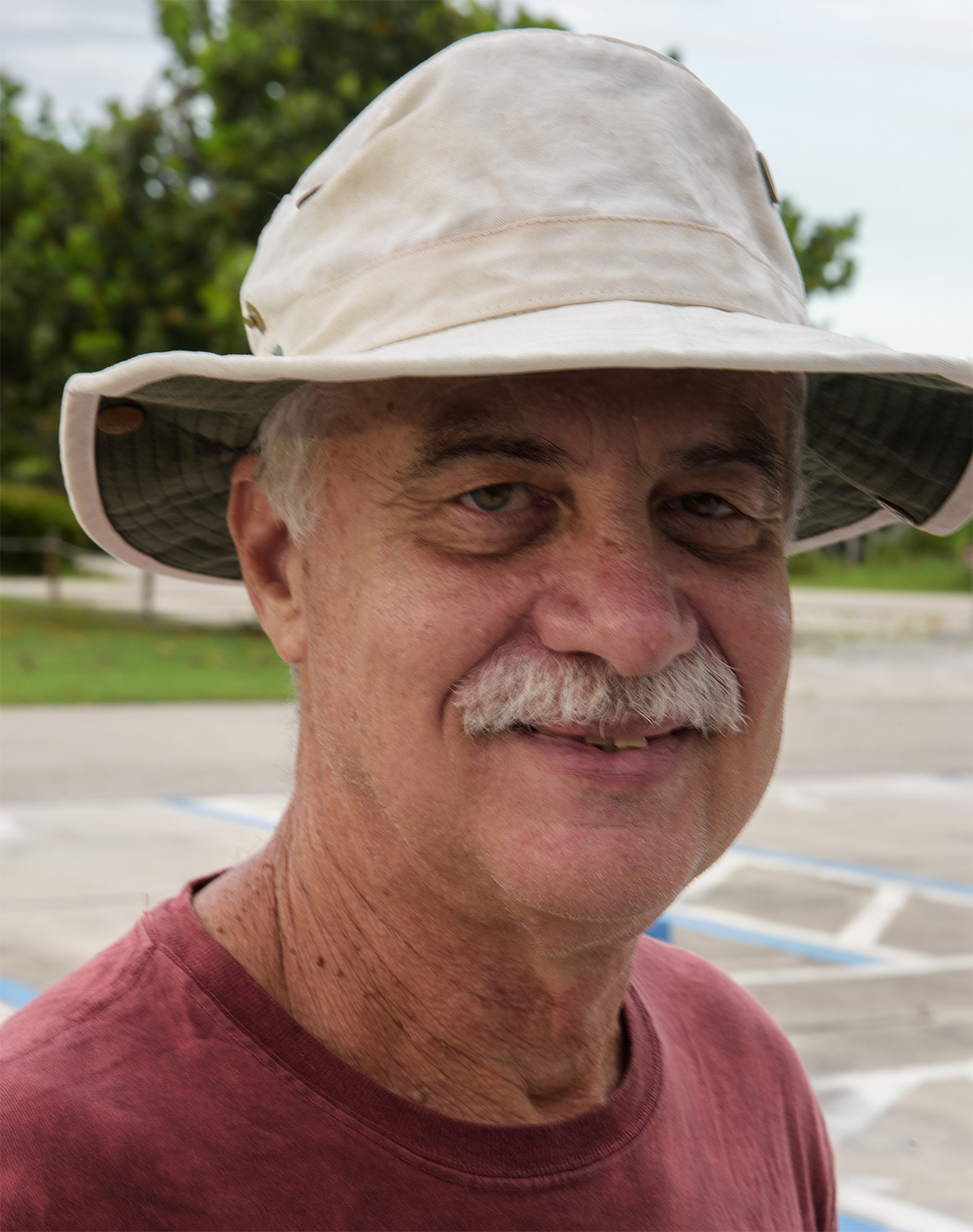 Larry Treadwell
I think you have done an admirable job of creating an outdoor studio for your model. Clearly they and you are enjoying your time. Just curious---in feet, about how far away are you from the young lady model?

I'm working on a set up for nuthatches along the same lines.

The post work you did adds a great deal and make this scene just come alive. Would it be possible to raise the aperture just a bit? The bird does look a bit soft or maybe even apply just a bit of selective sharpening to the bird?

I hope I get to see more images from your studio. This is a really nice one. One final question---will you switch to ice tea as the weather warms up? &nbsp Posted: 05/09/2022 11:58:59
Richard Matheny
Larry, none of my shots are more than about 18 feet and some as close as 14 feet. I do move my chair around some to make use of the sun direction. My set up runs from east to west and the perches are under a large River Birch. I did use some selective sharping and yes, I could have shot at 5'6 or maybe even something up around F8. I do change from, coffee to a cooler beverage as the day warms up. &nbsp Posted: 05/12/2022 17:35:43
---
---
---
Bud Ralston
Hi Richard - I just finished setting up a similar area in my backyard with some driftwood I picked up at the local beach at low tide. I hope I get a variety here as well. Really like what you have done here. Keep shooting! &nbsp Posted: 05/12/2022 13:22:45
Richard Matheny
Thanks, Bud, for the comments. Thats what I have done is to gather driftwood, and downed tree branches. My best find is what appears to be a large limb cut from a tree about the length of a short fence post with a cavity on the top perfect for mealworms or birdseed. I place several feeders with different types of seeds for different birds close to the perches but not so close that they become part of the pictures. It may take a while but most times you can attract several species to your feeders. Don't forget the Hummingbird feeders.
&nbsp Posted: 05/12/2022 17:44:47
Bud Ralston
Yep! I have them all, feeders, suet hangers, hummingbird feeders, and even the hollow at the top of one driftwood log. Now I just need weather and time. &nbsp Posted: 05/12/2022 18:02:32
---
---
---
David Kepley
Richard,
Thanks for giving us all the info on your outdoor studio. I've got to figure out how to do that! The image of the bird is tack sharp and you have the bird in an interesting pose. I also really like the stump the bird is perched on. This makes the scene look very natural. The only thing I might consider is darkening the background some more. The bright yellows to the left draw my eye away from the bird. You might darken and desaturate theis area. &nbsp Posted: 05/13/2022 10:45:06
---
---
---
Michael Weatherford
What a concept! Instead of going to the subject, let the subject come to you. Can I get that to work for waterfalls? This is a beautiful shot. The soft colors are rendered just right. The background is beautiful with soft bokeh. The eye is sharp and feather detail is OK. Well done IMO. &nbsp Posted: 05/16/2022 14:18:57
---
---
---
Richard Matheny
Thanks David. That yellow is from row of Yellow Privet on some common area behind my home and when the sun is out, and it usually is here in SC it can be really bright. It is out of focus enough for me, but I could try and tone down the brightness some more. I do think it would help the photo. I have a patio about 16x16 feet surrounded by some flowering hedges and a short wire fence to keep my little dog from running to the neighbors' house for handouts. I keep several kinds of feeders around the outside of the patio edge. and the perches for the birds to land on when coming to eat. I place the perches so that when a bird lands on one of them it will not be too close to a feeder and so won't be in the framed shot. I do change the perches from time to time just to have something different. &nbsp Posted: 05/16/2022 14:22:02
---
---
---
Frank St-Pierre
Richard:
I've never (knowingly) seen a bluebird, so thanks for a beautiful specimen.

In terms of setup, I'm wondering if there's an option to have more distance between perches and foliage, to enhance bokeh? &nbsp Posted: 05/16/2022 16:45:39
Richard Matheny
Thanks Frank. Gald I could hel[p with the Bluebird. Nope, the distance is what it is. My patio is on the back of my home and the end of my property is the edge of the hedge row that does not belong to me. Common community property. I am stuck with it
&nbsp Posted: 05/18/2022 13:49:57
---
---
---
Please log in to post a comment