Bob Legg
---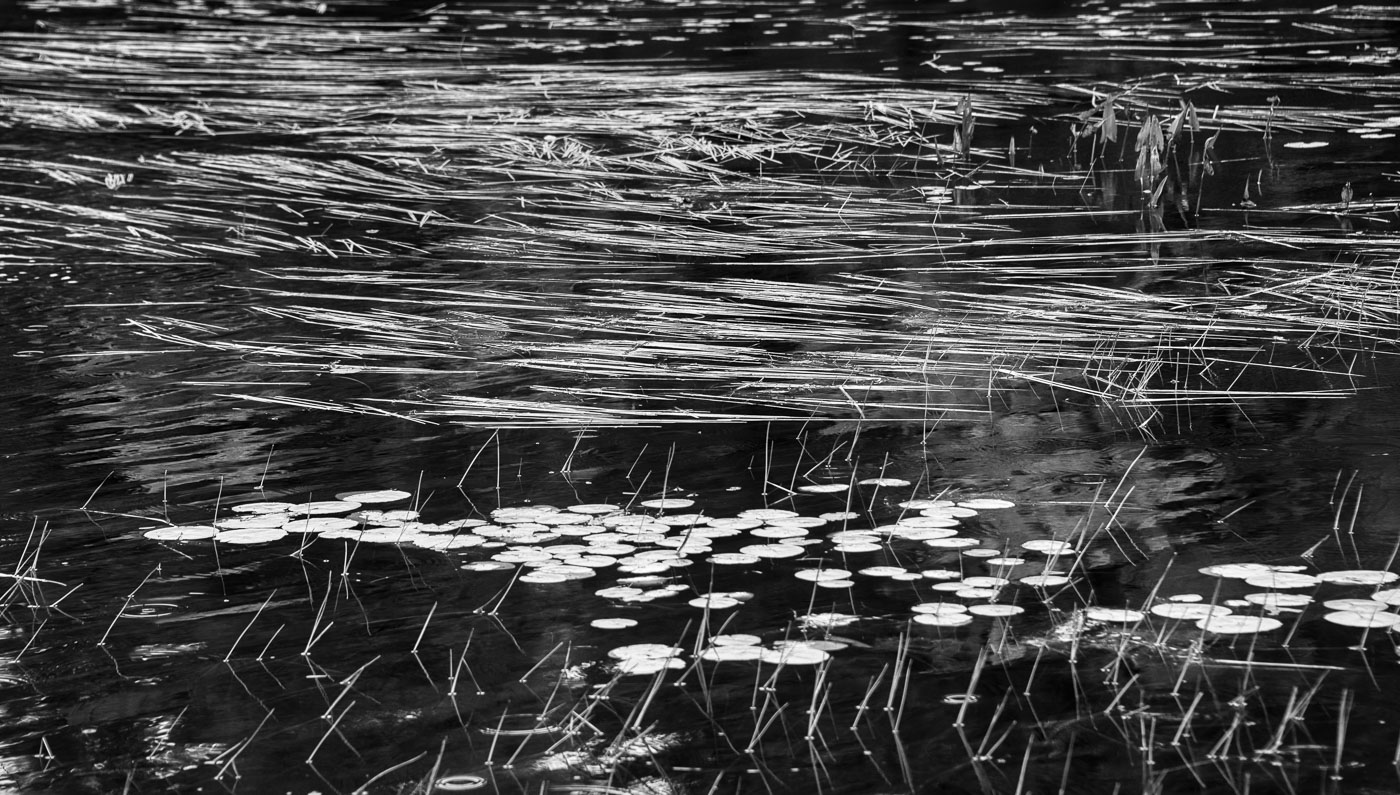 November 2023 - NY Stream Abstract
Original
About the Image(s)
I've been saving this image for a fall, forgot about it in October. He was taken in October in the NY Adirondacks. None of my abstract editing, just black blacks and white whites. Shallow river and standing on the grassy shore, and the rain started; the steam was flowing left to right and obviously of lily pads, and multiple grasses and a touch of orange foliage reflection. I was tempted to have fun with it but it was naturally this beautiful.

ISO 800,135mm, F7.1 and 1/500 sec. Processed in Lightroom.
---
This round's discussion is now closed!
8 comments posted
---
---
---
Bunny Laden
Hi Bob,
The image makes a very interesting BW abstract that is all about texture. I like it.
I also like the original image, which I think works extremely well as a sort of impressionistic painting. I adjusted the color and applied the Cezanne filter (just 30%) in Topaz Studio. What do you think? &nbsp
Posted: 11/04/2023 22:48:00
---
---
---
Bob Legg
Thanks Bunny. I Love it. I find it much easier now to do the colors separately using the LrC color point filter. I didn't change those lily pads to Blue, but I really like the way you did it. Thanks.
Bob &nbsp Posted: 11/04/2023 22:57:09
---
---
---
Mandy Vien
Great artsy original and great BW conversion. &nbsp Posted: 11/05/2023 23:17:32
---
---
---
Emil Davidzuk
Bob,

I know this is a Monochrome forum but I really like the color shot over the BW. The reflections in color really give you points of interest

Regards

Emil &nbsp Posted: 11/07/2023 11:44:25
---
---
---
Oliver Morton
Bob, I was about to say the same thing as Emil, but probably not as well. Nonetheless, I decided to play with your image in PS and Camera Raw. The "streaks" at the top kept bothering me, so I tried to reduce their prominence. Thus, I lowered their brightness compared to the delightful lily pads, and I also turned the photograph into a panoramic. Your thoughts? &nbsp
Posted: 11/07/2023 12:00:01
Bob Legg
Pete, I agree with what you have done IF the image is considered a landscape/panorama, but ...It was taken with very little editing and with the idea it is an Abstract. &nbsp Posted: 11/07/2023 12:45:24
Bob Legg
Hi Pete, I cut to submit earlier this afternoon as I had some contractors drop in. Your panorama idea is great but I want to take a few minutes to see what the color version looks like. It looks more promising than the BW when the highlites are dropped down by those brighter grasses in the top. Thanks for your edit. &nbsp Posted: 11/07/2023 22:24:26
---
---
---
Mark Braun
Wow, reminds me of Monet's Lilies. You've done a great job of using composition and motion to isolate the Lily pads out of a scene that would otherwise be chaotic. I do agree that the color image does a better job of pushing my eye to the Lilies but still like both. &nbsp Posted: 11/23/2023 10:27:02
---
---
---