Oliver Morton
---
January 2022 - Chess in the Park
Original
About the Image(s)
This image was taken about five years ago in Washington DC's Dupont Circle. That circle is a small park that has 10 - 15 permanent stone/concrete chess tables. At almost any time of day, there are people playing chess. A stranger asked if I would like to play a game. Since I enjoy chess, I eagerly accepted. Fortunately, it was not a betting game. But, I did get something out of it... HUMILITY!

The lighting was high-contrast and I didn't take much time to set my camera properly. Thus, post-processing was a key part of salvaging an image. I used Photoshop and Adobe Camera Raw for my modifications.

Data: Canon 5D3; 100-400mm lens @ 214mm; 1/320 sec; f/5.0; ISO 100
---
11 comments posted
---
---
---
Emil Davidzuk
Pete
You will have to spend more time in DC playing chess maybe
I think this is great shot. The concentration of the player comes through to me.
Food for thought. The sun is on the right, witness the shadows on the chess pieces and the back side of the player's left hand. I like your plan to open the dark space on his face and arm but I think it is bit too far. I added three radial gradients in LR to his face to increasingly darken the shadow side of his face without hiding his features. I used one radial grad on his right hand to darken it. This is certainly a season to taste image so you have the final say.
Regards
Emil &nbsp
Posted: 01/03/2022 12:30:48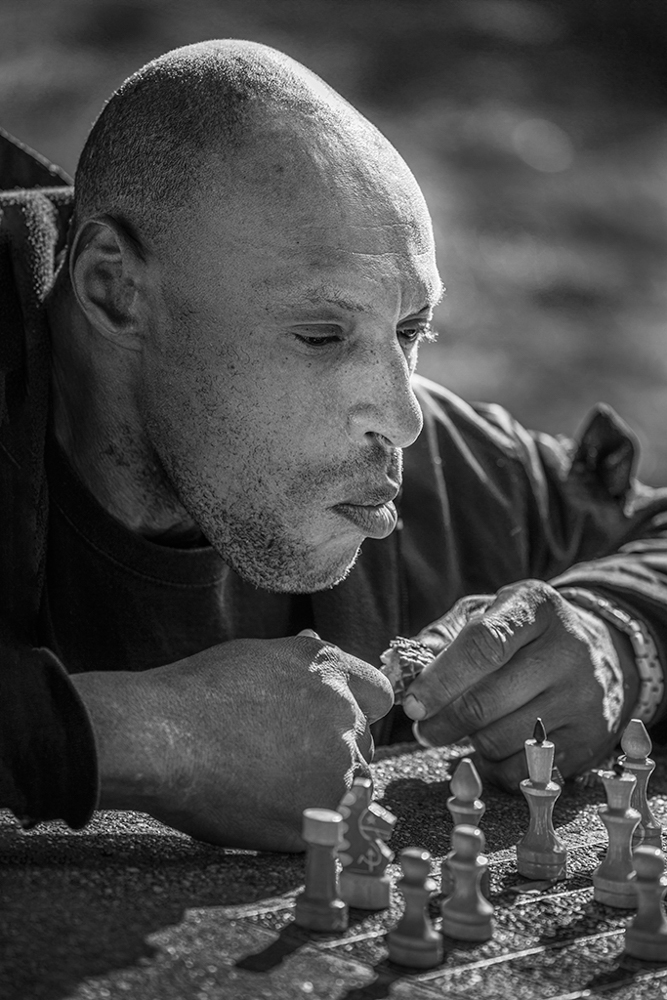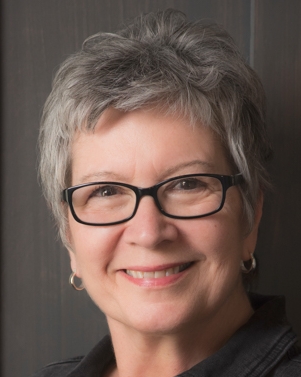 LuAnn Thatcher
I like what you captured in this image, Oliver. With this tight crop, you have eliminated distractions and narrowed the scene down, so the viewer can easily see the subject and what he is doing.

I like Emil's suggested edit; it makes sense to follow the light with my eye and then notice where the shadows will be; I have to remember this tip! Putting more shade on the right side of his face is the right choice. I would add to include his nose on the right side; it appears too bright as well. Easy fix; I love it!

&nbsp Posted: 01/03/2022 15:59:01
Oliver Morton
Outstanding modification, Emil. I must learn to pay more attention to the light direction and falloff. Excellent lesson... thank you! &nbsp Posted: 01/03/2022 16:51:38
Bunny Laden
I just downloaded the beta version of Luminar Neo. It has a relighting feature, powered by AI, and based on a depth analysis of the image. Essentially, it is doing what Emil can so skillfully do with his RI (Real Intelligence). So perhaps this feature is for the rest of us who need Augmented Intelligence.
I applied the Relighting feature to the original color image and converted to BW using the built BW in LR. I twiddled a few knobs that made global changes, but that did not effect the relighting scheme. What do you think? &nbsp
Posted: 01/04/2022 13:16:06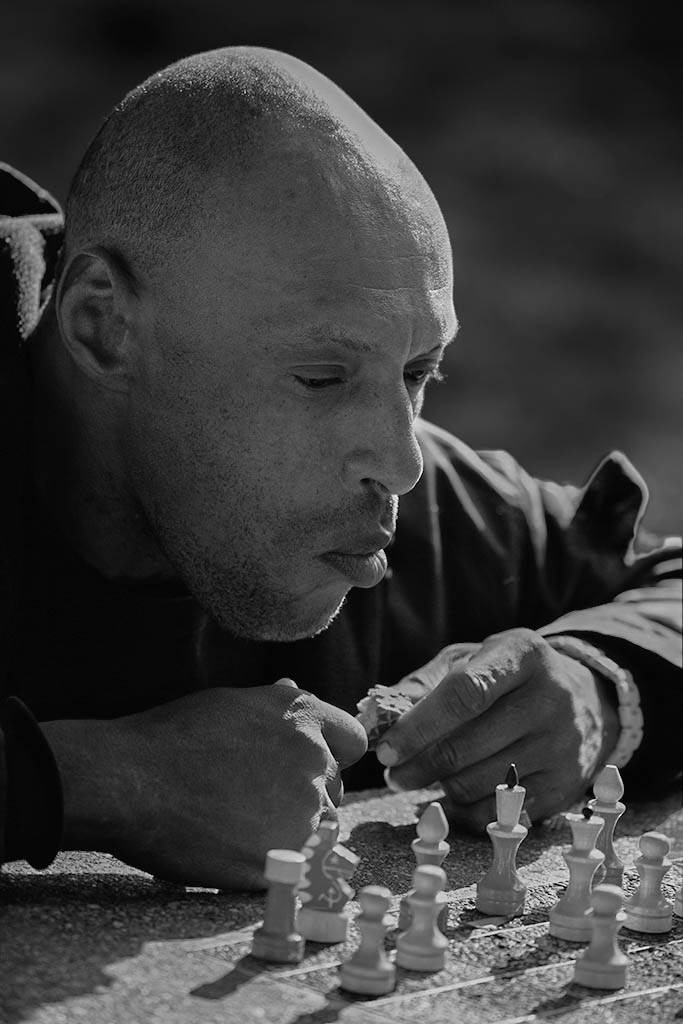 Oliver Morton
Very impressive! I have purchased Luminar Neo but decided to wait for the production version that's supposed to be out in February. Although I like Emil's darkening slightly better than Neo's, Neo certainly did a remarkable job!

Hurry February!

&nbsp Posted: 01/04/2022 13:22:48
---
---
---
Bunny Laden
Hi Pete, You did a great job salvaging this image. It went from blah to WOW! The look on the player's face is intense. The depth of field works well to emphasize his concentration. Your choice of monochrome is spot on, as the colorful pieces would have been a distraction.

After reading Emil's comment, I see his point. I sometimes focus on getting things lightened up and then forget whether it would be realistic in that setting. I've now learned something from Emil! &nbsp Posted: 01/03/2022 16:55:43
Oliver Morton
Thank you, Bunny, and welcome to the "Emil Appreciation Club"! Taking photographs of chess players is very rewarding since they are so focused on the game that they barely notice you. And, the expressions show their intense concentration... which adds interest to the image.

&nbsp Posted: 01/04/2022 12:28:20
---
---
---
Bob Legg
Pete, I too agree with Emil's darkening of the face and hand, however, I would like you to consider darkening the hot spot (left side) on top of his head just a little. It doesn't look like Emil's great edits to the face touched the top of the head. I Love the facial expression and the scruff detail on his face. As I think back about your images, I'm thinking you are a Rock Star street photographer. Just two many coincidences as you happened to be In the area. Using the long lens also is a hallmark of getting the images without disturbing the scene. Well done. &nbsp Posted: 01/03/2022 18:59:27
Oliver Morton
Thank you, Bob! I agree that the hot spot you pointed out needs a bit of control. While I was looking at it, I noticed that the collar behind his head could also use a bit of darkening.

LOL... I don't think I'm a "Rock Star street photographer," but I do love going to interesting areas. Some of my favorite places include Dupont Circle (where this image was taken), Lexington Market in Baltimore (it's filled with fascinating people... AND delicious seafood), and the annual Tattoo Exposition (which was canceled last year because of the pandemic).
&nbsp Posted: 01/04/2022 13:40:03
---
---
---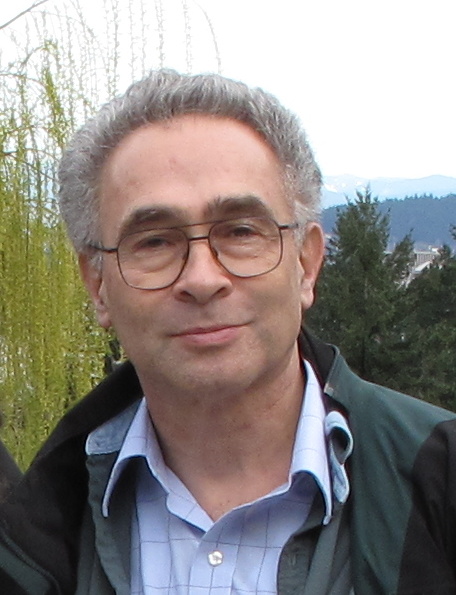 Stephen Levitas

(Group 32)
Pete, great shot. How many times I have driven around Dupont Circle and seen the chess players there! I have heard that it is an intense crowd of very good players.
The angle of the late afternoon sun and position of your subject did not allow for good portrait lighting, but his intense expression of concentration makes the image. I tried to preserve some of the lighting contrast from the side and not brighten up his dark side too much. What do you think of this? &nbsp
Posted: 01/06/2022 16:45:36
Oliver Morton
Yes, Dupont Circle is a fascinating place. And, the chess players are amazing. After the Omicron variant is under control, I'll definitely return... with my camera, not to play chess!

Stephen, I like your rendition better than mine. But I think the version that Emil proposed should be "blended" with yours. The darker aspects are nice, but I'd like his eyes to be more visible, even though they aren't wide open.

Thank you for your comments and suggestion. You've given me a great idea about how I'd like the image to turn out! &nbsp Posted: 01/06/2022 17:10:27
---
---
---
Please log in to post a comment