Bunny Laden
---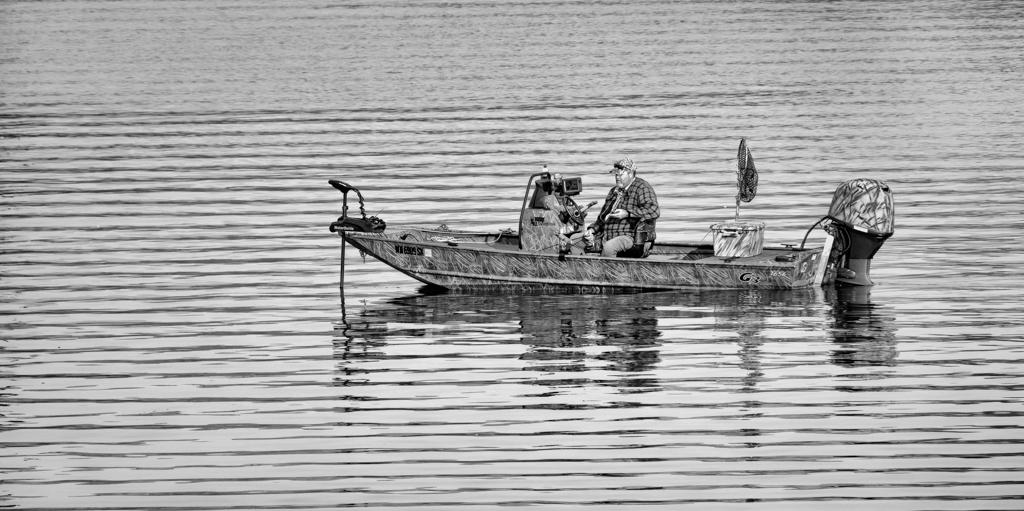 October 2021 - The Fisherman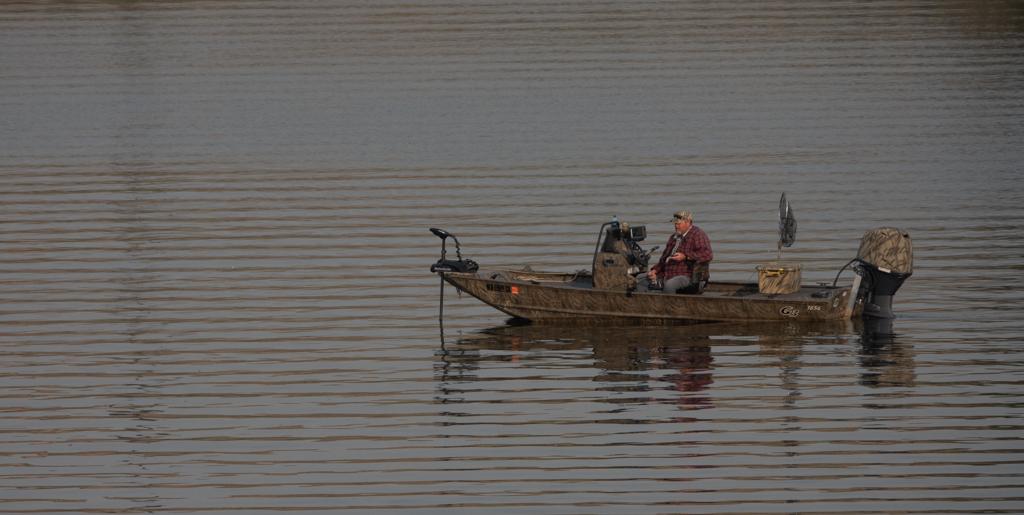 Original
About the Image(s)
I recently took a cruise on a small boat. We sailed the Columbia and Snake Rivers, which are located between the states of Washington and Oregon. Many people associate this area with the explorers Lewis and Clark. The mighty Columbia has so many dams on it these days that it has turned into a series of lakes, each separated by a set of locks. Although the salmon runs have mostly been wiped out, there is still some good fishing. One morning I watched a lot of local fisherman on the river. I captured this image because I liked the ripples in the water. Although I also like the color version (the before image is unprocessed, looks better when processed), I converted it to B&W because I thought the patterns made for an interesting composition. I'd love to hear your thoughts.

I used my iPhone 12 Max and processed in Photoshop and Silver Effects Pro. I also did a little dodging and cropping.
---
9 comments posted
---
---
---
Bob Legg
Nice Find Bunny. I agree the horizontal lines make this a great image. Also, the camo on the boat,motor and ice box means that this likes to hide in the weeds and the motor on the back can let him move quickly. I think I might of cropped off more of the water at top that was lacking the full texture that the bottom 2/3 has. I wish his pole was more visible but we can pretty well figure out what he is doing. &nbsp Posted: 10/02/2021 20:52:26
Bunny Laden
Thanks for the comments Bob. I can certainly experiment more with the crop. &nbsp Posted: 10/07/2021 19:39:13
---
---
---
Emil Davidzuk
Bunny
The repeating pattern of the rippling waves offset by the camo paint of the fisherman's boat make for an interesting image.
My suggestion is to darken the upper portion of your frame since there is not a lot happening there and bring the viewers eye down to the fishing boat and the man trying to catch dinner.
Regards
Emil &nbsp
Posted: 10/07/2021 13:10:12
Bunny Laden
Good suggestion Emil. I hadn't thought of that, but it would spotlight the man more. Thanks! &nbsp Posted: 10/07/2021 19:39:58
---
---
---
Oliver Morton
Bunny, this excellent image reminds me of my days fishing with my father... wonderful (mostly) memories.
Like Emil, I felt the waves at the top of the photograph were a bit too intense. Also, your comment about spotlighting the man, made me want to play a bit. I used Camera Raw's radial filter as well as the gradient tool. Also, I did a bit of cropping from the original image. Your thoughts? &nbsp
Posted: 10/11/2021 08:59:08
Bunny Laden
Thanks Pete. I like what you did! &nbsp Posted: 10/11/2021 11:31:15
---
---
---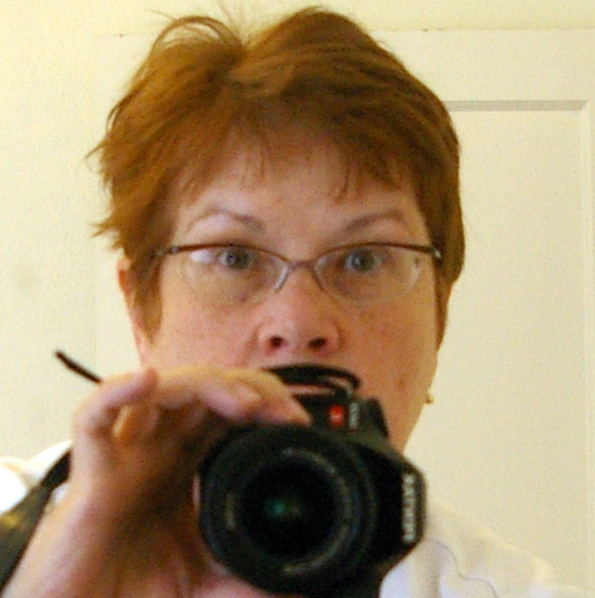 Leah Konicki
I love the lines in the water!

Cropping works. the original is "meh" - but the B&W! Wow! &nbsp Posted: 10/13/2021 19:14:58
---
---
---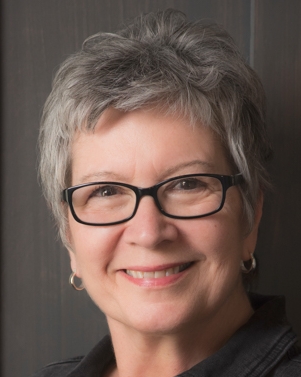 LuAnn Thatcher
Hi Bunny,
I like your image; it is simple yet brings with it an air of complexity. I wanted to offer you a suggestion that leans more to the creative side to give you yet another option for your photograph.
What caught my eye initially was the horizontal lines, 43 in all; this is where I saw the complexity. So my edit is a pen and ink rendition of 'The Fisherman.' The man and boat were not in sharp focus in the original photo, so pen and ink seemed to pop out at me as an editing option. I also like the white vignetting that takes away some repetitive lines yet leaves the center area to convey he is on water. I think the added white canvas enhances your image. I believe printing this image on a canvas textured paper would add texture to the white space.
I know pen and ink in photography may not be everyone's cup of tea, but I could see this image hanging in a cabin by a lake.
What do you think?
LT &nbsp
Posted: 10/18/2021 10:32:28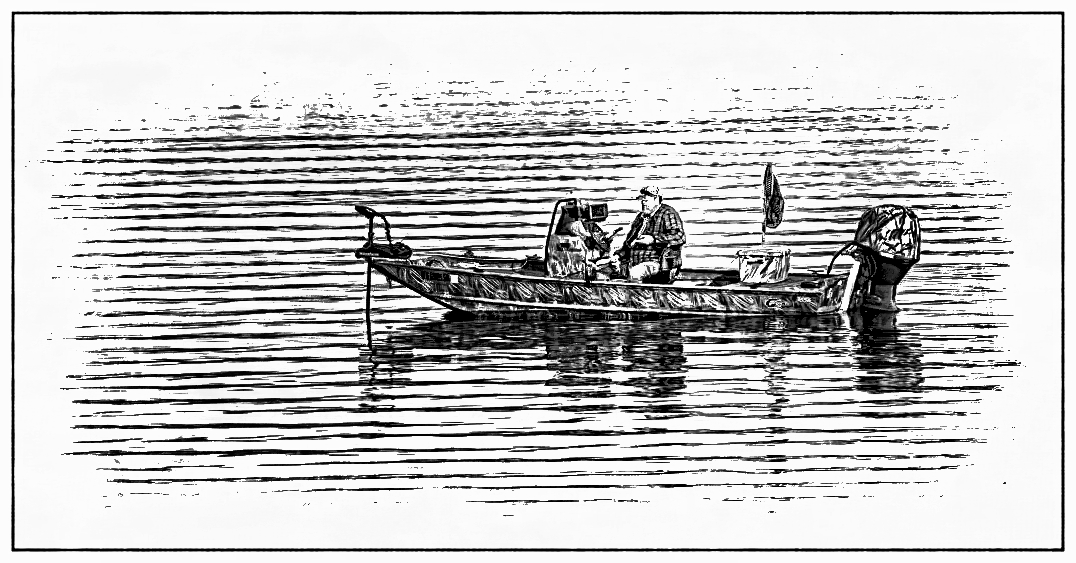 Bunny Laden
Hi LuAnn, It is interesting that you suggested the white vignette, as my first rendition of this image used that. I submitted it to my club's monthly competition and the judge was pretty firm about the white vignette being unflattering. So I went back for version 2, which is what I submitted here. I think the image has potential, and I agree that a creative approach might lead to "third time is a charm."

I like the pen and ink filter, but in this case I think it adds too much complexity. However, you have inspired me to bring the image into Topaz Studio 2 and investigate other filters that might work well to my eye. Thank you!

On the white vignette side, I would love to get guidance from everyone regarding for which situations it works well. &nbsp Posted: 10/18/2021 11:00:13
---
---
---
Please log in to post a comment