Bunny Laden
---
September 2021 - Waiting for Visitors
About the Image(s)
Inspired by Pete's warlock grandson, I decided to create something in anticipation of Halloween. I went to the Winchester Mystery house in San Jose with some out-of-town visitors. (If you haven't heard of that house you might find its story interesting: www.winchestermysteryhouse.com)

Mrs. Winchester was so fond of spider webs that she incorporated the web motif into many of the windows in the houseā€"some stained glass and some plain glass. I captured an image of one of them. Unfortunately, it was backlit. I made some minor adjustments in Light Room, including straightening and cropping. In Photoshop I modified some of the reflections using frequency separation. Next I converted to BW in Silver EFX Pro.

I didn't like the lightness of the glass, so back in Photoshop I added a texture using an image I took of a rock while hiking in the Sierra last month. I used one of the blend modes to get a look that I liked. I thought the image could use a spider, but I was unable to find a good looking live spider that would pose for me. So I found a fake spider that I thought might look good in BW. I captured its image on a green background to make it easier to extract the spider. I placed the spider in the web, but it didn't stand out enough, so I decided it could sit on the sidelines ready for any visitors that might get caught in the web.

Spider web window and rock wall captured by iPhone
Fake spider captured by my new Sony RX10 Mark IV, which I love!
---
7 comments posted
---
---
---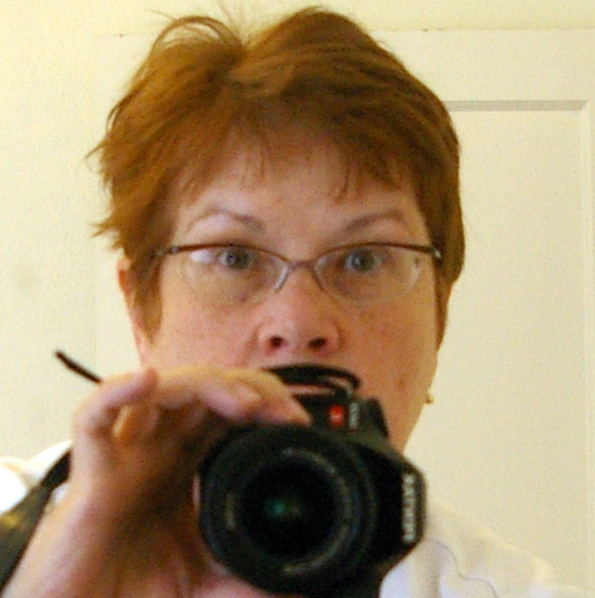 Leah Konicki
Bunny, my first thought when seeing the smaller clip on the group page was, that looks like Halloween - so mission accomplished there. Fascinating tidbit about the owner of the house and her fascination with spider webs. One comment on the background, I find the dark diagonal line in the background at the center of the web to be distracting, and wonder if there is a way to eliminate or reduce that. A small point, fun image! (I do wonder what it would look like in color.) &nbsp Posted: 09/03/2021 09:40:19
Bunny Laden
Hi Leah
Thanks for the suggestion. It will be easy for me to try your suggestion, which I'll do after I return from a trip on the Columbia River! (Starts today for a week) &nbsp Posted: 09/03/2021 10:53:14
---
---
---
Emil Davidzuk
Bunny

Now that is a Halloween composite. Nicely done

Food for thought Move the spider onto the window and crop out light frame on the right so the area around the window is all black?

Now with October coming....

Regards

Emil &nbsp Posted: 09/03/2021 10:43:21
Bunny Laden
Hi Emil,
Interesting suggestion about cropping out the light frame. I like the way the light falls, but you are now shaking up my thinking! Which is great. So I'll give it a try when I return from travel. Thanks.

As far as moving the spider into the window, I've placed that spider all over but it gets lost in the background. When I try Leah's suggestion I can also manipulate the background to find something more complementary to the spider. &nbsp Posted: 09/03/2021 11:00:51
Emil Davidzuk
Bunny

Consider making the spider bigger by rescaling it in Photoshop. It will standout for sure then and look like Vincent Price was involved

Thanks for trying my approach

Emil &nbsp Posted: 09/03/2021 11:46:35
---
---
---
Bob Legg
Bunny, this is a very nice composite. Great tonality and I wouldn't change a thing. Well done. &nbsp Posted: 09/05/2021 13:10:15
---
---
---
Oliver Morton
Bunny, you have a wonderful imagination and the Photoshop skills to use your creativity to produce fascinating images! I love the feeling that your image creates. It immediately says, "haunted house" and "Halloween". Fantastic.
After reading through the comments, I wanted to try reducing the frame on the right and modifying the light a bit. In doing so, I attempted to further highlight the spider. What do you think?
&nbsp
Posted: 09/05/2021 16:29:52
---
---
---
Please log in to post a comment