Bob Legg
---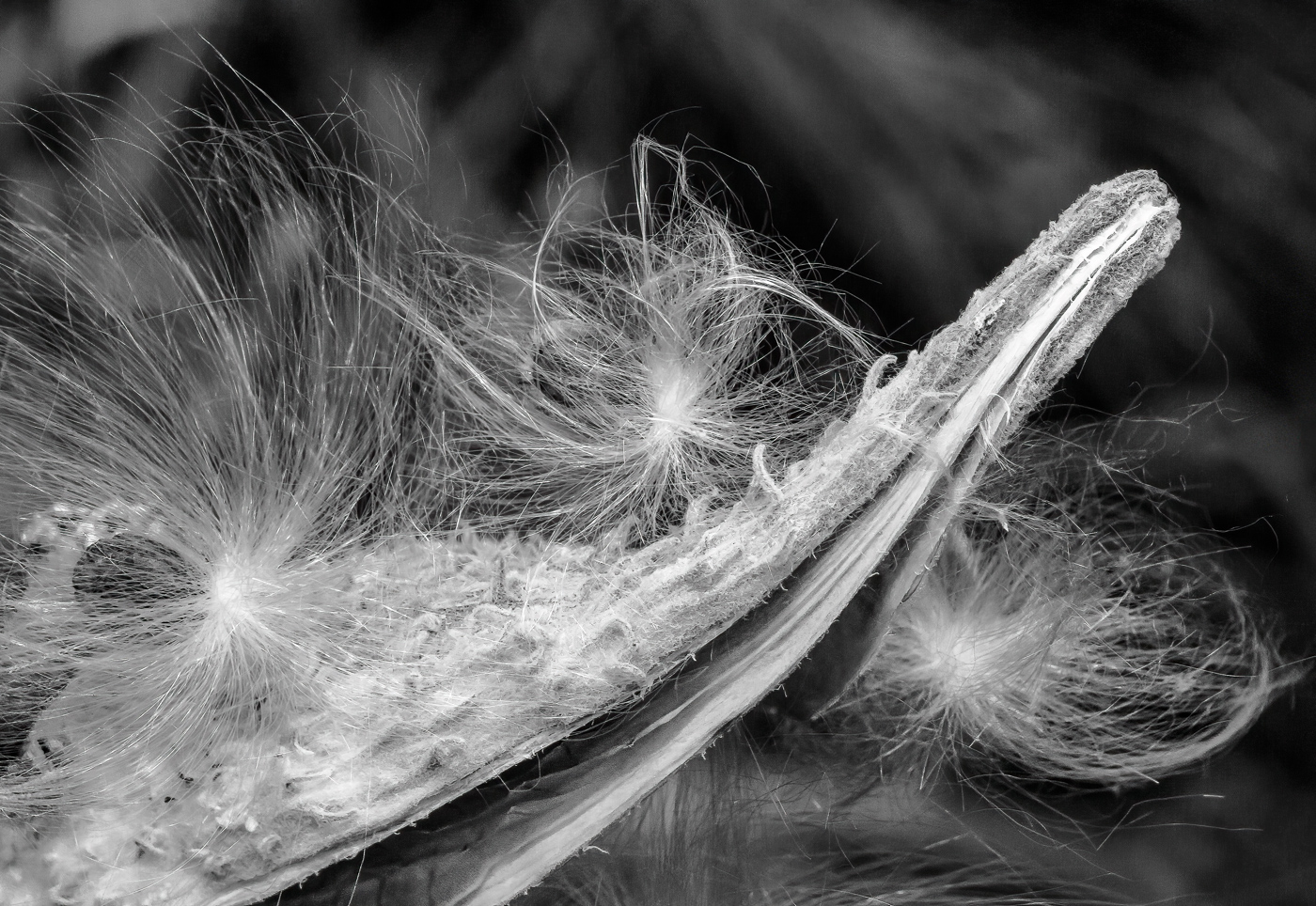 June 2021 - Milkweed Pod
Original
About the Image(s)
"Milkweed Pod" was taken in NH in fall of 2013. I've reprocessed my raw file in Lightroom, Topaz Denoise and Topaz Sharpener, and lastly adjusted the blacks and whites using the "J" key. I liked the details in the seeds and the pod. Specifics are Nikon D300s, ISO 800, unknown if handheld, 85mm, f22 at 1/60 sec. Yes, another texture image. That's what BW is best for, I think.
---
4 comments posted
---
---
---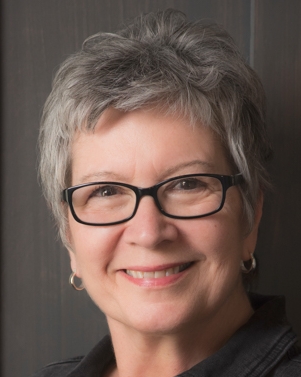 LuAnn Thatcher
Bob, you have inspired me; I have to find some of these milkweed pods on my property when they are around. This photo shows lovely details, and you did an excellent job controlling the highlights. I also like the three white puffs from the pod this gives the image a noticeable balance.
What caught my eye upon viewing this photo was the tight crop. I felt it might have been a little too close. So, with my edit, this is what I tried.
I used Nik Silver Efex and selected the Low Key 1 preset. I used the Kodak Plus-X - 125 Px Pro film type, turned off-grain, applied the copper toner #16, burned all the edges - 1, used border 14 at 80%, raised the yellow color to 2%; which opened the shadows on the pods lower edge. I chose the copper toner because this was a nature scene and thought it was fitting to use.
The border was and burning the edges helped darken a bit on the four edges of the frame. I am curious what you think!
Best regards,
LuAnn
&nbsp
Posted: 06/07/2021 15:46:48
---
---
---
Bob Legg
Thanks for your reply LuAnn. NH Milkweeds spread their seeds in early October. Think fall foliage time. Thanks, I also like the 3 white seeds. Well, my camera view tends to crop tight in the cam because that is biggest critique from judges that the image needs to be cropped. I see that on the right side I cropped too closely and I had uploaded an uncropped version. I have to confess, possibly again, that I cannot see and appreciate the editing you did on your edited image. I'm unable to store in short term memory your version against my submitted image. I use Lr in full screen mode and the low Rez 1400 dpi versions are still too small to notice your good work. I feel you understand that knowing you have a great iMac screen also. Could you relate you workflow from downloading image from psadigital to the export? Do you put them in a separate catalog from yours? One thing I can see and relate too is the white border. I know of many that use them all the time and others that never use them. I'm in the almost never use borders group. I just looked at over 500 images in grid view and I almost never have solid black along the edges and I might use a white border if my background was black. In your case you made the background black so a border is appropriate. I do think that the inside of the pod is too dark but we each have our likes and dislikes. I have not used Nik since they turned off the free version and have been playing in Topaz with every bit of my free time. Also have been using Sharpener and Denoise and rescuing images that were 90% in the permanent trash and using Topaz Studio to complete the transformation. Also using Gigapixel on some images where originals are gone but 1040 pix images are the only thing remaining. I have had good luck increasing their size by 4x.
Have a good evening.
Bob &nbsp Posted: 06/07/2021 16:33:01
---
---
---
Emil Davidzuk
Bob

Milkweed pods are great subjects especially when they have started to disperse their seeds. Mother Nature's textures are amazing.

Your eye was spot on for this shot. I like the diagonal created by the pod and the seeds on either side to help balance your shot

Regards

Emil &nbsp Posted: 06/09/2021 12:00:12
---
---
---
Bunny Laden
Hi Bob,

Milkweeds are one of my favorite plants! I like your capture. The pod creates a pleasing diagonal. I am enjoying the separation of the seeds, with two on one side of the diagonal and the other alone. To my eye, it creates a nice balance. Nicely done! &nbsp Posted: 06/16/2021 15:46:54
---
---
---
Please log in to post a comment