Oliver Morton
---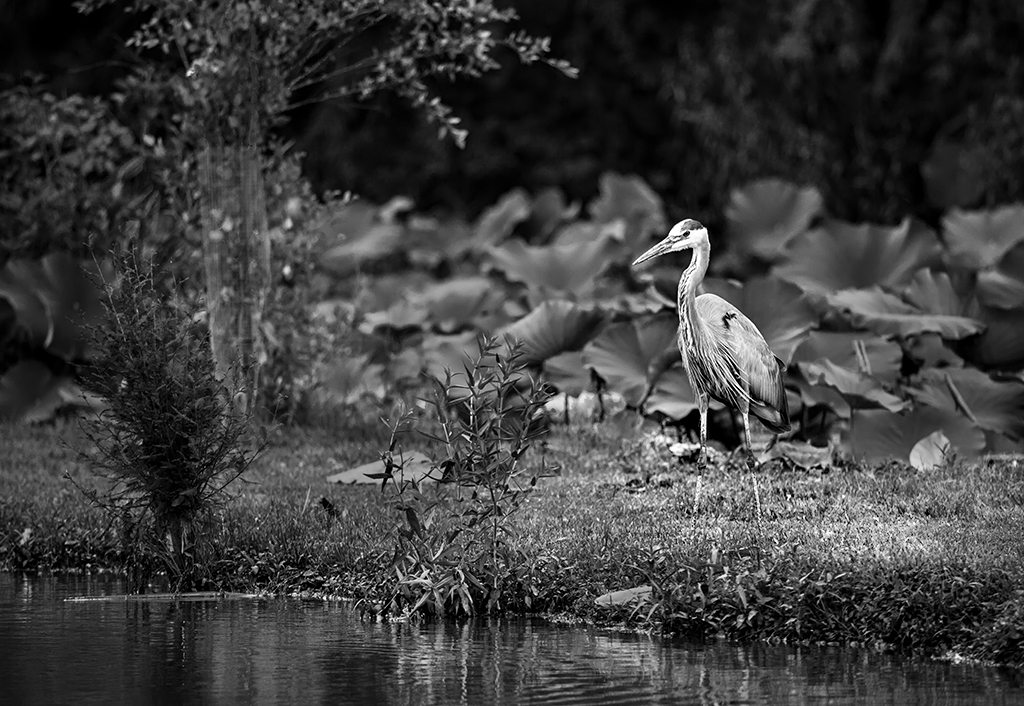 June 2021 - Heron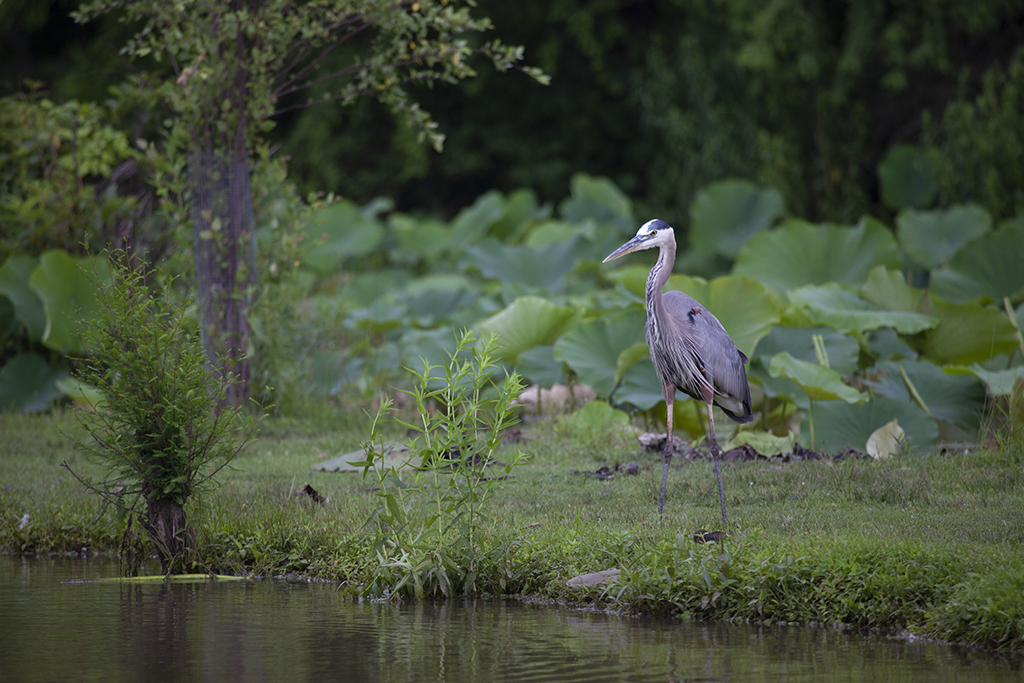 Original
About the Image(s)
I took this photograph at Kenilworth Aquatic Gardens in Washington DC twelve years ago. I visit the garden during July when there are thousands of blooming lotus plants. However, on this trip, I was rewarded by also having a heron appear.

My processing was done in Photoshop and Camera Raw. I used the B&W tool and mixer in Camera Raw to convert from the original color image. I attempted to make the heron stand out, but not appear so bright that the photograph appeared overly modified. (Not sure if I achieved this goal.)

Data: Canon 5D Mark II; 100-400mm lens @ 400mm; 1/50 sec; f/5.6; ISO 400.

---
10 comments posted
---
---
---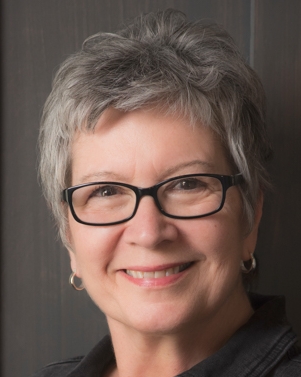 LuAnn Thatcher
Hello Oliver,
Isn't it amazing how we can go back to photos from our earlier years and re-edit them into amazing images!
You did an excellent job with your composition. The bird is positioned well in the frame, the horizon is straight, and the overall image looks balanced.
Like you, I thought I would try something in Lightroom; the only thing I find is the highlights on the bird are a bit overexposed. I took them down about -49.
In my sample image, I thought I would try something completely different. I edited in Nik Silver Efex Pro and used Full Dynamic smooth preset, Agfa Scala 200x film type; I darkened the yellows -10, and used Sepia tone 19.
My use of Sepia was to bring out warmer tones for a bird; and something different. I dropped the yellow slider to bring out the contrast in the underside of the leaves behind the bird. I liked the smoothness of the preset and how the bird blends in nicely (for camouflage) with its surroundings.
I'm curious what your thoughts are.
Best regards,
LuAnn &nbsp
Posted: 06/06/2021 08:55:43
Oliver Morton
LuAnn, this is outstanding! You did an amazing editing job! Reducing the lighting and using a sepia tone was exactly what this image needed.

I love how the study groups allow photographers to help improve each others' images. And, I find that I'm constantly learning from the comments/suggestions.

Since input from judges is so subjective and since their comments and recognitions are only the opinions of a single person, I've just about quit entering competitions. I still judge competitions since I'm happy to provide my thoughts if people want them. Smiles...

BTW, thank you for the input and encouragement for the Image Evaluation course. It was quite useful.
&nbsp Posted: 06/06/2021 16:24:56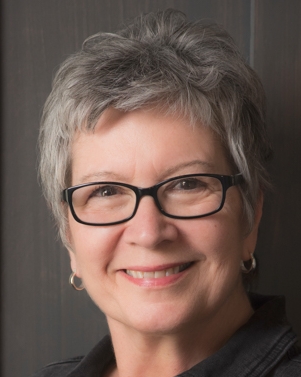 LuAnn Thatcher
I am glad you liked my edit, Oliver. I think Gary Stiger would have liked it too had he not left the group. He did all his images in sepia-tone.

What did you think of the design principles section of the Image Evaluation course? This is the hardest part of the entire course.

I share your thoughts on competitions. I personally have more fun helping others evaluate their images than entering to compete myself.

Have a great day, my friend!

LuAnn &nbsp Posted: 06/06/2021 16:30:59
Oliver Morton
LuAnn, I found most of the image evaluation course both interesting and useful. There were times when I felt that it dwelled a bit too much on terminology. (E.g., "That's the golden rule, not the rule of thirds.") But, as I said, it was a useful course and I'm glad I took it.

I think you would make an excellent teacher -- of photography and post-processing, of course.

&nbsp Posted: 06/16/2021 09:58:18
---
---
---
Bob Legg
LuAnn, I think you nailed this image with your edits. Pete has the excellent composition and the ability to not have distractions behind the heron. However, I too also think the whites of the heron's head were just too bright. LuAnn, your sepia and edits add great texture and just a little bit of warmth to the image. &nbsp Posted: 06/06/2021 13:24:13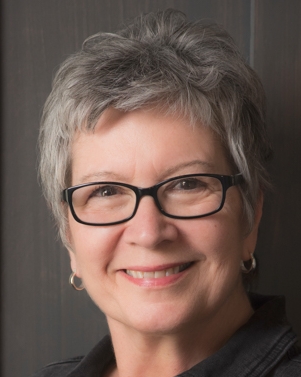 LuAnn Thatcher
Thank you, Bob, for your kind words. Remember Gary Stiger? He always liked to do sepia-tone images. I seldom see this tone in monochrome, so I thought it might be an excellent place to experiment since this was a nature photo; I think the bird blends well with his environment. Oliver said he took this photo 12 years ago, and you are correct, Bob; he did an excellent job on the composition.

I hope you're doing well.

Best regards,

LuAnn &nbsp Posted: 06/06/2021 16:16:10
---
---
---
Emil Davidzuk
Pete
This is not an easy image to process. You want the subject Heron to draw your eye but jump out at you. In this scene Heron's legs tend to blend into the background as well.
I decided to borrow your BW image, crop it down to help the bird standout and reduce the highlights on the bird a little.
Emil &nbsp
Posted: 06/09/2021 12:47:28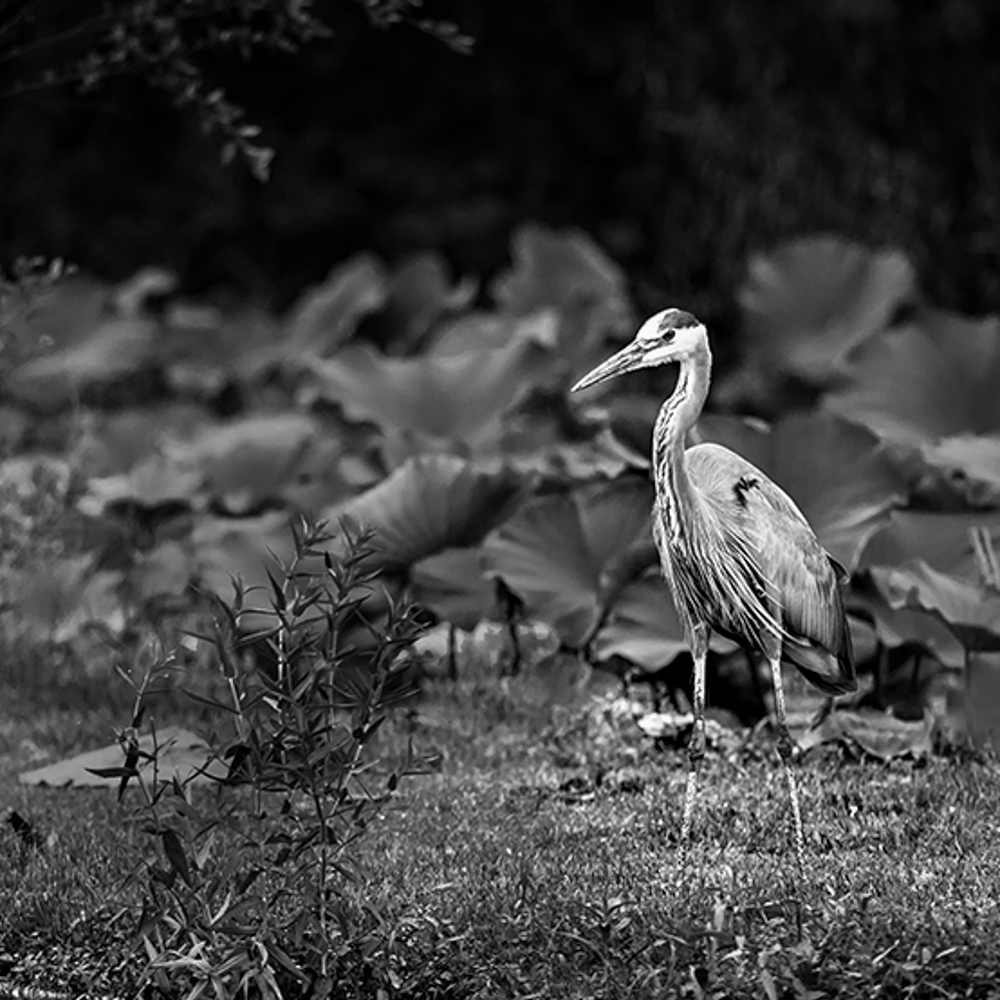 Oliver Morton
Emil, sometimes I think you're the absolute Master of Processing! I love the composition and formatting of your modification. I'll try to make the modifications you suggested, but using the original. Thank you!

&nbsp Posted: 06/16/2021 10:01:36
Emil Davidzuk
Pete

Sometimes the picture is in the picture so to speak

I think you have the shot, with a little cropping, that will be a keeper in color and BW

Regards

Emil &nbsp Posted: 06/16/2021 12:38:42
---
---
---
Bunny Laden
Hi Pete,

I think you achieved your goal of making the heron stand out. Nice job!

About others modifications...LuAnn has managed to soften the sharpness of the front vegetation. To my eye, they makes the heron stand out more. As far as cropping, I prefer to see the environment in which the bird is standing. I enjoy seeing the pond. You might try just the left plant and leaving the water. &nbsp Posted: 06/16/2021 15:54:04
---
---
---
Please log in to post a comment