Richard Story
---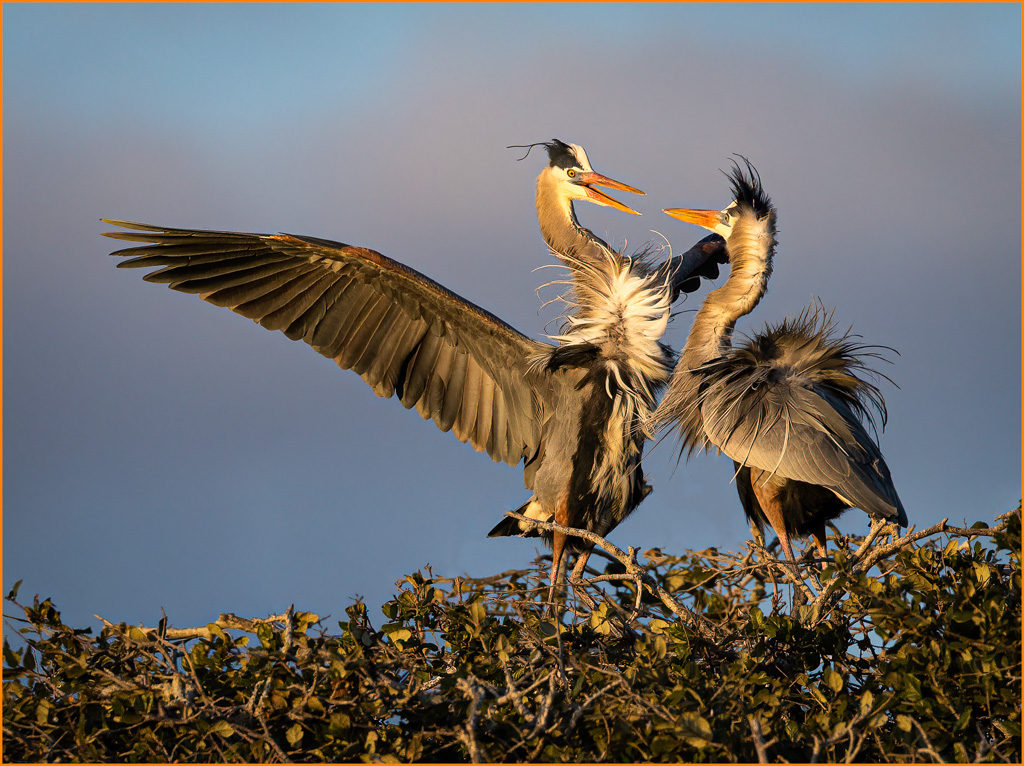 January 2022 - evening home coming
About the Image(s)
CANON R5
500mm
F/5.6
1/3200
ISO 640

THIS WAS TAKEN IN ROCKPORT TEXAS..IN TOWN...
THEY HAVE A ROCKERY IN IN TOWN, LAST YEAR I VISITED IT FOR THE FIRST TIME AND ATLEAST 40 OR 50 NESTING PAIRS, WERE THERE, THIS YEAR I WENT EARLIER BUT STILL FOUND MAYBE 20 PAIRS.
SO KNOWING THAT THE SETTING SUN WOULD PROVIDE BEAUTIFUL SOFT LIGHT, I WENT BACK TO THIS SITE THREE EVENINGS AND WAS REWARDED WITH THIS SHOT.
I DON'T USUALLY DO BIRDS ON A STICK, BUT THE INTERACTION BETWEEN THESE TWO MAKES IT WORK.
SOME MAY NOT LIKE SEEING ALL THE STICKS ON THE BOTTOM OF THE FRAME BUT THAT'S NATURE, AND I DON'T MESS WITH NATURE.
I DID CROP A LITTLE AND SOME LR ADJUSTMENTS OF COURSE. THEN THE STROKE IN PS JUST TO GIVE IT A LITTLE POP.
---
This round's discussion is now closed!
2 comments posted
---
---
---
Jane Pittenger
What a stunning moment to capture and the evening light was a brilliant decision. I think the placement on the sticky bush adds nicely to the story. I might have tried to clone out the one main stick across the legs of heron on left but I totally understand your thinking. I would be ever so happy to have caught this moment. My only wish here is that you would have brought the exposure down a bit in camera so none of the whites were blown out even if it meant adding noise when bringing up the shadows in post. Personally I always struggle with birds that have both dark and white to get the right exposure…especially in the drama of the moment! &nbsp Posted: 01/13/2022 10:39:09
---
---
---
Damon Williams
Concur on the lighting. Seeing this really reminds me of the caveat in the ND definition about the importance of the nature "story." It makes it. Frankly, I don't mind the sticks/nesting material, which I think are sufficiently...homogenous? that they don't interfere with the image and kind of act to frame the pair. I dig the razor sharp beady little eye, and am not seeing anything overexposes (I did a little pixel peeping and can still see a touch of detail in the whites). So, short story, good planning and execution pays off. &nbsp Posted: 01/16/2022 19:43:15
---
---
---