Gerald Emmerich Jr, HonFPSA, GMPSA/S
---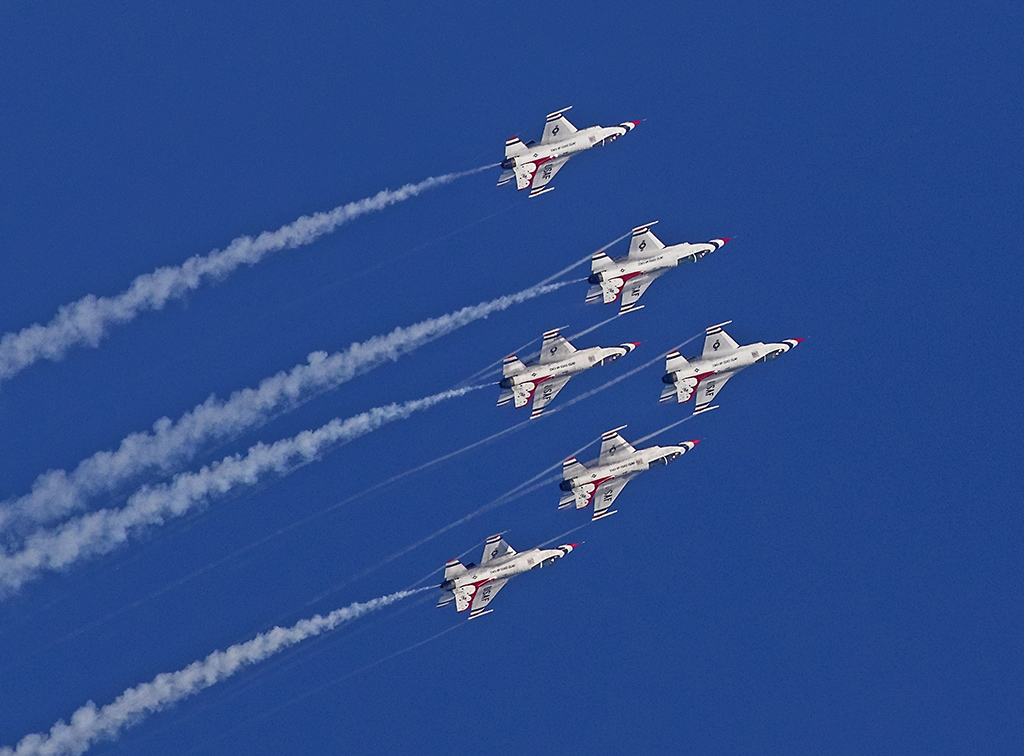 January 2022 - Six Thunderbirds
About the Image(s)
Title: Six Thunderbirds

Last month Ron commented that planes in tight formations seem to do better in competitions than the one I submitted last month, with three propeller planes scattered in the sky randomly. So I thought I would show some jets in a tight pattern.

These photos were taken during the Milwaukee Air and Water Show on July 27,2019. The US Air Force Thunderbirds put on their show over Lake Michigan just out from the city of Milwaukee's Lakefront Parks. Some friends have a condo on the bluff above the Lake, and their terrace is a great place to observe and photograph the show.

The main photo, "Six Thunderbirds," is presented in horizontal format. Original 1 is a similar photo presented as a vertical. And Original 2 is two planes, one upright and the other upside down appearing as a mirror image of the first.

My camera is a Canon 7D Mark II (1.6 crop sensor), and the lens is the EF 100-400mm f4.5-5.6L IS II zoom lens at 400mm. The settings were f:8.0, ISO 640, at 1/5000 sec, hand-held.

Do you prefer the main image as a horizontal or Original 1 as a vertical? Also do you like the mirror image photo for competition in internation exhibitions.


---
4 comments posted
---
---
---
Hans-Werner Griepentrog
Hi Gerald, first of all I wish you a happy new year. Your photo of the six Thunderbirds is better suited for international exhibitions than your December photo. The Thunderbirds make a nice contrast against the blue sky. I like your original photo 1 in portrait format better, the Thunderbirds are here in diagonal climb, this increases the image effect more than your main photo in landscape format. &nbsp Posted: 01/01/2022 04:15:47
---
---
---
Ronald Davis
Agree with Hans assessment of photo. I like the portrait version also, IMO it is man venturing out of space sensation, hence popularity of StarTek, Star Wars and the many other sci-fi movies. Looking beyond into the wild frontier it plays on basic human emotion. Photo 6 thunderbirds still has value the planes being upside down is an unusual aspect its pleasant rather than spectacular. &nbsp Posted: 01/01/2022 18:53:01
---
---
---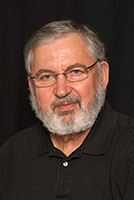 Isaac Vaisman M.D.
Gerald, I also prefer the portrait version where the planes are following an oblique direction from the lower left to the upper right still keeping the upside down position. It is very sharp. The image is sharp. Nice contrast with the blue sky. In reference to your image labeled original 2 where the Thunderbirds are flying facing their bellies, I have an image of the Blue Angels that have come to South Florida a couple of times where they are flying tail in front of tail, and another where one is upside down but next to the other, not above or bellow. &nbsp Posted: 01/06/2022 17:18:33
---
---
---
Bruce Benson
Gerald, I also have to agree with the vertical version. It seems to be more dramatic to me. The white and red of the planes really pops with the blue sky. I photographed the Blue Angels a few years ago and the blue planes seemed to get lost in the sky. Both versions have great vertical lines across the frame and the smoke accents this. Well done. Bruce &nbsp Posted: 01/07/2022 20:46:49
---
---
---
Please log in to post a comment