Ronald Davis
---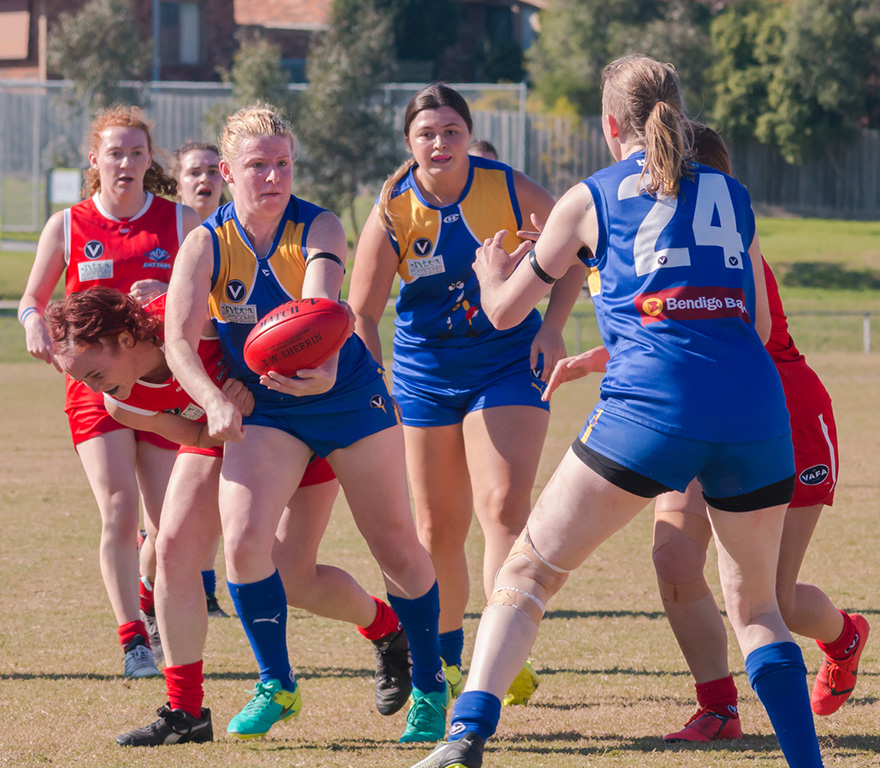 October 2021 - Handball Away
About the Image(s)
Title: Handball Away

Change of sports for this photo. It is Australian Rules Football, the number 1 football code in this country. Here you see ladies football pre-covid, the fastest growing sport in Australia for women. In Melbourne alone teams in one year 2019 grew from 300 to 600. Each team will have about 22 players.

Player in blue jumper is being tackled around the waist by player in red jumper. She has to dispose of the ball within seconds, so she is hand-balling to number 24, her teammate, and the game continues. This game is fast moving with few holdups – a photographers nightmare. When do you stop taking photos? Canon 70D. 1/1000. F8.

---
5 comments posted
---
---
---
Ronald Davis
Lens a Sigma 150-500mm at 150mm. Should also add that lady sports shots at the suburban level do not score well in Open club competitions. Many judges are older men that I am sure do not like womens sport. &nbsp Posted: 10/05/2021 17:26:03
---
---
---
Hans-Werner Griepentrog
Hi Ron, nice that you introduce us here a new sport, which was not known to me until now. In our country rugby is only played in the 15s teams and rugby 7s teams. Since this sport has such growth rates in Australia, it must appeal to a lot of people. Ladies football may have the advantage that the flow of the game is not interrupted so often, perhaps the rules are also simpler than in traditional rugby. &nbsp Posted: 10/11/2021 04:19:26
---
---
---
Ronald Davis
Thanks for reply. Not many people outside Australia will know too much of this game. Forged in Australia by taking elements of some other sports rugby, gaelic football and combining them into 1 new game. It has similar aspects to Basketball, no offside, players 36 in total can run to any part of a huge playing oval around 190 metres by 140 metres. The scoring is similar to basketball in that the numbers are high, a wining score can be anything from 60 points to 150 points, although scores have been recorded at 230 points. One of the great aspects of this game like basketball is that in the last 3 minutes of a game a side that seem down and out can still win, scoring is much easier than soccer or rugby, no height limit on goals. Some players can kick the oval ball, same as rugby ball, about 60 metres, record is 92 metre goal no bounce. Ladies football is played at a much slower pace and this becomes reflected in photos, like the one submitted. &nbsp Posted: 10/11/2021 16:57:35
Hans-Werner Griepentrog
Thanks Ron, I learned something very interesting from you about this sport. &nbsp Posted: 10/12/2021 08:12:42
---
---
---
Bruce Benson
Hey Ron, I am familiar with Australian rules football and rugby as well. I am always amazed at the size of the field. Soccer in the USA has exploded especially with the success of the women in the world cup. Your crop has eliminated distractions and I like the expressions on several players faces. Bruce &nbsp Posted: 10/18/2021 18:15:28
---
---
---
Please log in to post a comment