Gerald Emmerich Jr, HonFPSA, GMPSA/B
---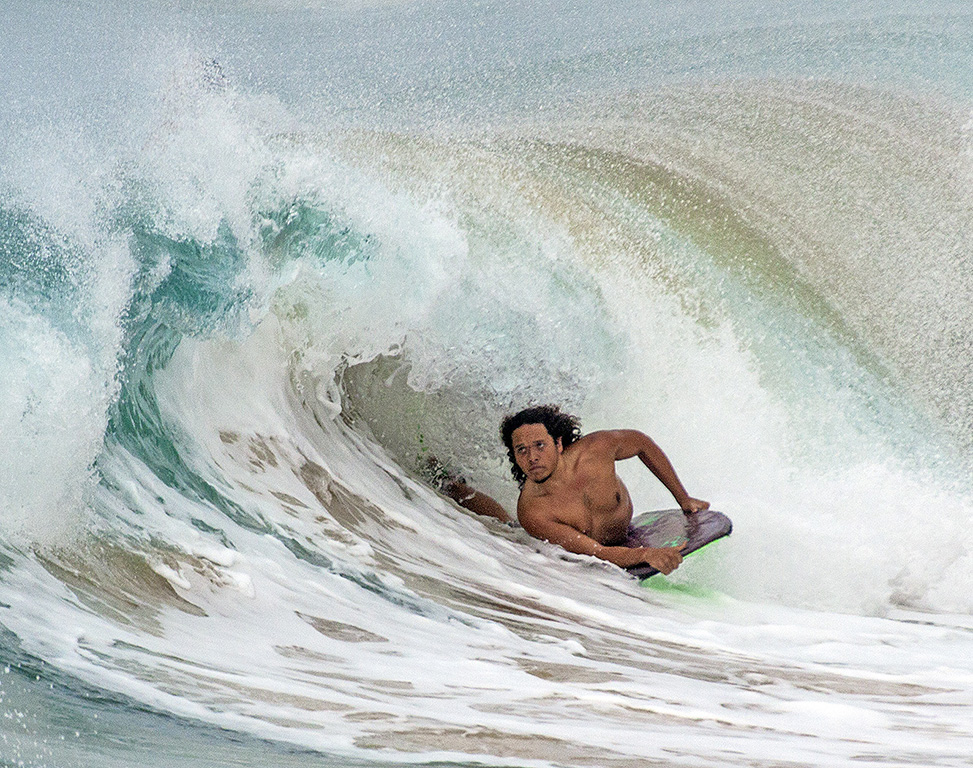 September 2021 - Boarding in the Tube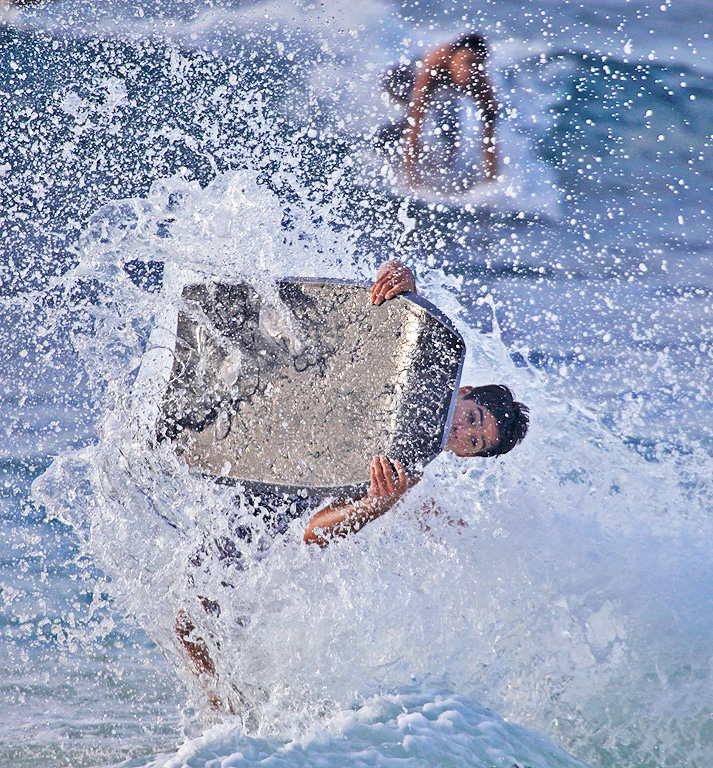 Original
About the Image(s)
Title: Boarding in the Tube
This photo was taken at Sandy Beach on the northeast shore of Oahu. Most of the sand beach at Sandy Beach is about 10-12 feet above the level of the ocean and the surf often breaks only about 10-20 from the shore, allowing me to shoot down slightly at the surfers and body boarders and eliminate the horizon. The waves were in the 5-6 feet range, and the "all-water" background works well in this photo.

There is also a small peninsula of sand at Sandy Beach that allows me to shoot parallel to the waves and into the "tube". I'm able to sit in a beach chair, elbows on the arm rests, with a tripod in front of me. The tripod supports the weight of the camera and lens, but I leave the ball loose, so that I can easily swivel the lens to the right and left and up and down. It's really quite comfortable to shoot here, and I often go here after shooting sunrise photos at another location. If the waves are good and the surfers and body boarders are out, I'll usually shoot for an hour or two.

In surfing/body boarding/body surfing photos, I like to see dramatic waves, white water, and the face of the body boarder. I took the photo with a Canon 50D (1.6 crop sensor) and 100-400mm zoom lens at 400mm. The settings were f:8, ISO 400, at 1/2000 sec and relatively bright for an overcast sky. This image has been accepted in the past and is retired, but some of last month's comments indicated that the more traditional "pose" of body boarders might be preferable to last month's "Hanging at Sandy Beach." Do you like "Boarding in the Tube" or last month's "Hanging at Sandy Beach" better?

---
3 comments posted
---
---
---
Hans-Werner Griepentrog
Hi Gerry, another good surfer photo from you. What I like about your Boarding in the Tube photo is that the surfer's face is clearly visible. From the technique is for me your August photo Hanging at Sandy Beach better. In the Boarding in the Tube photo, large bright areas to the right of the surfer are overblown. The dynamic range of the EOS 50D is not as great as the more modern cameras. I also had a 50D 12 years ago, but when I look at the photos from then, I notice a clear difference in the dynamic range compared to my photos with the 5D MKIII. &nbsp Posted: 09/01/2021 04:28:46
---
---
---
Bruce Benson
Gerry, For me this is the best of the two images, The whites are well exposed and the image is really sharp. Being able to see the face of the surfer makes all the difference in this one compared to Hanging out at the beach. The frames the surfer and keeps attention on him. The texture and color in the water are also nice. Bruce &nbsp Posted: 09/01/2021 18:37:12
---
---
---
Ronald Davis
This a great bodyboard photo and you have been able to get right in amoungst the action. I have seen photos like this before and the photographer is as good a surfer as the board rider as he usually will get creamed to take the photo with I assume a waterproof camera. You are very lucky to be able to get this close without getting wet, that's your advantage and you have used it well. With more modern equipment you would probably get a better quality image but thats in the eye of the beholder. Photo is lifestyle, could be used for promotional purposes, "The Endless Summer". &nbsp Posted: 09/11/2021 01:58:48
---
---
---
Please log in to post a comment