Bruce Goodman
---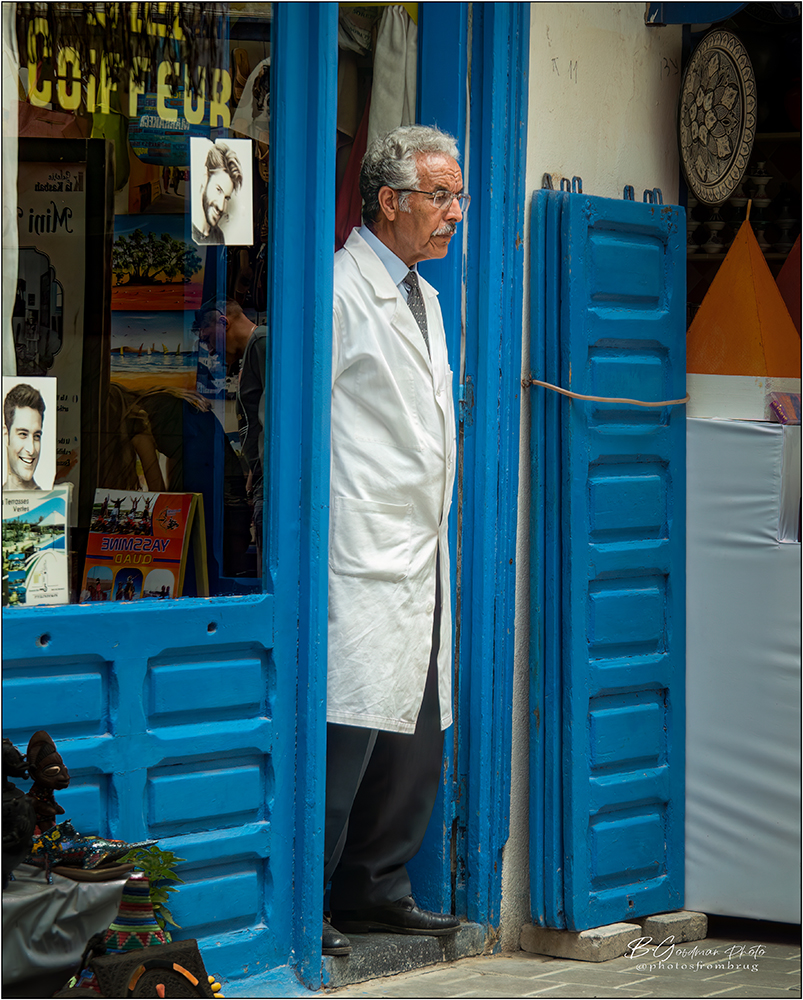 August 2022 - The Barber and Reflections in the Window, Morocco.
About the Image(s)
A side street in Essaouira, Morocco. A very dapper barber waiting for customers while tourist shop for art work across the alley way (reflection in the window).

Our May trip to Morocco turned out to be a treasure for 'stealth' (trying to be discreet) street photography. Most Moroccons do not want their photos taken (concerned about where on the internet their photos might turn up - or are you going to make money selling my photo?). Stealth shooting with bursts at hip level were the order of the day (I even accidentally caught someone picking a man's pocket in one of my accidental bursts (my finger hitting the shutter while carrying the camera). My joke when someone said '$5 dollars for a photo' was to say, 'yes, I'll take $5 dollars' - it was good for a laugh and sometimes even an ice breaker for a conversation (though in the end it usually was someone wanting to sell something - - - one does have to make a living and after 2 1/2 years without tourists due to Covid, you cannot blame anyone for trying).

ISO 200, 1/200 sec; f 5.4; Olympus kit lens 14-150mm at 54mm (or 108 mm 35 mm equivalent). Raw file processed in beta version of Topaz Photo AI ( denoise and sharpen; though virtually no noise at ISO 200). Edited in LR with radial filters, brushes, and linear gradient to emphasize/de-emphasize lighting. Added texture to the face to bring out more detail.

---
3 comments posted
---
---
---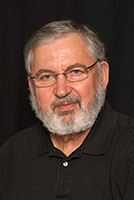 Dr Isaac Vaisman
Bruce, great street scene. I have become pretty good shooting from the hip when I travel. Indeed this gentleman is a very sophisticated barber wearing a tie and a lab jacket (I am a physician and I have not wore a Lab jacket for a very long time. Besides sophisticated, there is a great deal of order, when you see the window covers nicely placed on the side and held with a string. I also like the reflections on the window, but it would be impossible to know what is going on, unless explained as you did. The image is sharp, and the colors are very vivid &nbsp Posted: 08/04/2022 19:44:59
---
---
---
Dan Waters
A great hip shot! I like how the barber appears sage and pensive - much on his mind. I'm curious, do the wood shutters go up each not when closing? &nbsp Posted: 08/07/2022 21:24:37
Dan Waters
Do shutters go up each night? &nbsp Posted: 08/08/2022 04:54:46
---
---
---
Please log in to post a comment