Bill Wright
---
May 2022 - Bridge Composite
About the Image(s)
I am submitting a composite this month if that is OK.

The photo was part of a night class I am taking. The photo was for 30 seconds at F11, ISO 100 on a tripod. It is a footbridge over the canal here in Ottawa. The reason for two images is that there is a difference of opinion in the class as to whether the darker or lighter is the best presentation of this photo. I would also welcome any other improvements
the group might offer.
---
5 comments posted
---
---
---
Bruce Goodman
Bill - Both really well framed and really sharp images. While I like the bridge in the darker image the rest of the photo has little information to add context to it. The lighter image is overall more interesting and pleasing. B &nbsp Posted: 05/10/2022 14:50:50
---
---
---
Bill Wright
Thanks Bruce. I have been partial to the darker image but my instructor demonstrated how he would do it in class and we tended to be split. I am doing a photo book of the class so I guess the easy way out is to print both
&nbsp Posted: 05/10/2022 15:18:40
---
---
---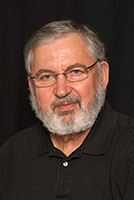 Dr. Isaac Vaisman
Bill, the dark version gives more character to the image, removing all the distracting elements in the background. The image is sharp and I like the way you composed it going from the left of the frame to the right &nbsp Posted: 05/10/2022 18:07:40
---
---
---
Bill Wright
Thanks Isaac. It is quite a long footbridge and that was about the only shot I could get the whole thing in
&nbsp Posted: 05/10/2022 18:28:54
---
---
---
Gloria Sprung
Bill, thanks for providing both images. I like the composition of the image with strong architectural triangles, verticals and horizontals. Since you asked for feedback- I feel that the darker image offers little or no detail in the upper third of the image. By opening up the background darkness, the viewer would see another layer of background of trees, and buildings thus adding depth or three dimensionality to an otherwise 2 dimension flat photograph. We now have a foreground, middle ground and background. That said the lighter image in my opinion is too much exposed with a purple color cast in the sky. A meeting of the middle of both photos is a good compromise, isn't it always?? &nbsp Posted: 05/18/2022 06:54:53
---
---
---
Please log in to post a comment