Bruce Goodman
---
November 2021 - What's Going On in There ?
About the Image(s)
I thought the two toddlers peering through the window at an elementary school in Washington DC were too good to pass up. I'm not sure what they were looking at but my guess is that they were just curious. Maybe they want to go to school?

Olympus OMD EM1-II. ISO 200; 1/160 sec; f/3.5; 12mm (24 mm equivalent).

[Full disclosure - I couldn't resist. The toddler on the right is my 18-month old grandson.]

---
4 comments posted
---
---
---
Daniel De Cort
Nicely constructed photo, the color of the clothes of the boy on the right is reflected in the wall. The boy on the left is wearing a contrasting jacket which contrasts with the rest. We don't know what they are looking at, but it triggers our interest and fantasy. &nbsp Posted: 11/14/2021 03:26:08
---
---
---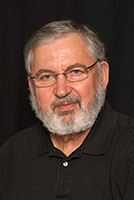 Isaac Vaisman M.D.
Bruce, indeed the kids are very curious of what is going on inside the building. It must be something good to draw both kids attention. The contrasting clothing colors makes you look all over the image and try to figure it out. We also are curious to find out what is going on inside. It is sharp, and nicely composed. I think that a tighter crop makes the kids stand out better without loosing context of location. &nbsp
Posted: 11/17/2021 08:57:43
Bruce Goodman
Thanks Isaac. I agree that the additional crop focuses the image better. B &nbsp Posted: 11/17/2021 09:00:06
---
---
---
Gloria Sprung
Bruce, I like the symmetry of your image and the muted colors with a touch of red in the jacket. Your image tells a story and the viewer is curious as to what has attracted the two toddlers. The small hands make the picture more endearing. Lovely shot. &nbsp Posted: 11/18/2021 05:23:44
---
---
---
Please log in to post a comment