Bruce Goodman
---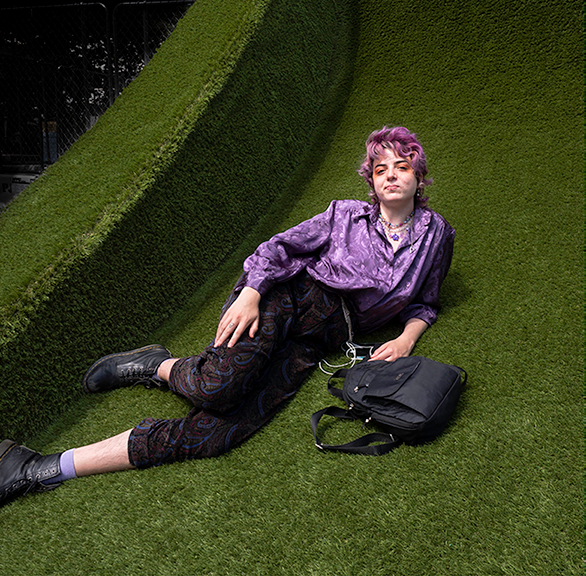 July 2021 - Purple and Green
About the Image(s)
Another shot from a wander in NYC on a late May afternoon.

I was drawn to this purple person set off against the faux green grass at Lincoln Center (sloping sides with fake grass and chairs). Rather than take photos from afar I asked this person if I could take a few pictures (I told them I loved the purple-green contrast).

In my attempt to not include what I thought were distractions on the left side I did not capture the full leg/foot/boot at the bottom.

Processed in Lightroom. Darkened upper left corner; reduced highlights on the skin; radial filters to enhance the subject against the grass background.

ISO 200; 12mm; f5.6; 1/350 sec.
---
This round's discussion is now closed!
8 comments posted
---
---
---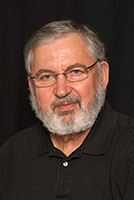 Isaac Vaisman M.D.
Bruce, nice contrast between the purple and the green. You pretty much did our work in your presentation stating the amputated feet. I just wonder if you could have moved down just a bit and change your vantage point by using a different angle, since you had the subject authorization to photograph, so the whole shoe would be included. &nbsp Posted: 07/12/2021 22:24:23
---
---
---
Dan Waters
I am unable to comment about colors. She's pose is relaxed and inviting. While the lighting edits to face may have been needed I think it is adjusted too much giving her a mask like effect. Comments about trimming the foot will likely be of personal taste. For me I would have more space making for a continued line from ledge in background. Others may disagree. I'm interested in discussion to learn why. &nbsp Posted: 07/13/2021 12:58:11
---
---
---
Gloria Sprung
Bruce.. the complementary color combination of purple/magenta and green, from the head to the socks works really well in your image. Nice placement of the head on the thirds. You did a nice job in post to darken the corners and bring focus to the subject. The "hedge" acts as a natural framing device to contain my eyes. Since the woman is looking up at you, the "top down" camera position already mentioned by Isaac can be fixed by the photographer lowering the camera to her gaze at eye level. A small suggestion is that you kneel if you can, similar to taking pictures of pets and children (sometimes we can't get back up) LOL. The amputated foot at the lower left , to me is a barrier to "entering" the viewing experience. A quick fix is to flip the image horizontally, so the eye enters from the top left and follow the curves of the woman and hedge and exit at the lower right. Of course, just a different POV for your consideration. &nbsp
Posted: 07/15/2021 06:50:38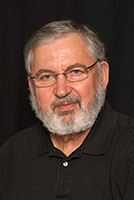 Isaac Vaisman M.D.
Interesting observation Gloria. &nbsp Posted: 07/15/2021 20:50:21
Dan Waters
Prefer your flipped version as she seems more inviting. &nbsp Posted: 07/20/2021 19:26:48
Bruce Goodman
Gloria - I like your flipped perspective. I think the issue for me in taking the photo even having asked permission is one of 'nerves'. I did not want to be too forward so only took a couple of photos without thinking through all of the aspects of what makes a better photo. Thanks all. B [original image attached) &nbsp
Posted: 07/21/2021 20:29:30
---
---
---
Les Lincke
Bruce, Interesting image of a relaxed lady. I very much like the color harmony and the arrangement with my eyes entering the picture and immediately seeing the full figure of the lady lying diagonally across the image. For me this is the issue because we have a full length person with a show of room all rounder except a part of her foot cut-off. &nbsp Posted: 07/15/2021 20:33:20
---
---
---
Daniel De Cort
You can't miss this photo, it draws attention. First of all the colors (bright and an attractive combination of green-purple) but also the slightly challenging attitude of the person in the picture. The square format and the darkened top left corner are perfect interventions. Nice picture. &nbsp Posted: 07/27/2021 07:56:57
---
---
---