Gloria Sprung
---
July 2021 - Giggles
About the Image(s)
Another image created at the water park, same time as last month's. Camera settings are 1/640 sec at 6.3, ISO 125. Took several bursts of this girl enjoying the water and ended up selecting this image. Global edits in Lightroom to open up the shadows and tone down the highlights. In PS I removed some of the water spots which showed up as specular highlights. Cropped the image to vertical and added a vignette in PS.
---
This round's discussion is now closed!
5 comments posted
---
---
---
Dan Waters
Giggles, an appropriate title for I can hear her giggles while cooling off in the water. Innocence, her stand strong posture gives way to the fear of getting water in her eyes as she reaches to make goggle adjustment. Interesting, does the design of her top appear to be fish scales? It blends well with the dolphins in background. &nbsp Posted: 07/03/2021 01:52:33
---
---
---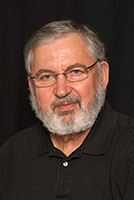 Isaac Vaisman M.D.
Gloria, I like the girl's gesture, It seems that she is not able to see through the googles and want to remove them. The image looks sharp around her face and arms, but soft in her lower body (on purpose ?) and the background more so, showing the presence of an adult woman sitting on a chair, probably her caretaker. Her bathing suit as Dan pointed out looks like fish scales, appropriate for the occasion. Good hot summer image. &nbsp Posted: 07/06/2021 11:11:09
---
---
---
Les Lincke
Gloria, technically I think you did an excellent job taking this image. The Colors are bright, the light and sharpness are good and the girl stands out well against the background. I like that she is standing slight off center. &nbsp Posted: 07/15/2021 20:53:07
---
---
---
Bruce Goodman
Gloria - You got me with the title! 'Giggles' rather than 'Goggles'. Very clever. A sharp, colorful capture showing the fun the little girl is having both in the water and with the funny glasses. I debated about the woman in the rear but ultimately decided that she adds to the image as an interested observer (you in the front, the woman in the back). B &nbsp Posted: 07/21/2021 20:35:37
---
---
---
Daniel De Cort
A snapshot, the right moment. The girl just looks beautiful in the light. The lady in the background gives depth and adds more story to the photo. Pleasant photo. &nbsp Posted: 07/27/2021 08:13:04
---
---
---