Dan Waters
---
July 2021 - Obligated
About the Image(s)
Nikon D5000 ISO 500 20mm f/7.1 1/125 sec

As we traveled the United States I took note of various cities man hole covers. Perhaps silly however I found some to be attention grabbing if not art. Often, each city has its own unique logo. The process begins with the design and then the form pressed in a sand casting where molten steel is poured and then left to cool. When finished we see a sample of the end product and this particular piece is found on the streets and sidewalks of Cripple Creek Colorado.

Edits include standard global adjustments and then cropped to square. Some cloning and healing to remove unwanted spots. I also adjusted vibrance and saturation. Perhaps too much?


---
6 comments posted
---
---
---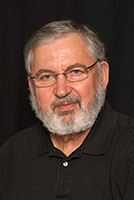 Isaac Vaisman M.D.
Dan, When I saw this image I said to myself that I am not the only crazy photographer creating images of the men holes covers. People look at me when I am doing that. I have a very vast collection from all over the world places I have visited in the last few years.
I like this image very much since it shows the effects of time and the elements over the cast iron, not to mention the image of the fish which is self explanatory indicating access to clean water. It is very sharp and nicely framed in the square crop.
Last week I was in Adrian - Michigan &nbsp
Posted: 07/05/2021 17:27:05
Dan Waters
Something simple, seen everyday and dare I say quite often overlooked. "Rose City," Portland Oregon has some beautiful covers made of stainless steel and try to capture a good photo off a brightly reflecting surface. &nbsp Posted: 07/06/2021 19:32:24
---
---
---
Gloria Sprung
Dan, so glad that you submitted this image of a manhole cover. It reminds me as a photographer to look around, look up, look down. Your image is sharp and the post processing really enhances the age and rust color. I like the square crop which adds stability and balances the circle nicely and sends us a message.
Ha Ha, Like both you and Isaac, I also take pictures of the places that I've travelled too - as a momento/souvenir - and I also include my feet to indicate that "I was there". In 2015 I was in Prague near the famous Charles Bridge.
&nbsp
Posted: 07/15/2021 17:55:06
Dan Waters
lol - I admit I had reservations about submitting my July image and am glad to learn I'm with a group that has me covered ;)
The feet in your image shows a personality behind the lens. Very cool. &nbsp Posted: 07/15/2021 20:26:32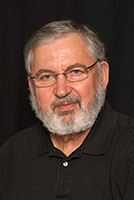 Isaac Vaisman M.D.
Gloria, I see two sets of feet.... &nbsp Posted: 07/22/2021 10:41:25
Gloria Sprung
Yup! Reluctant husband,lol. Always a chore to try to get a picture together. BTW I found out that an iphone is the best camera to use to get these type of shots. &nbsp Posted: 07/22/2021 15:12:54
---
---
---
Please log in to post a comment