Isaac Vaisman M.D., FACRO
---
July 2021 - Bubble Man
Original
About the Image(s)
Bubble Man was created in Madrid – Spain a few years back at the "El Retiro" park. This man was making gigantic bubbles with soapy water, and this kid came running to burst it and with a big smile in his face. I am adding an additional image at the time the bubble burst for story telling.

Nikon D850 with the Nikkor zoom lens 28-300 mm f/3.5-5.6 @ 48 mm and these settings: ISO 800, f/10 and 1/4000 sec with -1/3 EC. The image was PP in LightRoom, some distracting elements were removed, and cropped.

---
5 comments posted
---
---
---
Dan Waters
Bubbles! Loved by adults and children alike. Most especially children who chase and pop them and here we see an enthusiastic boy about ready to capture and burst the bubble. Great timing. I see the many bubble colors and reflections. The shadow below bubble adds an interesting element. Overall, an attractive photo capturing happy times and fun. &nbsp Posted: 07/03/2021 01:15:03
---
---
---
Gloria Sprung
Isaac…a very good composition with the "bubble" connecting the relationship between the older man and the young boy. I like the outstretched arms and open step of the boy denoting action and the look on his face. Lighting is mid-day(?) but that time creates the opportunity for interesting shadow shapes which add depth to the foreground. Definitely agree with your choice of this image vs the other! Isaac, do you typically shoot in "burst" mode or "single shot"? &nbsp Posted: 07/14/2021 08:52:04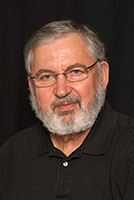 Isaac Vaisman M.D.
Gloria, I always shoot in burst (3 to 5) regardless of the occasion. If it is wildlife, many more. &nbsp Posted: 07/15/2021 20:45:26
---
---
---
Les Lincke
Isaac, I had no idea you could make a soap bubble take on the form it has here. Good catch of the little boy, so excited about the bubble. I would have loved to see his expression when he touched it and it burst. &nbsp Posted: 07/15/2021 20:20:33
---
---
---
Bruce Goodman
Action, color and shapes. I love the joy of the little boy as he runs toward the giant bubble and how you captured the colors in the bubble along with the bubble's shadow. Since it is such a bright day I wonder if a slight vignette would focus the image more to the man and boy and bring down the brightness of the trees? Good tip on shooting in burst --- I need to do that more often. B &nbsp Posted: 07/21/2021 20:13:30
---
---
---
Please log in to post a comment