Les Lincke, PPSA
---
July 2021 - Old Glory
About the Image(s)
I call this photograph "Old Glory". While it may be a stretch to enter this as a street scene image, I think it appropriate to view it on our Independence Day month. To justify the submission, I would suggest that this event could easily be seen from the street. It was taken at the Punta Gorda, Florida air show.
The picture was taken with a Nikon D500 with a Nikkor 18-300 mm lens at 1/1600 sec at f 5.6 at ISO 200. Made usual LR adjustments including cropping.

---
This round's discussion is now closed!
5 comments posted
---
---
---
Dan Waters
Old glory during difficult times of increasing political division. Are we seeing smoke in the background? I stand and salute and thank you for sharing the reminder of what our American flag stands for. &nbsp Posted: 07/03/2021 01:27:43
---
---
---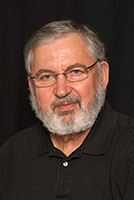 Isaac Vaisman M.D.
Les, very appropriate image for the month. I like the fact that the American Flag is in the foreground and taking about 25 % of the real state. Beautiful color contrast. The presence of the parachuter gives dimension to the image and glorifies the service men. The blue sky with the light clouds complements the image. It is sharp. &nbsp Posted: 07/05/2021 17:17:43
---
---
---
Gloria Sprung
Les, I totally agree with the other comments- beautiful colors and seeing the flag always evoke a patriotic and positive emotion. Balanced composition with the human figure occupying the top left quadrant and the flag opposite diagonally. I also like the parachutist's hand which appears to be waving to the people below. &nbsp Posted: 07/14/2021 11:28:55
---
---
---
Bruce Goodman
Regardless of 'street' or 'no street'... it captures a slice of life which is timely and is clearly very American. I think it is an appropriate image for the group. The flag is so sharp in the image that it almost pops off the page! B &nbsp Posted: 07/21/2021 20:17:41
---
---
---
Daniel De Cort
This reportage photo stands out because of its bright colors and its sober structure. The composition is ok with the flag, the subject, with full light. &nbsp Posted: 07/27/2021 07:47:14
---
---
---