Les Lincke, PPSA
---
April 2021 - Music At a Truck-Stop
About the Image(s)
This photo Music At A Truck-Stop was taken just outside Havana. The Cuban people love to play music and dance and you can find them enjoying it everywhere.
I took the photo with a Nikon 810 with a 28-300 mm lens at 28 mm. ISO was 200. Made some adjustments in PS.
---
This round's discussion is now closed!
5 comments posted
---
---
---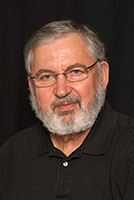 Isaac Vaisman M.D.
Les, the Cuban people do not loose their identity in spite of the miserable conditions they have been subjected by the "Revolution" in the past 60 years. They are always enjoying life to the maximum and they do not pass an opportunity, like here; to sing and dance. The beat of the tropical music/salsa is difficult to ignore. My guess is that one of the musical group members invited a tourist/bystander to dance. The image is sharp, the colors are very vivid. The light is harsh and the image is backlith, so the PP made it look quasi HDR rendition. My only observation is the tight crop on the right (my right) where the woman's arm is touching the frame. Cropping her completely would take away the space for the dancers to move into. Trade off ?? &nbsp Posted: 04/02/2021 07:38:31
---
---
---
Dan Waters
A wonderful photo capturing color, smiles and roof top fun. I can hear the music and laughter making wish I was there. It is a well balanced composition and while a tad more space on left and right would reduce some tension it does not take away from the story of fun. &nbsp Posted: 04/10/2021 16:03:25
---
---
---
Gloria Sprung
Les, welcome to the group and I look forward to seeing your images. With this image submission you certainly caught the moment and action of the dance. I like the expression on the faces of the couple dancing and your post processing. As Isaac mentioned, the lady on the far right is a distraction because she appears to be a bystander and makes this a group of "8" - an even number. For me, the shadows add depth to the story so including the the full shadows at the bottom left if you happened to catch it would be nice touch. &nbsp Posted: 04/17/2021 13:45:53
---
---
---
Daniel De Cort
What a beautiful scene. In the front 2 dancers who clearly enjoy themselves, in the background musicians in full action. The lady on the right closes the picture.
The color palette is special with light tones that are somewhat reminiscent of an HDR recording. &nbsp Posted: 04/19/2021 03:43:12
---
---
---
Bruce Goodman
Ah... the image makes me smile and want to visit Cuba again some day. Your shot captures the music and the rhythm of the dancers. Cropping out the woman in the rear would work to focus the image. There also appears (at least on my screen) some red artifacting on the male dancer's shirt and on some of the others (perhaps intentionally?) B &nbsp Posted: 04/22/2021 08:47:42
---
---
---