Aavo Koort
---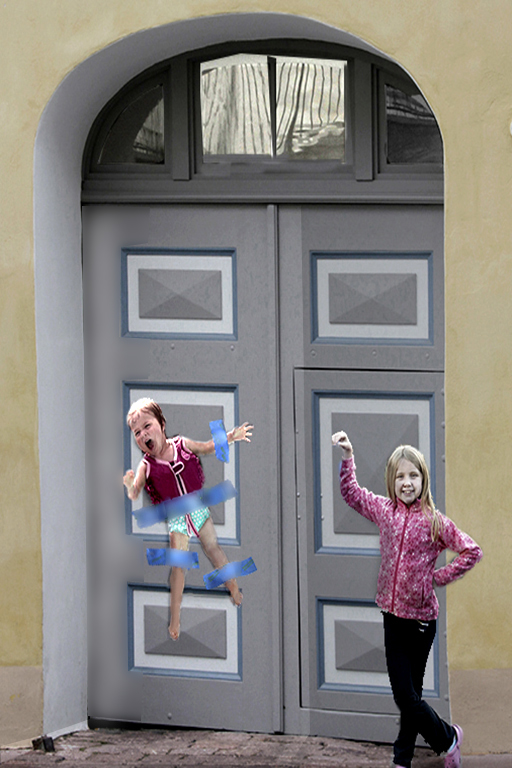 August 2022 - Little Sister
About the Image(s)
With the world in turmoil I decided we could us a little humor.
As several times before , I used my two grandchildren as models. I have a big file on them since their birth.
The little sister image was taken when her father in the pool threw her up in the air. I somehow lost the original.
By the way my granddaughters get along very well with each other.

It is a basic cut and paste job. I tried to show the light coming from upper right by adding some shade on left side of little sister and her tormentor. Also showed some highlights on the blue tape. Added some light on the windows on top of
the door. Enjoy!
---
5 comments posted
---
---
---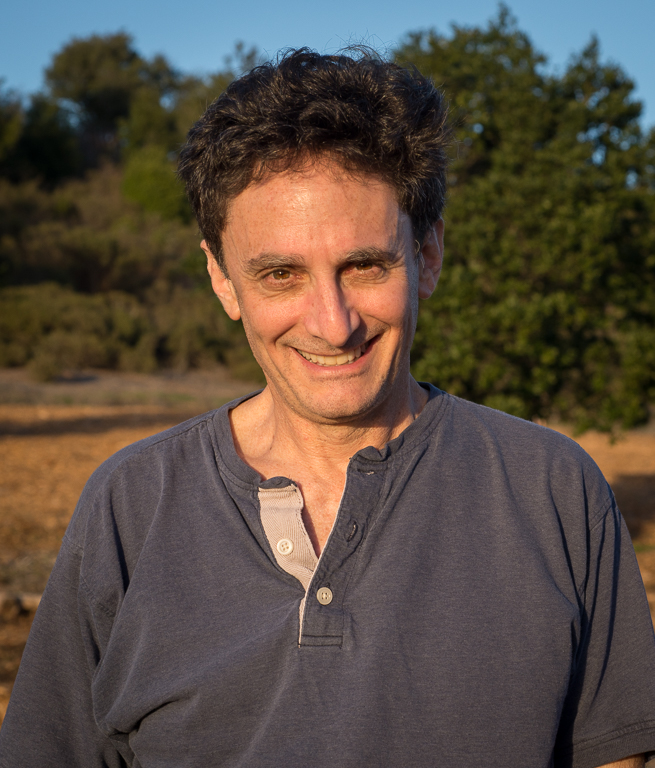 Brad Becker
Aavo, As a parent, and middle child, I can relate to this on many levels. Thanks for sharing a little humor to start my day. &nbsp Posted: 08/09/2022 11:01:49
---
---
---
Maria Mazo
Hi Aavo, you have created a very funny image that relates to the relationships between siblings quite well.
Technically it has more room to work in, I can suggest that you use the levels tool to better merge the tonality of the elements and maybe a little more shade behind the girls could make you feel that they are really in place.
Well done!
&nbsp Posted: 08/11/2022 20:35:39
---
---
---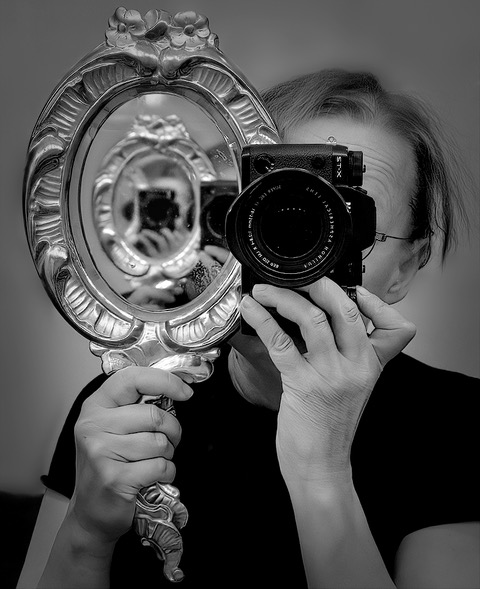 Kirsti Näntö-Salonen
Hi Aavo, a hilarious insight in the challenges of sisterhood. I can very well see my own grandchildren in their places, at certain moments! The expressions and postures of the kids suit perfectly to the story. &nbsp Posted: 08/12/2022 02:27:09
---
---
---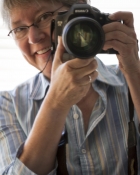 Peggy Nugent
This made me laugh out loud, Aavo!
The body language and expressions on both of the girls' faces really fit the story. I like how you placed the tape at different parts of the younger girl's legs, as if put on in a hurry. The highlights on the tape were a good addition.
I agree with Maria's suggestion about reconciling the tonality of the elements and adding more shadow. An alternative to using levels might be to add a filter. Here's an example, using the Color Lookup adjustment layer, with "Fuji 125 Kodak 2395" selected. &nbsp
Posted: 08/13/2022 12:44:21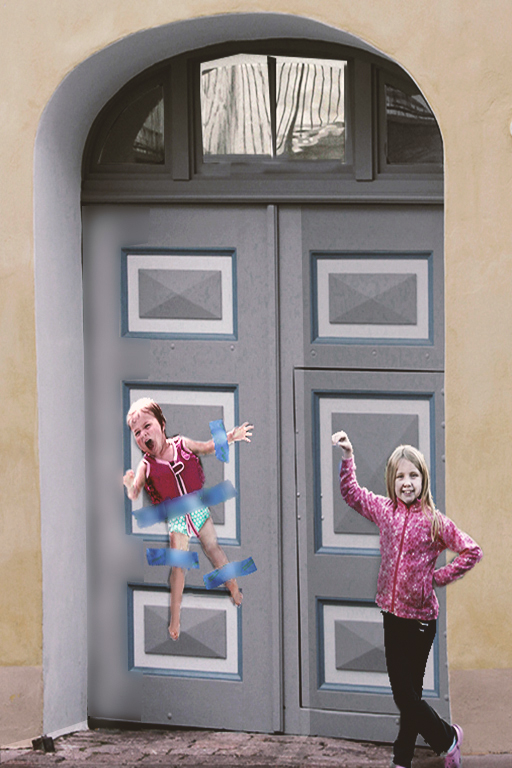 ---
---
---
Alan Kaplan
Haven't we all wanted to tape our kids to a door now and then. Channeling that impulse into a composite is the wise choice. I agree with what has already been said. Look online for how to create a shadow in Photoshop. You'll get millions of suggestions. Shadows would help remove the cut-and-paste look. &nbsp Posted: 08/16/2022 09:25:55
---
---
---
Please log in to post a comment