Kathy Triolo
---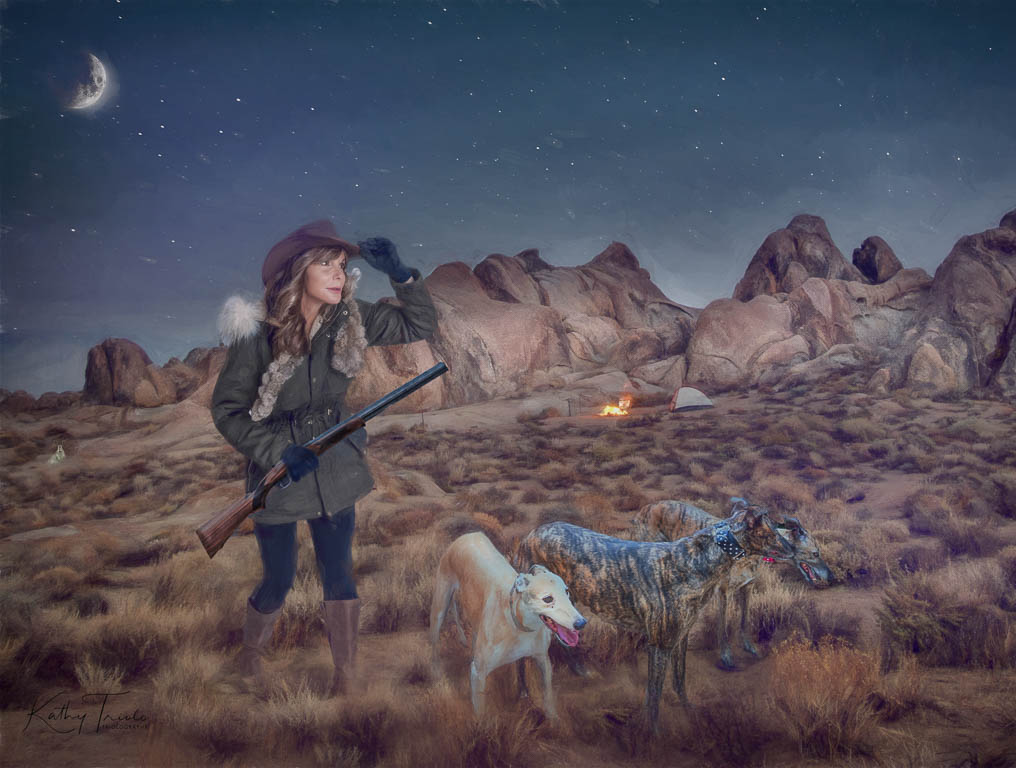 October 2021 - Hunting' Rabbits
About the Image(s)
This is a composite of four photos I took for my friend with her dogs.
The background is a photo from the Alabama Hills about dusk.
I added in a photo of my friend posing for me and a separate photo of her rescued greyhounds.
All work done in Photoshop, with layers for masking, burning dodging and blending.
---
4 comments posted
---
---
---
Alan Kaplan
The setting has an HDR feel to it which adds to the overall "look." The moon enhances the HDR look, but most judges that visit my camera club would say that you shouldn't put a bright object near the edge. Judges tend to follow the rules strictly and leave little room for interpretation. Your import of the dogs works very well in this setting, but I'm afraid the huntress looks a little cut-and-pasted. Maybe putting her further back in the setting and blurring her ever so slightly would help. This is certainly an image worth revisiting.
&nbsp Posted: 10/07/2021 09:00:30
---
---
---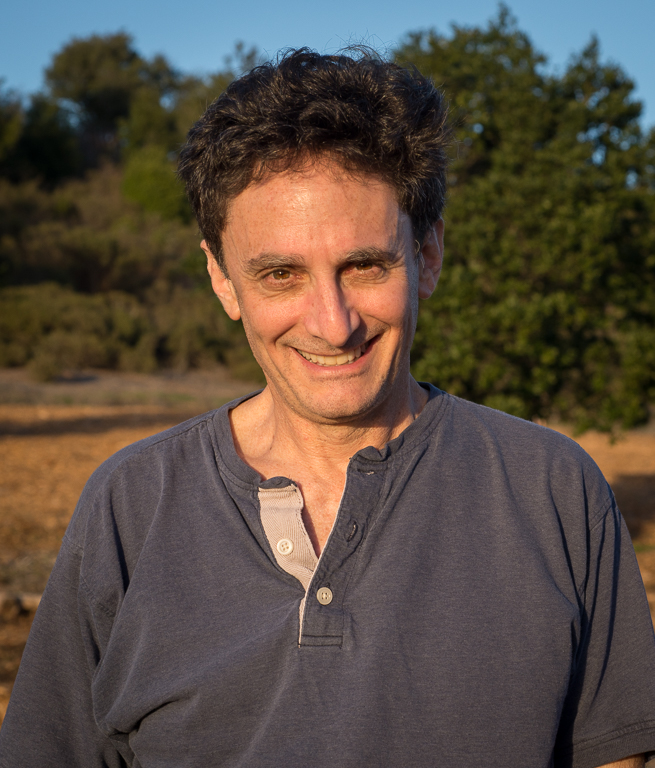 Brad Becker
Kathy, I really like what you've done here. I had a different take on it than Alan. I personally get annoyed when judges use rules to judge an image. I repeatedly get criticism when I have a bird flying out of the image. What if I want the bird to fly out of the image to say something? Your moon adds to the photo. I think the woman fits nicely in this image. I wondered if the dogs might benefit from a little more contrast or something as their brindle coat blends in with the grasses almost making them look transparent. &nbsp Posted: 10/07/2021 22:39:57
Kathy Triolo
Thanks Brad! It's an interesting discussion because I belong to three different photography organizations with three distinctly different approaches to photo critique and judging. Depending on which organization, if you want to get a good critique, you make your image fit that particular group. In my case, I don't try to think about what the judges want, I work with what I want. That being said, I agree that I should have put the moon on the right side to balance the image now that I look at it more closely. But not because of rules, but because it balances the image better in my mind.
I think the "huntress" looks cut and pasted because of the lighting... it doesn't really fit the scene because we don't know what the source of the light is since the moon is behind her.
I also agree about loosing the dogs in the brush... lots to rethink and make anew. Thanks to both of you for your opinions and critical eyes. &nbsp Posted: 10/08/2021 00:03:31
---
---
---
Maria Mazo
Kathy this is a wonderful image, I would agree with the suggestions that the members have said. For me colours works very well but I would work a little more in the tones. For example I would dark more the background as it is a night scene and placing the moon to the right you find your light source over your friend and the dogs. It is a great image to play and experiment a bit more. Well done!
&nbsp Posted: 10/10/2021 00:00:51
---
---
---
Please log in to post a comment