Sharon Prislipsky, PPSA
---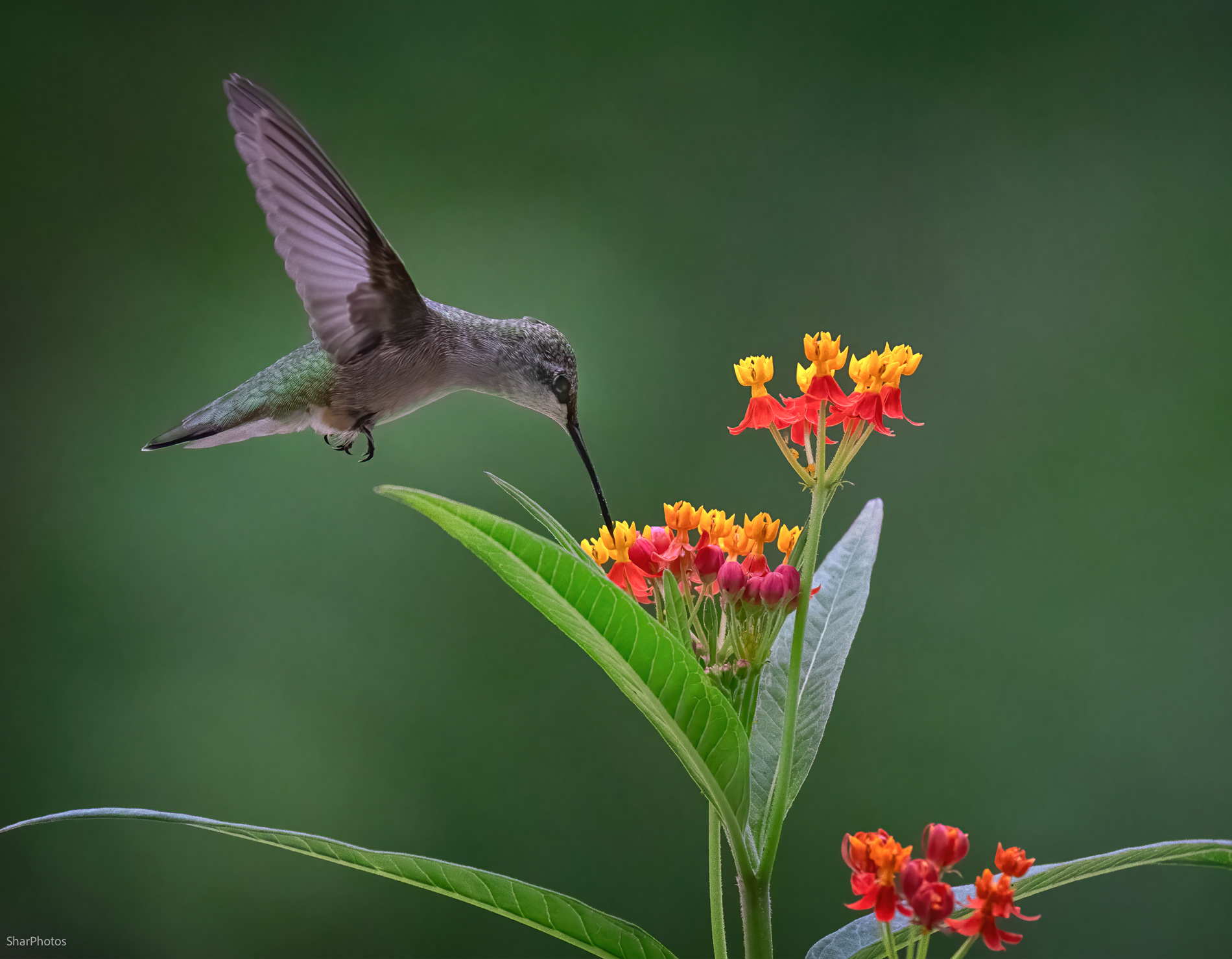 September 2021 - Hummer on Milkweed
Original
About the Image(s)
Several weeks ago a freind gave me some Tropical Milkweed for my polinator garden. When I got home I set them on the edge of the driveway. A short while later I went out and saw that the Ruby Throat Hummingbirds - which are getting more and mroe numerous due to fall migration - had already found the plants. I quickly went back and grabbed my camera.
Canon R5; Canon 100-400mm lens with 1.4 teleconverter. Handheld. ISO 3200; F/8; 1/3200 sec.
I cropped and flipped the image horizontally. I applied Topaz AI DeNoise. I used Viveza to make selective adjustment to brightness, contrast saturation and structure. In Color Efex Pro I added polarization, And few other filters which I no longer remcall. Lastly, in PS I removed a few dark spots from the leavesa and what appeard to be a tiny cobweb from the foot.
---
13 comments posted
---
---
---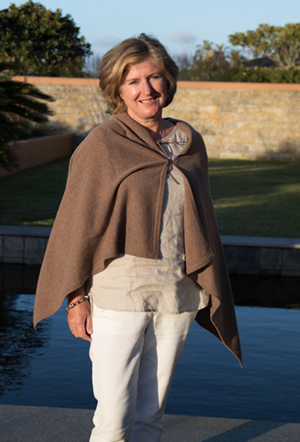 Ally Green
Lovely that you still have the Hummingbirds as ours are all but gone now probably heading your way! This is a wonderful caputure of the Hummingbird and i like how the Milkweed plant is tact sharp as so colourful. The square crop works too. I might have brightened up the bird's eyes a tad. Lovely image. &nbsp Posted: 09/05/2021 12:07:36
Sharon Prislipsky
Thank you for your comments and suggestins. I have already brightened the ey to the point wher if I push it further it creates strange looking pixels that are quite obvious (at lest to me). So I am afraid the eye is as good as it can be. &nbsp Posted: 09/15/2021 09:25:00
---
---
---
Pamela Hoaglund
Beautiful image. I like your post processing and that you flipped the image. Tack sharp and I like that you included three bunches of flowers. I think it might also work with a tighter crop that just included the main stem and hummingbird. &nbsp Posted: 09/06/2021 17:37:39
Sharon Prislipsky
Thanks, Pam. Several of you have suggested a tighter crop. Originally I was thinking of this image as a canvas gallery wrap so I was trying to preserve as many pixels as possible. I think I will make a copy and crop it tighter to use for digital only. &nbsp Posted: 09/15/2021 09:26:33
---
---
---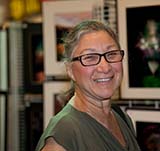 Lisa Auerbach
Your bird is outstanding, and I mean that literally. It stands out so beautifully from your background. With an f/8, this was not due to small aperture. How far from the plant was the background shrubbery? You have a lovely image with good detail. I agree that the eye could be brightened but only a small amount. &nbsp Posted: 09/07/2021 08:15:51
Sharon Prislipsky
Thanks, Lisa. The trees and shrubbery ws actually a long ways off - maybe 30 feet. When shooting with a long zoom lens you get compression which blurs the background significantly, so that was a factor too as I was at 560mm. I have already brightened the eye as much as possible - see my reply to Ally for further explanation. &nbsp Posted: 09/15/2021 09:28:56
---
---
---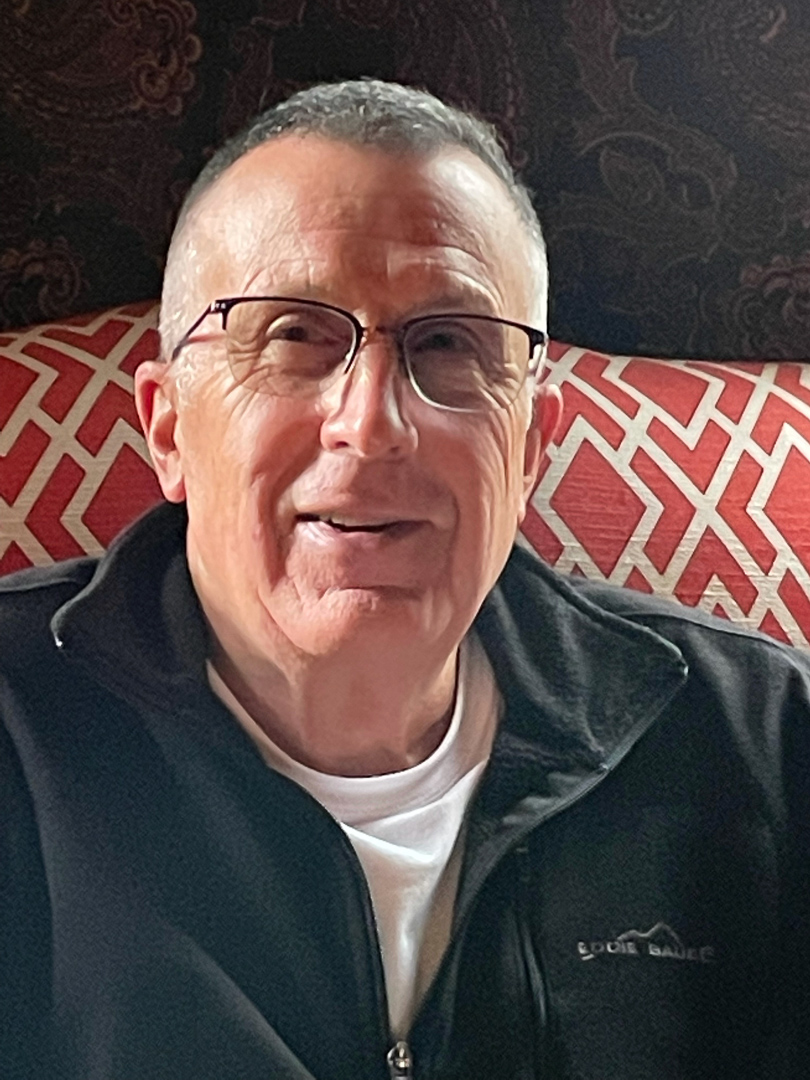 Gary Butler

(Group 4)
Very sharp and very well done. To my eye this Ruby Throat is exquisite even without the iridescence. For me the green, red and yellow of the flowers work well with that slight purplish cast often seen in the wings of these creatures. The choice of f/stop and shutter speed in my opinion give the perfect combination of sharp image and soft background. &nbsp Posted: 09/07/2021 08:42:33
Sharon Prislipsky
Thanks, Gary. I know a lot of people think these birds are green and red rather than irredescent, so they don't realize how the quality and direciton of the light can change their color. Tht bird and the flowers were totally in the shade. &nbsp Posted: 09/15/2021 09:30:41
---
---
---
LC Boros
Nice capture and post work: my only suggestions are that since you pushed a lot of edits already would be to add a catchlight in the eye and alter the crop to portrait cutting out more of the bottom leaves and giving the hummer some head space. &nbsp Posted: 09/11/2021 01:12:36
Sharon Prislipsky
Thanks for youyr comments and suggestions. I have alredy added catch light to the eye and brightened it as much as I feel it is possible without damaging pixels. (See my reply to Ally.) I think the crop idea is a good one for digitial versions of this image. &nbsp Posted: 09/15/2021 09:32:20
---
---
---
Mike Cohen
I love the vivid colors and a perfect background. I felt that they image would be more dynamic with a different crop, framing the lower flower in the corner and making the hummer more of a star. I also brightened up, saturated and added contrast to the hummer which appeared somewhat subdued next to the brilliant flowers. &nbsp
Posted: 09/11/2021 13:54:17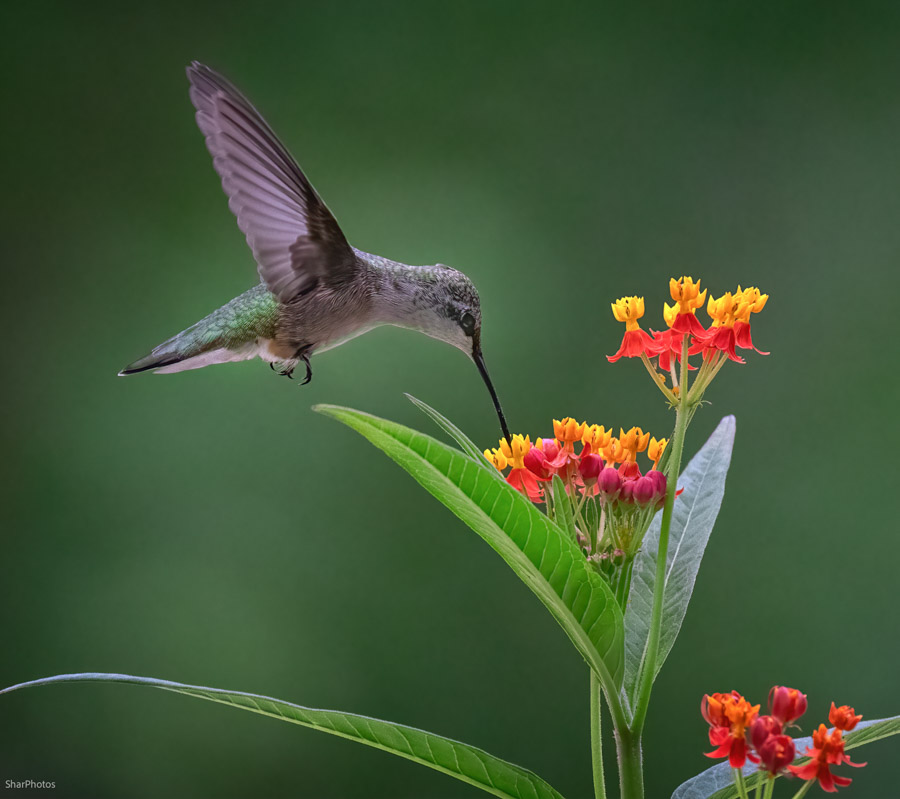 Sharon Prislipsky
Thanks, Mike. I see what you are going for. Those are good suggestions. &nbsp Posted: 09/15/2021 09:33:04
---
---
---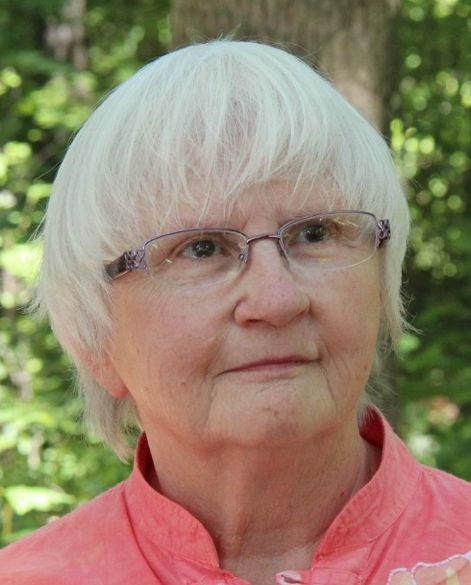 Judith Lesnaw
WONDERFUL image! The bird is caught in mid flight with tack sharp body and just a hint of motion in the wings. The dominant color green is carried through the leaves, background and is picked up in the speckled feathers of the bird. The complementary orange and yellow flowers pop. The orange flowers in the lower right lead diagonally up to the cluster of flowers flanked by leaves, and then right to the hummer. This strong compositional diagonal is enhanced by Mike's crop. Are you pleased with the Canon R5? It is time for me to upgrade from my Canon 80 D into the mirrorless world and the R 5 has been calling to me. &nbsp Posted: 09/16/2021 09:39:23
---
---
---
Please log in to post a comment