Pamela Hoaglund
---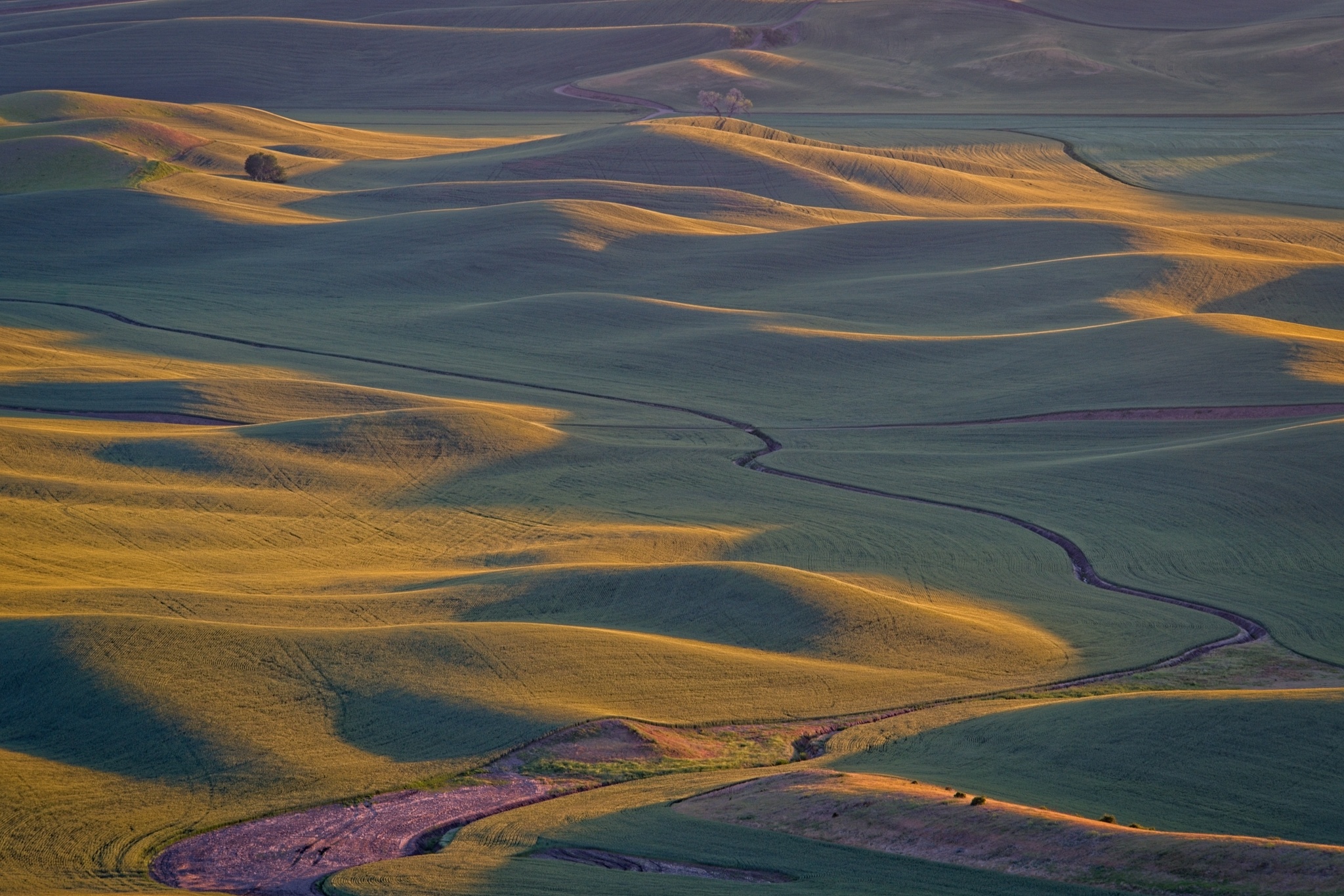 July 2021 - Evening Light on the Palouse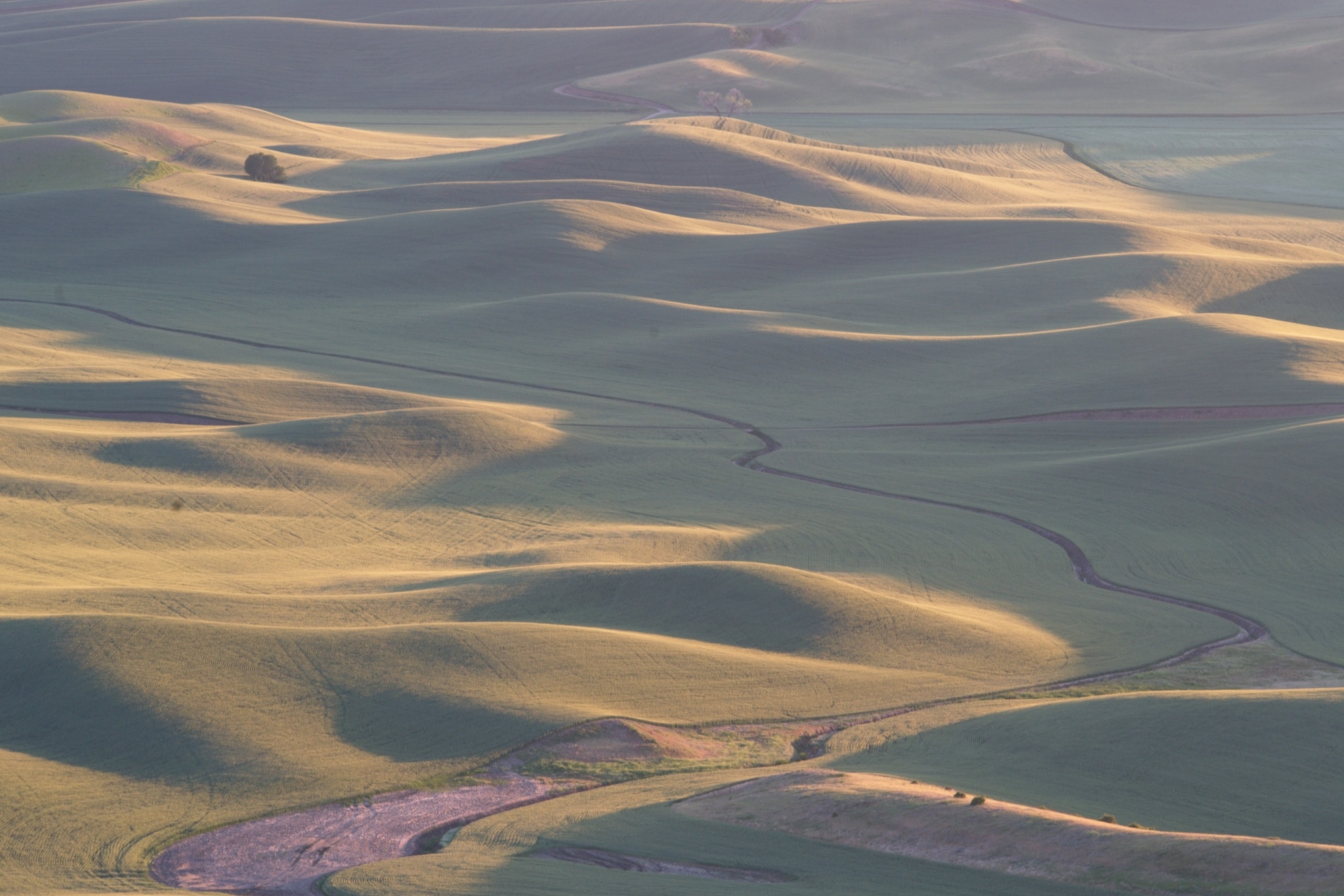 Original
About the Image(s)
Last week I had the opportunity to spend four days in southeastern WA in an area called The Palouse. It's a large area of rolling farmland planted mostly with wheat and canola with occasional lentil fields. One of the top places for photographers in the evening is to go up Steptoe Butte where you have a grand vista of the rolling hills and fields with the setting sun casting beautiful light and shadows. It can also get very windy which it was two of the evenings. This image was taken with my Sony 7RM3 with a Sony 70-300mm lens. I frequently use auto ISO which was 1250, shutter speed 1/40sec at f/11 and using a tripod. Post processing in ON1 2021, setting black and white points, adding some dynamic contrast and sharpening. I bracketed the image by one stop (-1, 0, +1) combining the three images in ON1.
---
15 comments posted
---
---
---
Mike Cohen
I also recently went through Palouse for the first time a few weeks ago. I was only there for a short time and also had extreme wind to deal with. I went to Steptoe in the morning but wasn't lucky on the sunrise and the wind made it impossible to use vegetation as a foreground. I like your composition emphasizing the organic curves of the land, and the purple field. I didn't see that when I was there. I think the image would benefit a great deal by adding even more contrast. It looks subdued to my eye. &nbsp Posted: 07/09/2021 14:30:47
Pamela Hoaglund
Thanks Mike. I will go back and increase the contrast and also look at the black point. &nbsp Posted: 07/09/2021 19:26:49
---
---
---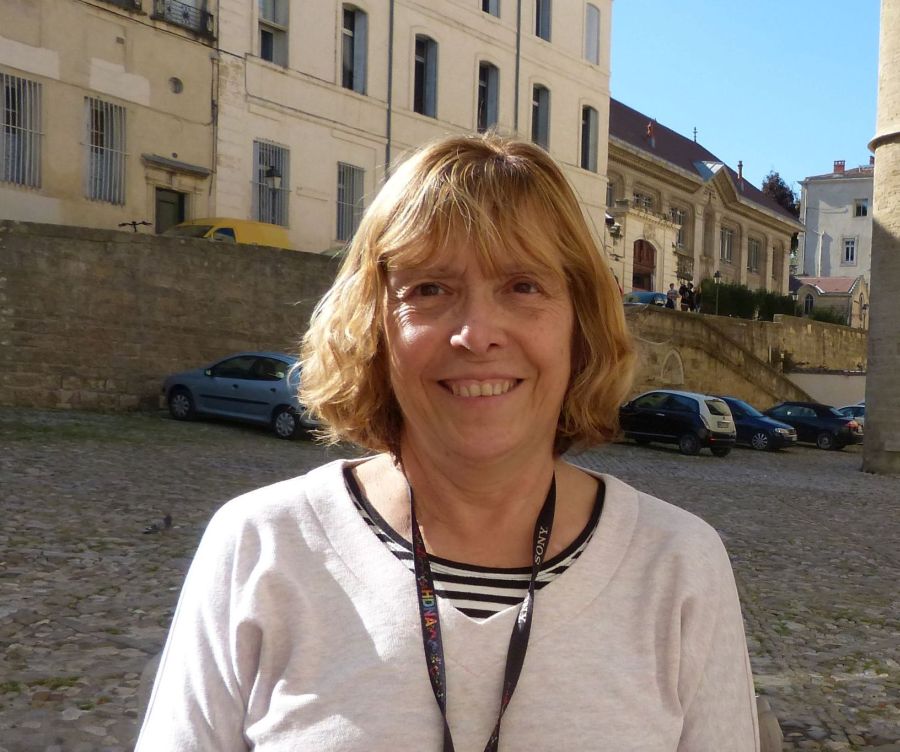 Renee Schaefer

(Group 27)
Hi Pam,
I am visiting from group 27 and am also Lisa A's friend. I am going to the Palouse in mid August. Thank you for sharing the info. Great image.
&nbsp Posted: 07/09/2021 16:11:21
---
---
---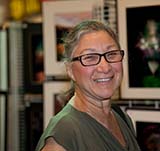 Lisa Auerbach
What I like best are 2 things. There are so many leading lines. The purple (lentil?) gives a punch of color, and the image has a purple cast to it. I like this. I opened your image in Adobe Bridge, added contrast, and I agree with Mike, that this adds to the image. &nbsp Posted: 07/09/2021 17:45:32
Pamela Hoaglund
No lentils , just fallow ground and the way the setting sun is casting light and shadows. &nbsp Posted: 07/09/2021 19:28:06
---
---
---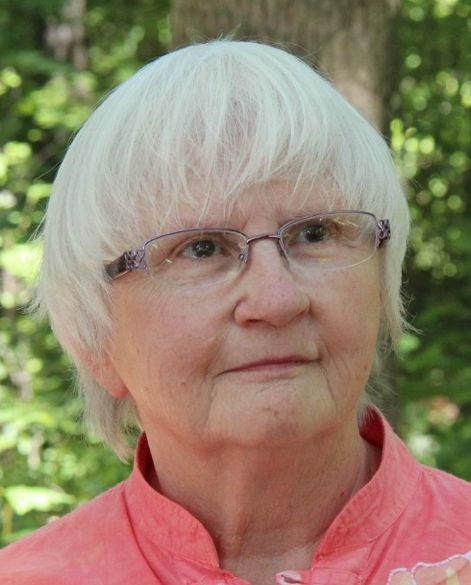 Judith Lesnaw
Wonderful lines and colors. I agree with Mike that additional contrast would be valuable. What were you focusing on? The tree and furrows near the top of the image add interest. Contrast and sharpening would enhance them. The diagonal line and purple intersecting lines are great compositional elements.
What a magical place! &nbsp Posted: 07/11/2021 13:14:32
Pamela Hoaglund
My main focus was the leading lines through the hills. &nbsp Posted: 07/12/2021 00:32:19
Pamela Hoaglund
My main focus was the leading lines through the hills. &nbsp Posted: 07/12/2021 18:06:07
---
---
---
Sharon Prislipsky
I think you caught the sunset at exactly the right time to produce beautiful light and color. Also, having visited the Palouse in June a few years ago, I believe you chose the right lens to capture this scene - the way the telephoto compresses the image is lovely, Ithink.. To me it appears a bit hazy. Also, in my opinion the fallow area in the foreground does not help the image. I hope you do not mind that I took a stab at editing your image. First I set white and black points, then moved the Dehaze slider to the right until I thought the contrast and clarity looked correct to me. Finally, I cropped to a panoramic view. This is just my idea about how to present this scene. Try it and see what you think. &nbsp
Posted: 07/12/2021 11:53:53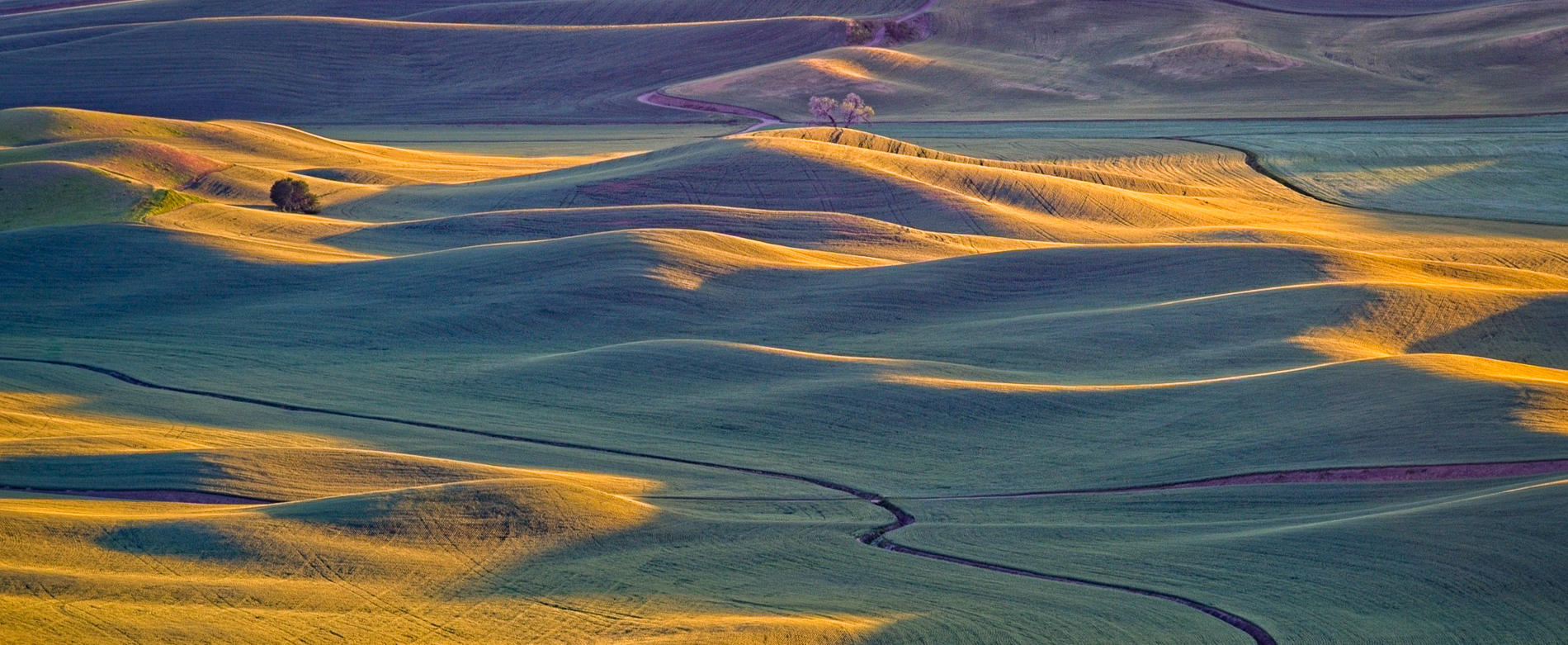 Pamela Hoaglund
Thanks Sharon. I will try your ideas. &nbsp Posted: 07/12/2021 12:53:02
Sharon Prislipsky
Pam, I see the edited image did not get posted the first time, so here it is. I hope the visual feedback is helpful. &nbsp Posted: 07/12/2021 13:08:55
Pamela Hoaglund
Thanks Sharon. I like your crop much better. My focus was on all the leading lines and patterns in the hills from the sunset shadows. Your crop put the focus more at what I was aiming for. &nbsp Posted: 07/12/2021 13:24:18
---
---
---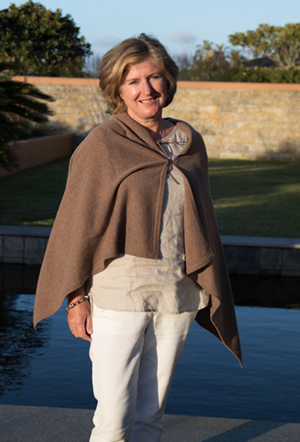 Ally Green
A nice pleasing image and can feel the stillness of the sunsetting. I like how the small roadways (or are they drainage ditches?) carve up the landscape adding interest. Nice job in processing bringing out the colours but as Mike & Judith have commented would add a bit contrast. Very scenic image. &nbsp Posted: 07/14/2021 16:45:32
---
---
---
LC Boros
A soft gentle sunset on the landscape image: glomming on and going off on a tangent from Sharon's suggestions....consider the occasional portrait orientation/crop for landscapes with lots of horizontal lines.
Here's a super quick edit of what I mean.
Horizontal crops are unexpected but they can really help draw the viewer in and across an image: often instead of reading left right, the view gets to look from the bottom to the top. &nbsp
Posted: 07/15/2021 22:39:47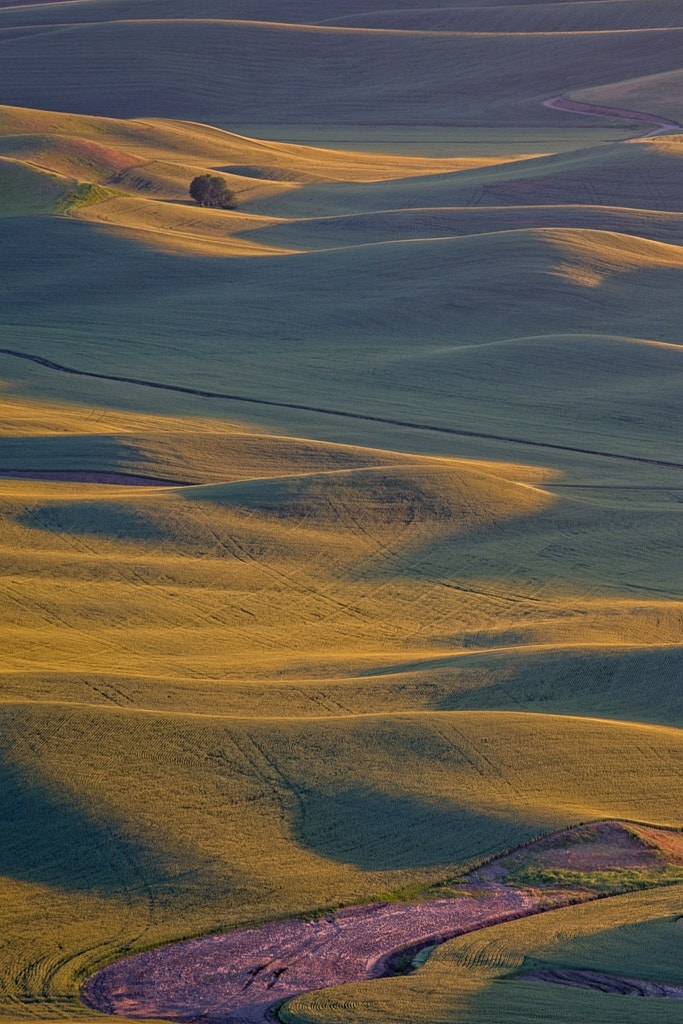 Pamela Hoaglund
Thanks for the suggestion. Something to consider. &nbsp Posted: 07/21/2021 14:00:13
---
---
---
Please log in to post a comment