Pamela Hoaglund
---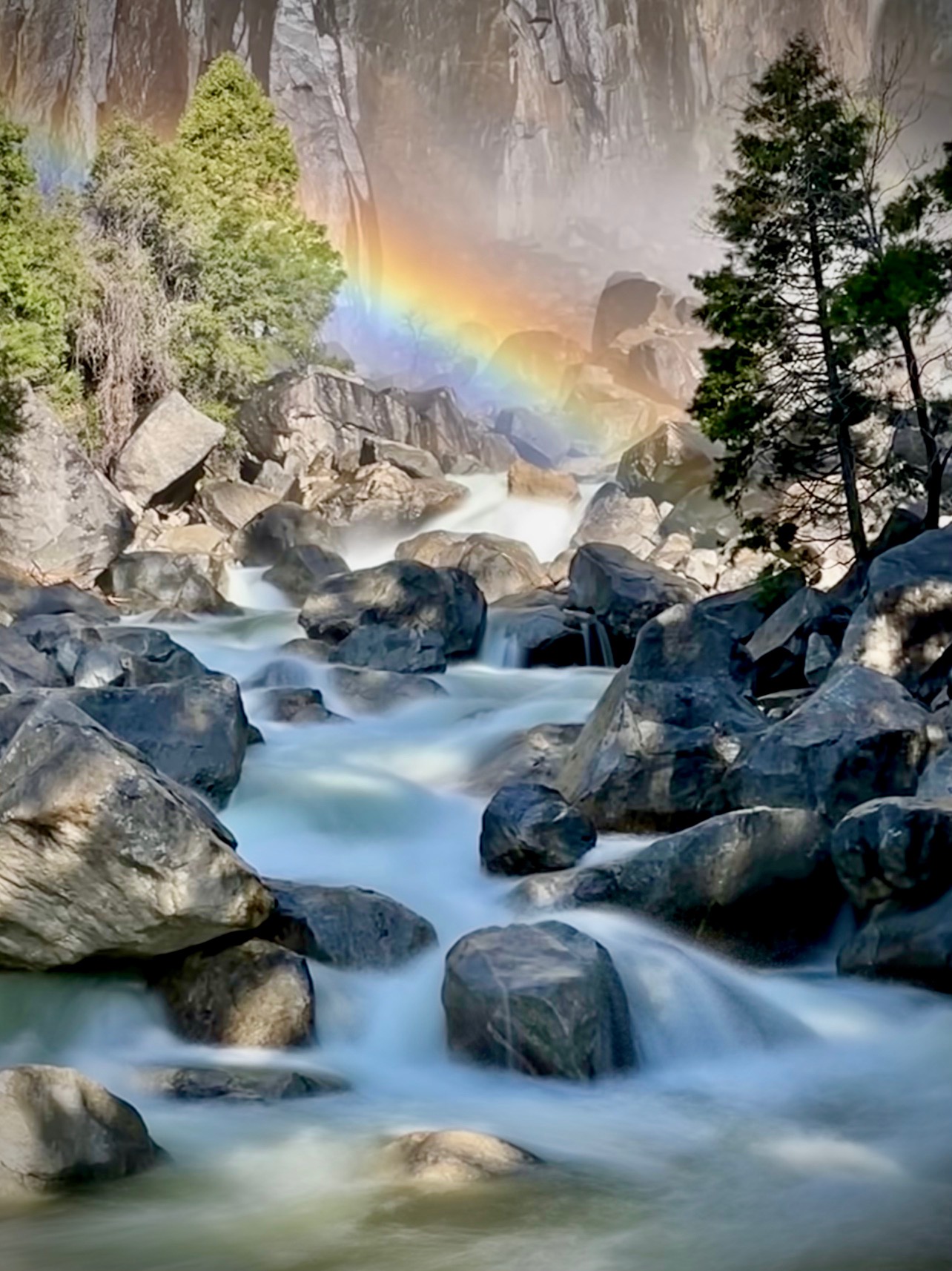 May 2022 - Rainbow at Lower Falls
About the Image(s)
I spent last week on a photo workshop in Yosemite National Park. This was taken about 8am at the base of the Lower Yosemite Falls. I used the "live" mode on my iPhone so that I could change to long exposure to make the water show the motion. I did basic editing in the iPhone camera editing software. There is a lot of contrast in the image from the highlights on the left to the shadows on the right. I tried to tone down the highlights some but not sure I accomplished a lot. I did take the image out to Snapseed and tried a curves adjustment, again not sure it did much or as much as I would like. What do you think and how would you tone down the highlights more?
---
7 comments posted
---
---
---
Richard Sprott
A lovely image of a lovely spot. Did you try the highlights slider in the camera edit menu? I am not sure how I would work on the highlights issue, but I would probably just keep blundering along to see what worked. How about reducing contrast? Ditto brilliance?
In any case the image is certainly worth working on. BTW, I like it as is.
&nbsp Posted: 05/06/2022 11:01:14
---
---
---
Jerry Hug
Beautiful Pam. What a neat location to shoot from and the Live Photo mode was perfect for the fast moving stream. (Perfect)
Your concern about the left side that is a little bright. Here are 2 ways to treat the issue. A. In Snapped use Tune image and Take the brightness down for the area that you are most concerned and click the check on the right. Go up to the Stacks and click, then go down and click View Edits. Go to the called Tune image and click on the paint brush and paint only the areas that you want darken. and click the check
mark.Then
click the arrow in the upper left and side. And you are done unless you have some other areas and want to do the same or lighten like the rock on the lower right?
B. Second method. Tools - Brush tool. Set the tool and -5 or -10 and paint down the highlights. This is a slower method but you can doo it often. Jerry &nbsp
Posted: 05/06/2022 14:23:59
Pamela Hoaglund
Thanks Jerry. I did editing in two programs. My biggest problem is forgetting that I can do a mask in Snapseed. I think it's called a brain fart 🥴. I will give your suggestions a try. &nbsp Posted: 05/09/2022 21:14:44
---
---
---
Bob Barley
Pam, I think you capture wonderful images all the time - at least from what I've seen on this forum. In this image, I see the foreground is in shadow, and the midrange is in bright sun. The camera tried to manage that, and it didn't satisfy either. So, if I had to edit this shot, I'd increase contrast and decrease highlights. I'd probably try a couple of different layers and brush them back as needed - speaking in Snapseed here. The alternative would be to use PS, but I haven't learned enough about PS Mobile yet to be sure. It's still a good image that might be better with some edits.
&nbsp Posted: 05/06/2022 16:04:20
Pamela Hoaglund
Thanks Bob. I did bring down highlights but the result did not satisfy me. When I shot the image with my phone I had it in HDR mode so that helped some but not enough. I don't use Photoshop so I don't have the mobile app. I'm going to work on it some more with the suggestions from you and Jerry. &nbsp Posted: 05/09/2022 21:17:57
---
---
---
Sol Blechman
This is darned near perfect. The upper left, as others have said, needs darkening, Snapseed has a brush tool that I've used in this situation which could be helpful. Good use of Live function. &nbsp Posted: 05/13/2022 07:51:30
---
---
---
Lynne Royce
This all works for me. The excellent slow motion blurred water fall and muted soft rainbow all look like the setting for a magical ferry scene in children's book or movie. Wouldn't be surprised to see dainty winged ferries hovering around this scene. &nbsp Posted: 05/14/2022 10:34:25
---
---
---
Please log in to post a comment