Jerry Hug, APSA
---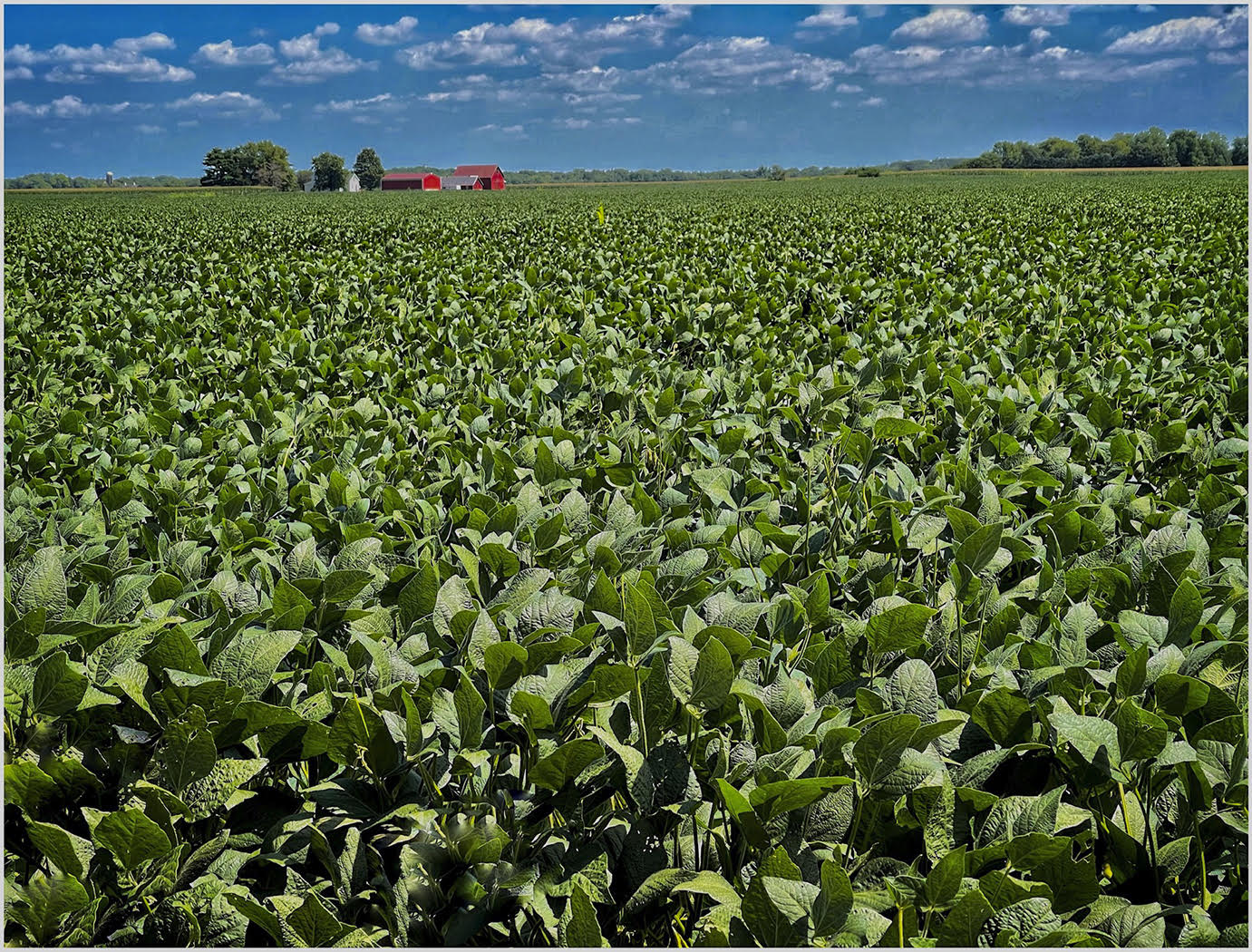 September 2021 - Beautiful Day on the Farm
About the Image(s)
I was on a Barn Tour in Northern Illinois and could not believe the feeling of being at peace with the 72 degree weather, bright sun and wonderful breeze and refreshing country air while standing at the edge of a Soy Bean field looking the neighbors about 1/2 mile away. Living in an urban area about 20 miles from downtown Chicago
it was a complete welcome change.

I shot the image using the iPhone 12 Pro Max in auto HDR and ProRAW setting. I tweaked a few basic settings in Snapseed and Cloned in some Soy Bean plants near the bottom edge
of the image. What a fun day. We visited 7 different family barns and an old wooden country church built in 1875.
---
9 comments posted
---
---
---
Richard Sprott
Neat! The red barns are perfectly placed near the horizon and the plants are sharp front to back. This field will turn golden in a few weeks and it would be nice to see it then as well.I like the immensity of the field from the way you have framed it. &nbsp Posted: 09/03/2021 07:47:34
Jerry Hug
Thanks Dick. &nbsp Posted: 09/03/2021 09:12:09
---
---
---
Sol Blechman
Even though it's a tiny part of the image, the way you have it put together the eye goes right to the red
barn.Very
effective image with great impact. &nbsp
Posted: 09/04/2021 06:29:10
Jerry Hug
Thanks Sol. Stand there at the edge of the soy bean field was unique experience. The fresh air (No smells from farm animals because these modern farmers make their money with beans and corn).

Living in suburbia I realized how these farm folks see a sunrise and sunset with out any other buildings blocking their view.

The barns are really not used any more but are historic buildings from their forefathers that homesteaded the land years ago. &nbsp Posted: 09/04/2021 06:46:41
Sol Blechman
Here in Southern Oregon we are, and have been for over a month, suffering from a blanket of smoke coming from several fires. The flames are not a threat now but the persistent smoke works on the mind as well as the
health.Photography
is somewhat challenging. &nbsp
Posted: 09/04/2021 06:59:52
---
---
---
Dave Edwards
A very interesting image. The red barns really stand out. The silo in the upper left really adds more depth to the scene. I have observed many and many of the large farm fields in the midwest. Your image has brought out the actual size of these fields with corn or beans. Nicely done. &nbsp Posted: 09/06/2021 13:16:37
---
---
---
Pamela Hoaglund
This reminds me of the vast farm lands of eastern WA. Complimentary colors red and green. The red barns are a great highlight in the background. Your farm tour sounds like a wonderful photographic adventure. It's nice to remember where our food comes from. &nbsp Posted: 09/06/2021 17:09:55
---
---
---
Bob Barley
Your image suggests the vastness of the farm land. As others have mentioned, the scene is punctuated with the red buildings that add scale. Nice clouds in the blue sky, too. I'm wondering if this would make a great pano or 16x9 image.
Nice shot. Sounds like you had a great tour of the countryside.

&nbsp Posted: 09/06/2021 17:51:50
---
---
---
Lynne Royce
Wow that's alot of soy beans. Its a perfect image with rolling soy bean field leading viewer to red barn and then blue sky with bright puffy clouds. Excellent composition and colors.

&nbsp Posted: 09/14/2021 07:31:43
---
---
---
Please log in to post a comment