Karl Hokanson, EPSA
---
May 2022 - Been Watching the Irwins'?
Original
About the Image(s)
I'm sending both the color and mono (converted in LR). Camera Nikon D500. Image cropped and lightened in LR to avoid some wires in background. Shutter priority, spot metering (no cage walls just a pit for separation), 70-200 2.8 lens, ISO 1600, focal length 122 mm and 1/500 @2.8.

Let me know if you see the wires in the background since if I remove the wires I would have to stay in color or mono, not nature.
---
5 comments posted
---
---
---
Mary Ann Carrasco
Karl, I like the pose of the gorillas and the expression on their faces. The image is very sharp and you have captured a great moment. I did not notice the wires in the background. My only thought is that the image seemed a bit bright to me and the brightness of the branches seemed to take away from the subject. I took down the highlights and moved the exposure down a bit. Let me know what you think. Where was this taken? &nbsp
Posted: 05/11/2022 15:31:21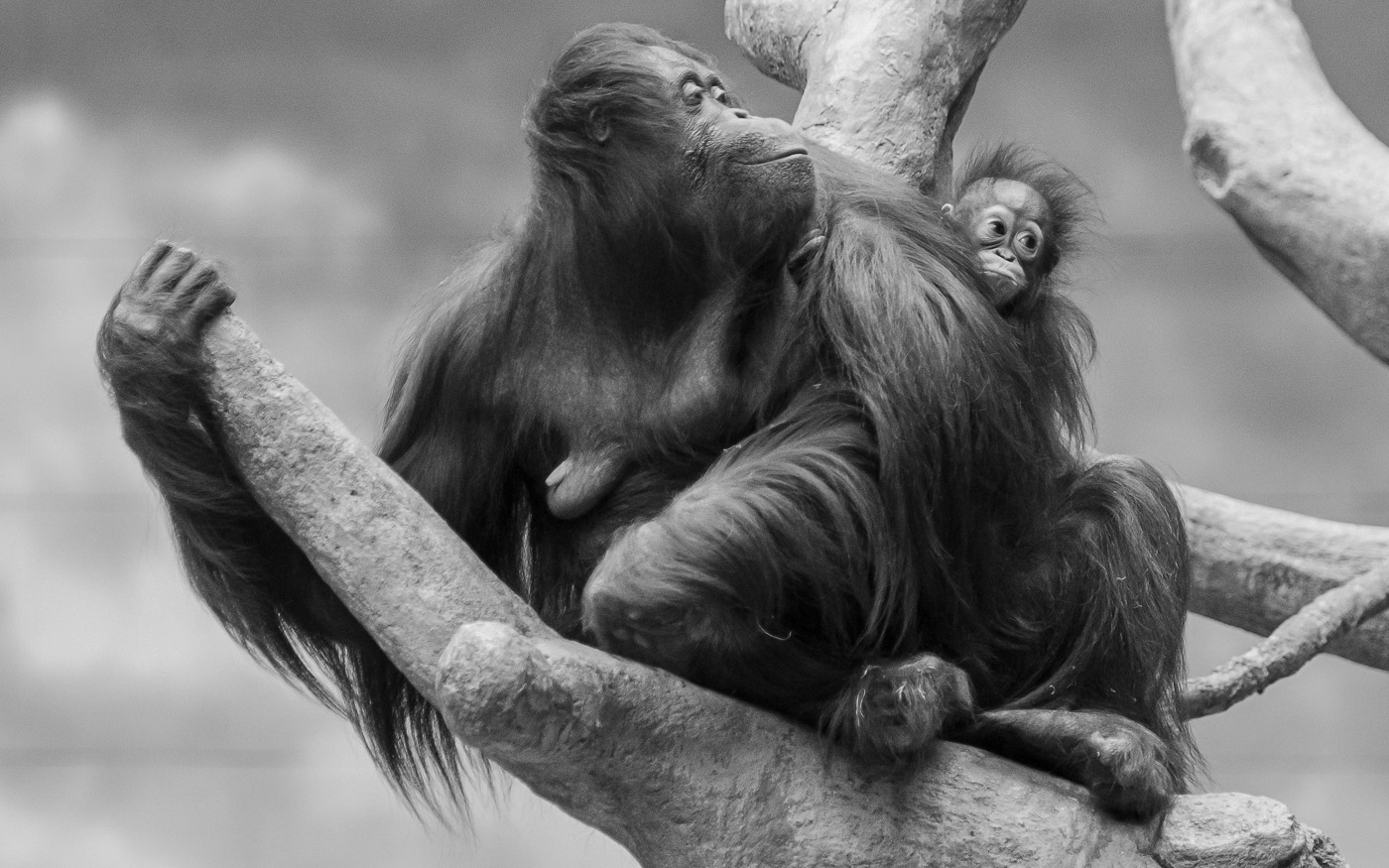 ---
---
---
Karl Hokanson
Thanks Mary Ann. Good comment. This orangutan family pic taken at Brookfield Zoo in Chicago a couple of years ago. &nbsp Posted: 05/11/2022 15:37:02
Mary Ann Carrasco
It is a wonderful image. If I get back to Chicago I will have to check out the zoo. &nbsp Posted: 05/16/2022 16:13:07
---
---
---
Cindy Lynch
I like this in both monochrome and in color. In color, you have complimentary colors. It is really a nice capture, especially since you have their eyes. It is a little bright, but I like it that way. I love taking zootography! This is a nice one. &nbsp Posted: 05/12/2022 19:25:56
---
---
---
Lorna Zaback
Karl, I don't have a lot to add to what Mary Anne and Cindy have said. Although I like the hues in the colour version, I think the monochrome emphasizes details and features - the textures in the sky and the branches, the looks on their faces, the detail in the mother's coat - that tend to get overshadowed by colour. There is a lovely flow to this image that also stands out more, I think, in the BW. I do like Mary Ann's highlights and exposure edits. No wires that I can see - great capture of a decisive moment! &nbsp Posted: 05/16/2022 15:01:27
---
---
---
Please log in to post a comment