Josh Lohff
---
November 2023 - Ashton Jeanty
About the Image(s)
EQUIPMENT & EXIF
Canon EOS R5 & EF 100-400mm f/4.5-5.6 L IS II USM: 1/2000 sec @ f/5.6, ISO 1000, 100 mm (shot free-hand)

IMAGE DESCRIPTION & INTENDED EFFECT
This image was shot from the south endzone of the Boise State University (BSU) football game during the 9/9/2023 game against the University of Central Florida, just before kickoff. My intended effect was to capture the life and energy of the situation - the whole BSU team having just run the length of the field for the opening ceremony.

POST PROCESSING STEPS
I didn't do a great deal in post, mainly just evening out the exposure of the overall image by bringing the shadows up. I also applied a very subtle vignette.

---
This round's discussion is now closed!
8 comments posted
---
---
---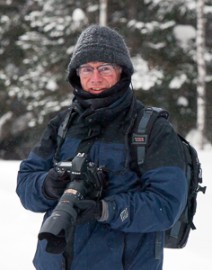 Alan Kiecker
There are some highlights that I find distracting. In particular the arm on the right and the face in the background. I would crop out the arm and reduce the brightness of the face. Looking at the exposure information, it seems like you could have reduced the shutter speed allowing you to reduce the aperture for a greater DOF. This would hopefully bring the face in the background in focus. &nbsp Posted: 11/14/2023 11:06:16
---
---
---
Josh Lohff
Hey Alan. It never ceases to amaze me how obvious things seem once someone points them out! The arm on the right IS way too bright and definitely draws the eye away from the subject. Normally, I'd have shot something like this at f/2.8, which would have helped blur out the faces in the background; however, I'll admit to being a little overwhelmed, this being my first on-field sporting event, and even though I could have dropped this lens to f/4, I didn't even have the presence of mind to do that!

Regardless, the issues w/it could have been addressed in post. Thanks for the feedback, I really appreciate it!
&nbsp Posted: 11/14/2023 19:41:33
---
---
---
David Kepley
Josh, You've captured a great sports moment! The lighting on the subject is very good! About the only thing I could suggest would be to crop off a bit on the right side to eliminate the arm of the other player. &nbsp Posted: 11/18/2023 10:19:06
Josh Lohff
Hey David, please see my response in Craig's response. &nbsp Posted: 11/19/2023 16:04:43
---
---
---
Craig Callan
The overall lightness of this shot is what strikes me first when I look at this image. In lightroom, I would reduce the overall exposure to bring out the detail in the highlit areas, then I would open up the
shadows.Then
I would crop on the right side, as suggested by David, and finish with a soft vignette to draw the eye to that triumphant quarterback. &nbsp
Posted: 11/18/2023 19:27:00
Josh Lohff
Good Afternoon Craig, David and Stephen

Thanks for the suggestions, and taking the time to apply them!

I do like the revised version and I'm with you Stephen, about bring the crop down just a bit.

This has been one of the most interactive critiques I've had, it's been great!

Happy Holidays Gents
Josh &nbsp Posted: 11/19/2023 16:04:15
---
---
---
Stephen Jude
Hi Josh,
Have to say that I agree with everything that Craig has suggested. I think his edits have added some excellant subtle finishes to an already strong image. If anything perhaps, I would also have cropped down a fraction from the top.
With the arm taken away from the right side, we are left with a strong composition of three elements ( I think the guy in the background is a bonus as he is looking at the main subject, and is blurred just enough not to interfere with the main subject but support the overall story )
The obvious emotion of the player is well captured.
Cheers
&nbsp Posted: 11/18/2023 22:17:08
Josh Lohff
Hey Stephen, please see my response in Craig's response. &nbsp Posted: 11/19/2023 16:04:52
---
---
---