Josh Lohff
---
May 2022 - Paw Pillow
About the Image(s)

EQUIPMENT & EXIF
Canon R5 / EF 24-70 f/2.8L II USM & 1/80 sec @ f/2.8, ISO 2500, 70 mm (shot free-hand)

IMAGE DESCRIPTION & INTENDED EFFECT
This is our cat Pip. My intent for this image was to draw attention to his eye and his overall dark gray color. Turning the image monochrome supported at least one of those so I went with it.

POST PROCESSING STEPS
Spent a bit of time bringing background highlights down, so they weren't the brightest part of the image (great feedback I previously received from this group, so thanks :)), adjusted the B&W color channels a bit to get it where I liked it, sharpened it just a bit, and added a subtle vignette.
---
9 comments posted
---
---
---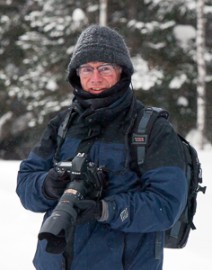 Alan Kiecker
Great photo of Pip! You captured his face - tack sharp! The narrow DOF works! I like how Pip is posed. Rather than looking directly at the camera he is looking off to the left making the viewr wonder what is over there that has the cats interest. Well done! &nbsp Posted: 05/10/2022 09:05:14
Josh Lohff
Hi Alan - thanks for the kind words! I can tell you what he's thinking about... figuring out how to steal his sister's (Ms. Potter) dinner ;) &nbsp Posted: 05/10/2022 19:56:21
---
---
---
Craig Callan
Really nice image with good use of sharpness and DOF. Excellent tonal range and shadow detail, as well.
Just two (minor) suggestions:
1) Rotate the image about 3 degrees CCW to straighten the tilted rug.
2) Slight amount of burning-in on the light space at top left to hold the viewer's eye in the frame. &nbsp Posted: 05/10/2022 15:16:57
Josh Lohff
Hi Craig
Thanks for the specific feedback, I originally didn't rotate the image because I thought the vertical line of the pantry would look worse then the apparently crooked carpet (which isn't actually, the image was just taken at an angle so it appears that way). Regardless, I tried it out and I like it this way too.
Also, I tend to struggle with not wanting to overdue dodging and burning, sometimes to my own detriment, which is what happened here - now that you point it out though - I agree. So, I burned that bright spot on the top left, immediately followed by the bright spot above Pip's ears, which became the next brightest spot, and definitely like it more. My eye is officially not wandering to anything aside from Pipper's face. I've attached a revised version of the image, but not sure if it goes through some sort of review process before you can see it, but I guess well see. Thanks again!
&nbsp
Posted: 05/10/2022 19:59:41
---
---
---
Dicky ting ming Law
Hi Josh

simple and expressive, i like it. &nbsp Posted: 05/11/2022 00:43:58
---
---
---
Dicky ting ming Law
It would be better if let me could see more of the left eye &nbsp Posted: 05/11/2022 00:48:11
Josh Lohff
Thanks for the input Dicky ting ming Law. &nbsp Posted: 05/11/2022 06:11:23
---
---
---
David Kepley
Josh,
This is a very effective image of the eye of the cat! The eye is very sharp. Well done. The back ear starts to get blurry. Not sure if shooting at f6.3 might help that. I'd put a vignette around it to draw the eye toward you suject. &nbsp Posted: 05/13/2022 10:16:05
Josh Lohff
Hi David - thanks for taking the time to reply. I'm a sucker for the shallow DOF, sometimes to my own dismay. Thanks for the reminder to capture w/various DOFs.

I'm also a bit gun-shy when it comes to vignettes. I do try to keep them subtle, but I guess if they're too subtle - then you might as well not have 'em!

Thanks for feedback, I appreciate it and will keep it in mind moving forward. &nbsp Posted: 05/13/2022 21:35:28
---
---
---
Please log in to post a comment