David Kepley
---
July 2021 - The Garden
About the Image(s)
The Garden

I took this shot in New Brunswick, Canada, a couple of years ago. Here I have trying to imitate the look of a French impressionist artist. I wanted it to look painterly and suggestive of colors and shapes, which means of course that nothing is really sharp. Does it work?

I thought I would try using the multiple exposure feature on my camera. I have a Canon 7D, Mark II, which allows me to take several pictures snd have them blended in camera. It is like what many of us did on purpose or otherwise in our film cameras when we took more than one shot without advancing the film. In those days you had to figure out how much to adjust the shutter speed or f stop to compensate for the additional light you were allowing into the camera. Digital cameras now do that work for us!

So for this shot I shot 2 images at 1/25 sec, f16 at 6400 ISO. I used a Canon 7D, Mark II on a tripod with a 24-70mm lens shot at 55mm. In post processing I used the basic LR sliders and took it into Topaz Studio.
---
This round's discussion is now closed!
5 comments posted
---
---
---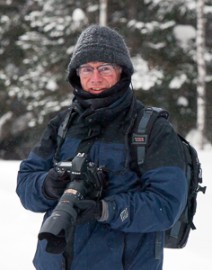 Alan Kiecker
An interesting photo that has kind of a dreamy feeling about it. Thanks for the description of what you did because when I first saw the photo I could see the tree, but not all that well and I was wondering why, what had the photographer done here? I think the tree is the center of interest as my eye keeps gpoing back to it. Thanks for sharing with us. &nbsp Posted: 07/15/2021 13:54:23
David Kepley
Alan, thanks for your comments. Yes, I wanted the tree to act as kind of an anchor for the image and then let you eye enjoy the poppies. Still not sure it works! &nbsp Posted: 07/15/2021 13:58:29
---
---
---
Sylvia OM
Wow David, congratulations! I just saw your picture and Monet comes to my mind, so your photo intention definitely works on me.
I do love the softness and the peace of the image. The colours and textures are amazing.
I am not familiar with topaz studio and I am unsure if by LR sliders you mean you created a stack from different picture planes. Just curious.
Thanks for sharing. really nice work! &nbsp Posted: 07/28/2021 17:47:48
---
---
---
David Kepley
Sylvia, thanks for your kind words on my picture. By lr sliders I meant the sliders that are under the basic tab in Lightroom. It includes things like highlights, shadows, white, black, texture, clarity. I did not create a stack. &nbsp Posted: 07/28/2021 20:39:04
---
---
---
Jo-Ann Rolle
I think you achieve your objective in making the image artistic. Because the rest of the image is surreal, the tree and it's darkness distracts. I might like to see the composition without the tree. &nbsp Posted: 07/31/2021 21:29:03
---
---
---