Charlie Yang
---
May 2023 - Solitary Blue heron in the Morning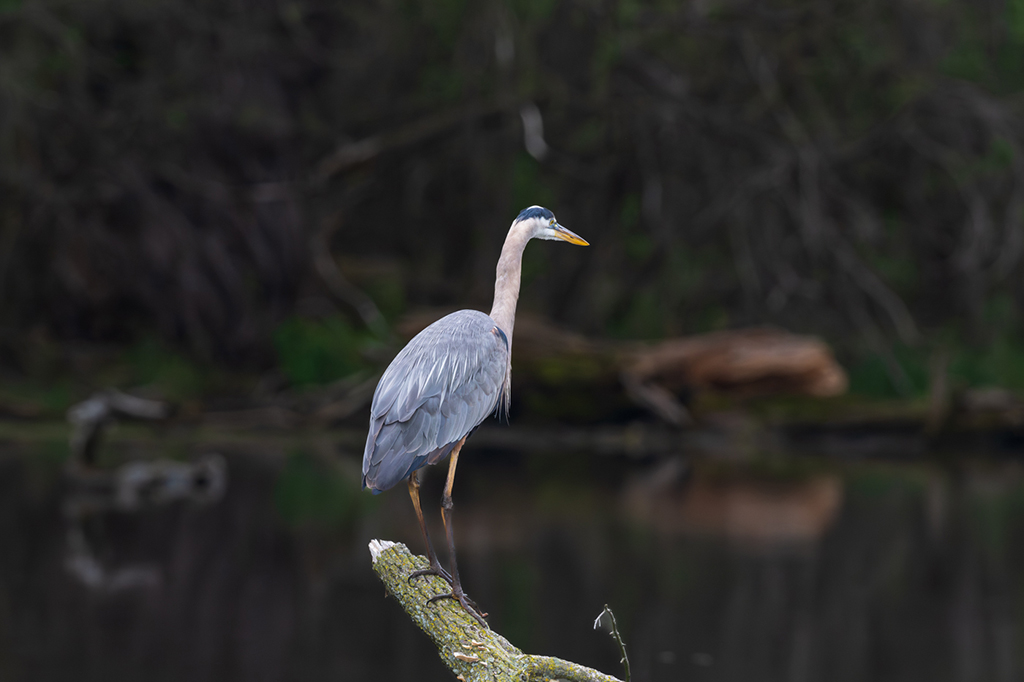 Original
About the Image(s)
Was doing my usual walk in the morning, checking spring flora, but surprise to see the great blue heron already back at its post.
Hand held, 500mm pf lens, A priority, f/8, 1/800, ISO 3200,
Post proc, Has to try the new LR Denoise, and compare with Topaz Denoise, minor tweak Shadow, light, then darken a bit of the background, crop, and flip the image horizontal, Not sure that's better or not. Let me know if you like GBH face right or face left?
---
7 comments posted
---
---
---
David Terao
Great blue herons are always exciting to find. They are so skittish, and it's difficult to get close to them. You captured this one perfectly with nice diffused lighting. Well, maybe her/his head could have been turned a little more towards the camera. I might suggest cropping the image to a square format and eliminate the empty space behind the bird. I don't have a strong preference whether the bird is facing left or right, but according to some, most Westerners prefer the bird looking from left to right. &nbsp Posted: 05/09/2023 17:27:55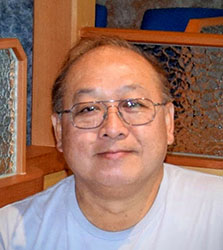 Charlie Yang
Thanks for the input, David & Cindy &nbsp Posted: 05/11/2023 22:28:49
---
---
---
Cindy Lynch
What a great capture! The birds shows up beautifully in contrast to the ark background. The only suggestion I have is to crop differently. Cropping in from the right, moves the bird off-center and on a crash point. I also added a vignette.I like the heron looking into the frame like this rather than out. &nbsp
Posted: 05/11/2023 20:48:16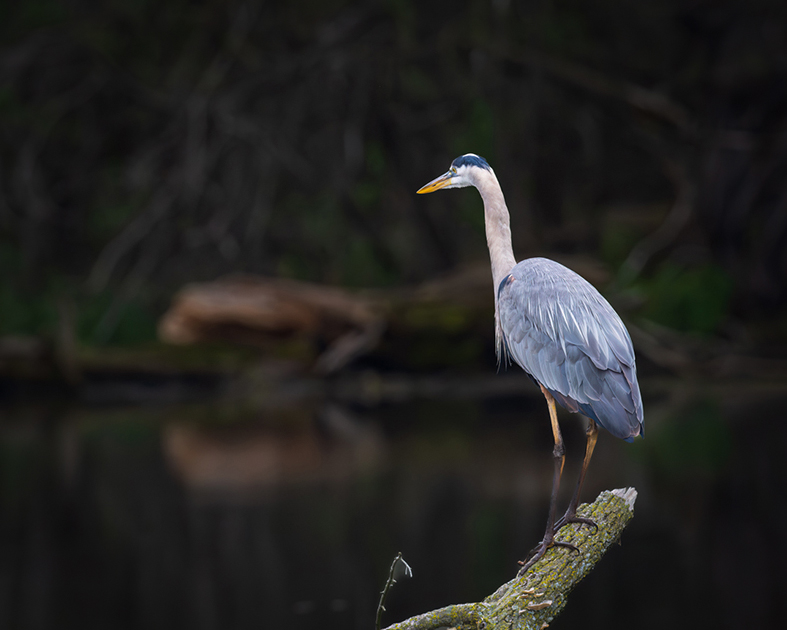 ---
---
---
Robert Knight
I agree with Cindy and also like her version but for me the dark background doesn't really need a vignette. In both images I think I would tone down slightly the brown object in the background just to concentrate more on the heron which is very sharp. &nbsp Posted: 05/15/2023 16:48:56
---
---
---
Ray Henrikson
Crop on the right to get bird out of the center, as Cindy has suggested. &nbsp Posted: 05/16/2023 15:47:24
---
---
---

Phyllis Peterson
Excellent image of the Heron. I agree with cropping out the right side. But I don't think it needs a vignette. I like the log that the bird is standing on to be as it is in the original. And I liked how you flipped the image to the left! &nbsp Posted: 05/29/2023 10:25:23
---
---
---
Bai Chuang Shyu
It is a great capture of the moment when the heron is attentively look at somewhere. I also fell that the Cindy's version is more appealing to me. &nbsp Posted: 05/30/2023 06:19:15
---
---
---
Please log in to post a comment