Charlie Yang
---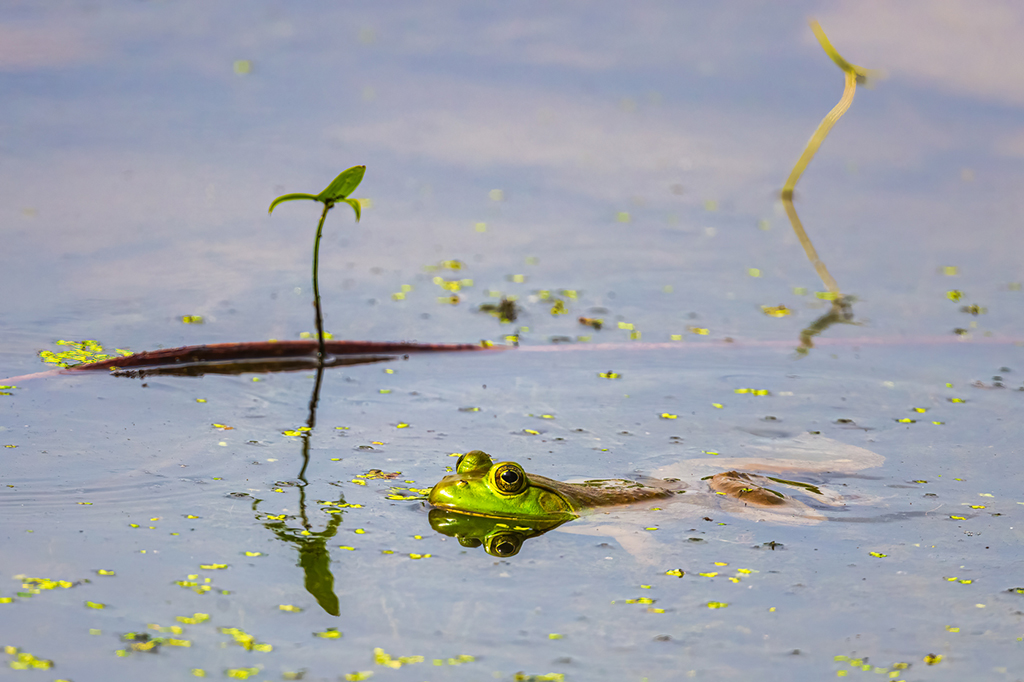 August 2022 - Frog
About the Image(s)
Early morning, went to see American Lotus, (http://www.illinoiswildflowers.info/wetland/plants/am_lotus.html), but didn't have good image, was windy,
then I notice duet frog chorus, wait and watch a while, finally see one of the two in the water, so I snap a few, this is one of them.

Nikon D850, 500mm pf, with ext TC 1.4, (@700mm), f/8, 1/1250s, ISO 360,

Post: LR crop, ran thru topaz deNoise AI, sharpen AI, then curved linear,

p.s. would be fun to capture both frog doing duet, but. may be next time..
---
6 comments posted
---
---
---
David Terao
It's too bad you weren't able to get a decent shot of lotuses. Those are such beautiful flowers. So, instead, you get a shot of an ugly bull frog. :-) It's probably a handsome bullfrog in bullfrog land. You captured the bullfrog nicely. The bullfrog and especially its eyes are sharp, but there is so much empty space. Maybe cropping the image leaving only the portion of the bullfrog above water and the plant on the left might help. I also found that the reflection of the left plant looks like a leaping frog. &nbsp
Posted: 08/01/2022 19:26:25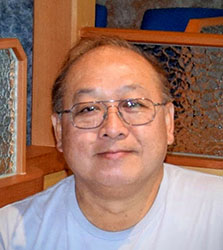 Charlie Yang
haha, I guess that ugly frog was first got processed, I can't help it, and I'd get that big lotus later, I'd check in once a week to see how they turn out, not big enough yet, on my last visit. &nbsp Posted: 08/07/2022 20:27:01
---
---
---
Robert Knight
I agree with David that there is too much empty space and I think his interpretation is an improvement because it emphasizes the bullfrog which is the obvious subject of the image. On my monitor the bullfrog looks to be a little over-sharpened. There is good contrast in the colours of the bullfrog and the surrounding water. The petals in the water add interest. &nbsp Posted: 08/04/2022 16:15:57
---
---
---
Ray Henrikson
I would crop top and right, more or less like David has done, although I would have left more of the hind-end of the frog in the image. &nbsp Posted: 08/11/2022 19:41:35
---
---
---
Cindy Lynch
Wonderful subject. I really like the image and feel you have handled it well. I agree with David's crop, but I also agree with Ray about seeing the whole back of the frog, however, by leaving that in the frame, you still have the back lighter stem on the right which I find a little distrating. If you are not using this for a nature competition you could maybe clone it out. &nbsp Posted: 08/13/2022 10:45:17
---
---
---

Phyllis Peterson
I like the frog. His eyes are sharp and they capture your attention. I agree that cropping on the top but I also agree that the back of the frog in the water should stay. Yes, and crop out the blurred stem. Wonderful image -- I love the colors! &nbsp Posted: 08/17/2022 13:34:58
---
---
---
Please log in to post a comment