Ray Henrikson
---
October 2021 - Early Morning Fog on the Lake
About the Image(s)
Photographed yesterday at my place on Loon Lake in the Adirondacks of
upstate New York. I used a Canon Elph 180 camera and just touched the
image with Picasa and added vignetting. What you see is what I saw. In
a short time the fog had burned off. The speck of color in the windsock
adds to the image.
---
4 comments posted
---
---
---
David Terao
I am always fascinated by how a scene is transformed into something ethereal by fog. You captured this scene beautifully - good composition and balance. The small patch of weeds in the water in the lower right corner adds a nice touch of balance to the negative space there. I might suggest cropping the bottom of the image (right where the pier changes form and texture). This will eliminate the distractions in that corner and of the grasses on the bottom, right side. It also might help to desaturate the greenish color of the pier, leaving only the red/blue colors of the windsock to attract one's eyes. &nbsp Posted: 10/02/2021 07:13:27
---
---
---
Cindy Lynch
I really like this moody photo. There is just enough detail to make it interesting. This is so well done. Other than agreeing with David's crop suggestion, I have no other suggestions. Very nice! &nbsp Posted: 10/04/2021 10:51:21
---
---
---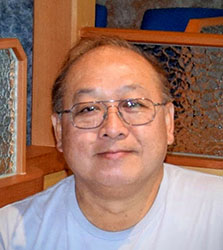 Charlie Yang
I like it very much, a bit of color in this fog scene, is really delightful. nicely done. &nbsp Posted: 10/15/2021 09:26:53
---
---
---

Phyllis Peterson
The muted colors of the fog bring out the colorful wind sock. There is so much mood created by the muted scene. I agree with David's suggestion to crop the bottom a bit. You captured the scene at just the right time...well done! &nbsp Posted: 10/19/2021 16:55:40
---
---
---
Please log in to post a comment