Phyllis Peterson
---
September 2021 - Zabriskie Point, Death Valley
About the Image(s)
This was taken early in the morning (6:23 AM) of February. It was one of those locations that I had always heard of
but had never seen and it was on the first morning my first trip to Death Valley. I know the scene has been
photographed many times but it was a scene I was happy to be able to photograph.
Camera Info: Nikon D810, Lens: 24-70mm at 62 mm. Aperture: f/8.0, Shutter: 0.8 sec, Iso 800. On Tripod.
---
4 comments posted
---
---
---
David Terao
You captured the beauty of Zabriskie Point beautifully! The early morning light really brings out the colors in a soft manner. I like the layers starting with the foreground ledge, then the jaggedy rock formation layers, and finally the hazy mountains and sky in the background. My only suggestion is to clone out that little post in the lower right corner. &nbsp Posted: 09/01/2021 13:37:49
---
---
---
Cindy Lynch
A lovely landscape with beautiful, subtle colors. Your depth of field is great and you have a nice use of foreground. Your focus and exposure are also good. I like this scene very much. I tried to give it a little more depth and contrast using Color Efex Tonal Contrast and Topaz Adjust to bring a little more drama to it. See what you think.
&nbsp
Posted: 09/02/2021 09:23:11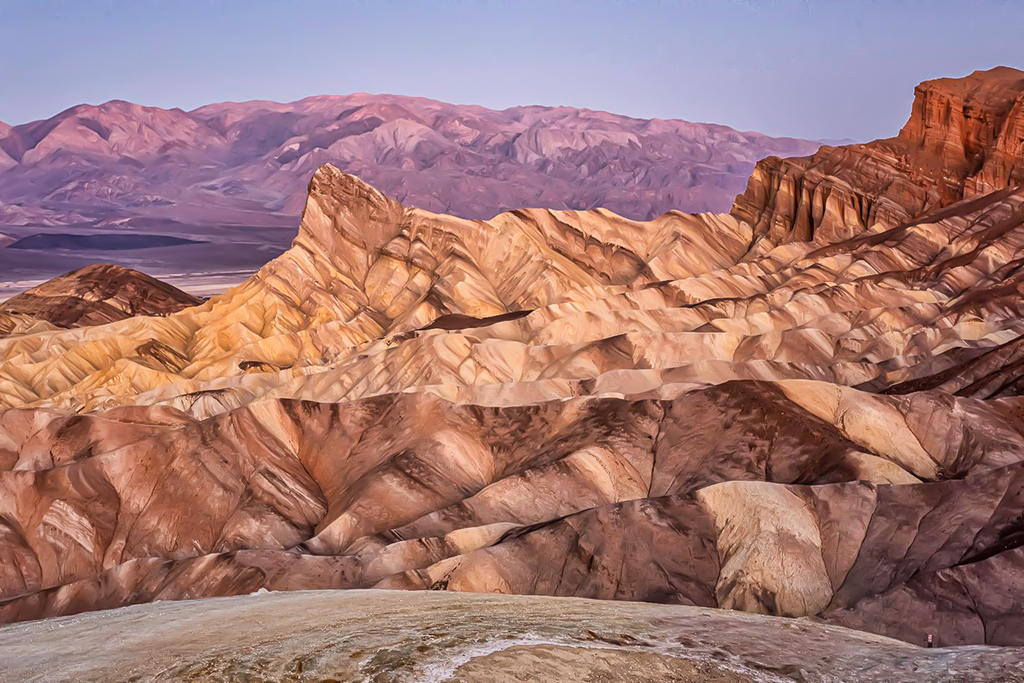 ---
---
---
Ray Henrikson
Had I been photographing this scene, I would had tried eliminating the foreground and background and concentrating on the mid-ground hills, then going to black and white. &nbsp Posted: 09/03/2021 22:18:39
---
---
---
Don MacKenzie
This is very nice Phyllis, wonderful colors and the very sharp edge of rock in the middle is perfect. Slanted diagonal lines add just enough tension. &nbsp Posted: 09/10/2021 09:55:43
---
---
---
Please log in to post a comment