Linda M Medine
---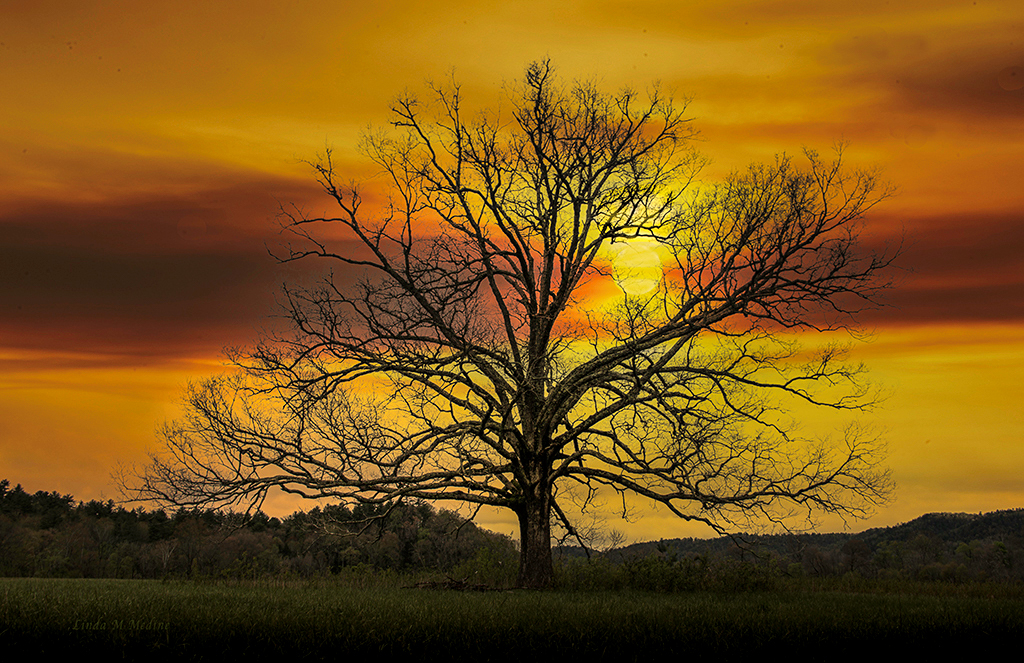 July 2021 - Untitled
About the Image(s)
This image was taken in Townsend, TN in April 2021 and the sunset was take in Holly Beach, Louisiana.
The tree was in Cades Cove. I used my Nikon D800 on a tripod, 1/6 sec, F25, ISO 100, 28-300mm Lens, at 35mm at a low
angle. It was in a field with tall grass. I used a sky replacement that I took in Holly Beach. I used a graduated filter on the grass
in the foreground. I have the two images to make up the one finish image.

---
This round's discussion is now closed!
4 comments posted
---
---
---
Bruce Michelotti
Great composite Linda. I really like how you have made the very interesting tree the star of your image. Even with the great sunset background the tree still speaks volumes. It is stately, old and interesting. Well captured. While I feel the round sun in the photo is just fine, I might suggest removing it to see if you like the image better without it. &nbsp Posted: 07/07/2021 18:09:56
---
---
---
Lane B Lewis
I love the tree and in my opinion, would eliminate the sun. For me, it distracts from the symmetry of it. The golden colors are lovely, perhaps, just lighten the shadows under the tree. Very nice. &nbsp Posted: 07/07/2021 19:47:02
---
---
---

Mark McKinney
This is an image with IMPACT. I love the colors! The detail is very good. Someday I hope I can work with layers like you do. Would not change a thing. &nbsp Posted: 07/08/2021 18:39:01
---
---
---
Leo Chow
Very beautiful image, good mood of sunset. I would suggest the sun be moved to a position away from the tree. &nbsp Posted: 07/09/2021 02:29:10
---
---
---