Henry Roberts
---
May 2023 - Floral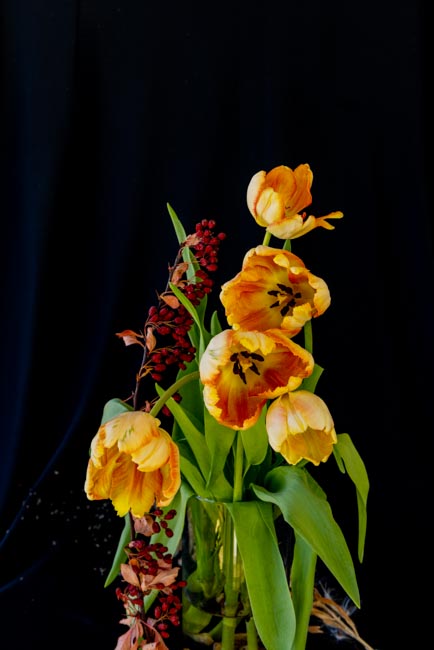 Original
About the Image(s)
Northern Minnesota still is blanketed in snow, so I purchased some cut tulips, put them in a vase and placed them on a black background where diffuse sunlight shown through a window. I put my camera on a tripod and took various raw and jpeg pictures, one of which is here. In Camera Raw I increased the exposure and contrast, decreased the highlights and whites, increased texture, clarity, dehaze, vibrance and saturation. In PS I selected and masked the flowers. I brought in a background layer of a stone wall taken in France and combined them.
What do you think and what would you do differently?
Equipment and settings: Canon R5, Canon 24-105 zoom lens, 50mm focal length, Really Right Stuff tripod, 1/8th second at f16, Iso 100.
---
6 comments posted
---
---
---
Andrew Hersom
Treatment is fine. Nice idea to get these flowers for a table top photograph. I think it is a pity you have cropped the leaves off at the bottom, and there is a lot of empty space at the top which isn't very interesting. Worth another go. &nbsp Posted: 05/13/2023 09:39:42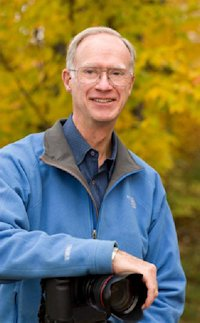 Henry Roberts
Good suggestions Andrew, especially cropping in on the top. As to cropping of the leaves on the bottom, I will in the future, make sure I don't crop out the bottom of a composition. &nbsp Posted: 05/22/2023 11:25:51
---
---
---
Catherine Honigsberg
I really like the idea of textured wall behind the flowers, but it is bright and takes my eye away from the flowers. It is almost competing. I might try to de saturate the color of the wall to still see the texture. This is really a great idea! &nbsp Posted: 05/22/2023 07:23:37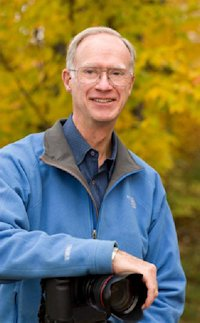 Henry Roberts
Catherine, you are correct, the light background is detracting from the flowers. I should have darkened down the background. &nbsp Posted: 05/22/2023 11:28:25
---
---
---
Jamie Carrier
At this time of year when snow still blankets the earth, my eyes yearn for color. Purchasing flowers is the perfect way to accomplish that! The background does compete with the flowers, but that can be played with. Nice! &nbsp Posted: 05/23/2023 14:19:25
---
---
---
Julie Deer
Hi Henry, I can't imagine what it would be like living in an area that is covered in snow for so much of the year. (I have been to snow covered Aareas, but only for a week at a time). What a good solution you found. Your flowers are very colourful and as others have said, unfortunately, so is the background. I like Catherine's idea of desaturating the background, leaving the texture. It would be interesting to see how that would look. &nbsp Posted: 05/24/2023 06:41:57
---
---
---
Please log in to post a comment