Alison McMahan
---
June 2021 - Mothers Day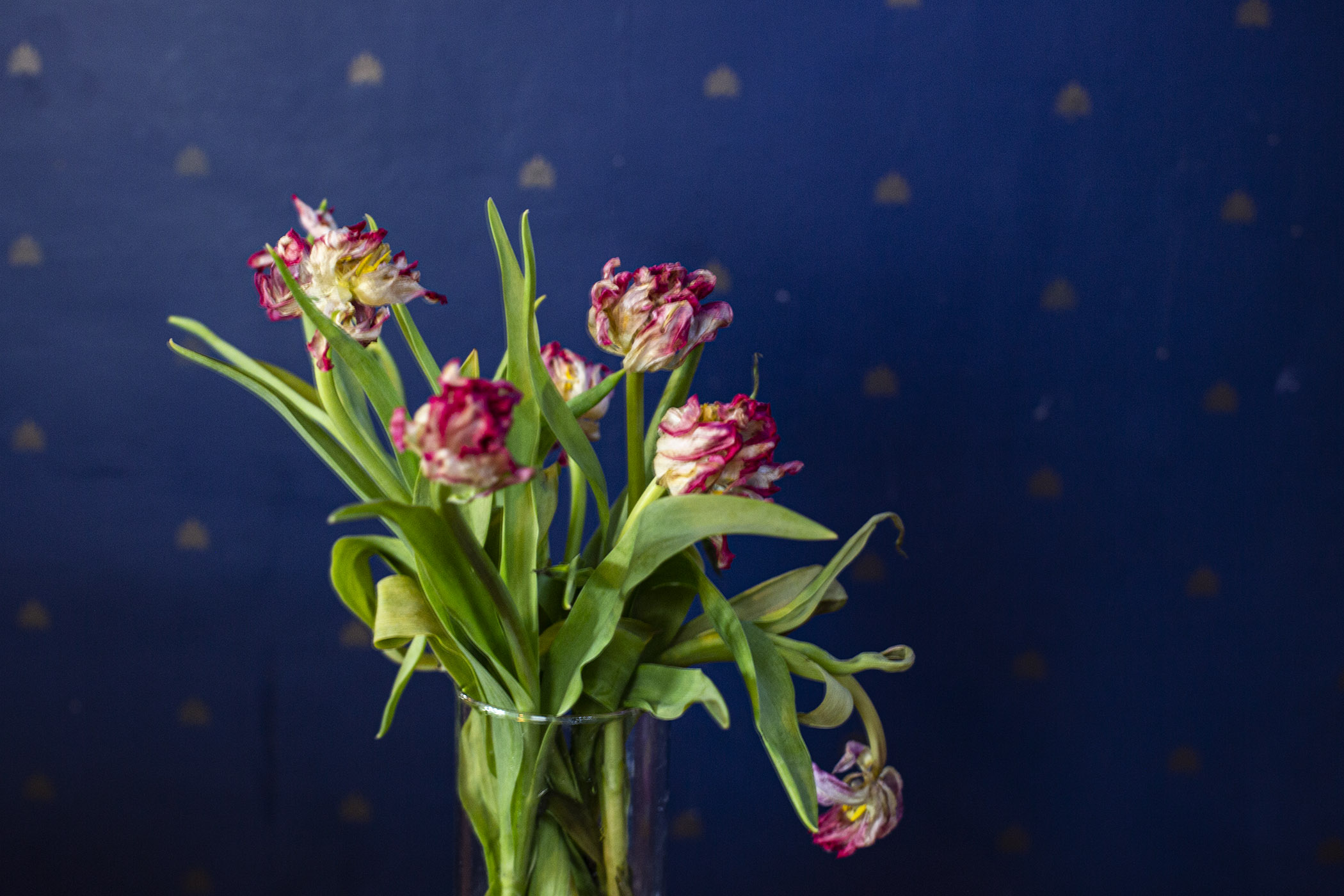 Original
About the Image(s)
This is the picture I wanted to send in May. My daughter gave me flowers, tulips, because I used to live in Holland, for Mother's Day. I enjoyed them for a week.
That same week I watched a live webinar tour of Impressionist Art by women in the National Gallery in DC. I also for the first time since the pandemic started went to a Museum, and saw a Monet exhibit in Boston.
One of my New Year photographic resolutions was to practice more "stealing" from other photographers (as Clyn Dewis defines it in his book Photograph Like a Thief, by which he means, create your own versions of other photographers ideas in order to learn from them).
But this time I was inspired to steal from these impressionists, this almost endless parade of flowers in vases against flowered wallpaper and still lifes with something that is past its prime. We have some wallpaper reminiscent of what they always seem to have in the background in those paintings, so I staged the flowers against that wall and took some pictures.

Then as you know I had this problem with getting pictures off my camera, a problem I've never had in the decade I've owned it. Finally I bought the right card reader on my second try and that works.
My second problem is that all the pictures I took are out of focus. (The more than 12 hours a day of screen time as I teach and study is taking its toll on my eyes.) I finally found one that was sort of acceptable and got as close as I could to what I envisioned. One never quite gets what one envisioned, but I think this does convey the feeling, the beauty and sadness of a child growing up and that phase of motherhood where you are everything to the child coming to an end. Apologies for the delay.
---
5 comments posted
---
---
---
Andrew Hersom
The positioning is great and just right. Exposure is fine. I don't know what happened in the camera, the metadata suggests it was taken using f4.5, 1/6s which really needs use of a tripod. Good idea, worth attempting again. &nbsp Posted: 06/15/2021 09:20:47
---
---
---
Anne Nettles
I like the crop you chose, though I would add 1/8" to the left margin so the top of the green leaf (top left corner) was not creating any tension on the edge. I would either add more impressionist style (painterly) or re-shoot on tripod to get a sharp exposure. I like the subject matter. More interesting as dead flowers than the usual photo of a "pretty" flower/vase. I like the lighting. Looks like the light was coming in a window. &nbsp Posted: 06/15/2021 13:09:51
---
---
---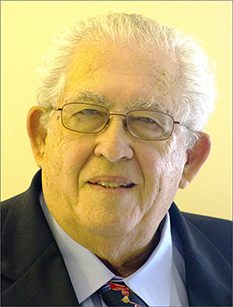 Stuart Caine

(Group 42)
I also liked the crop you made. about the sharpness, I agree it needs a little help. I took your image and put it through Topaz Sharpen Ai. I found with the black background you used, you couldn't tell where the picture ended. I added a 3px frame around the image and this is what I came up with. You did a good job. &nbsp
Posted: 06/16/2021 11:38:16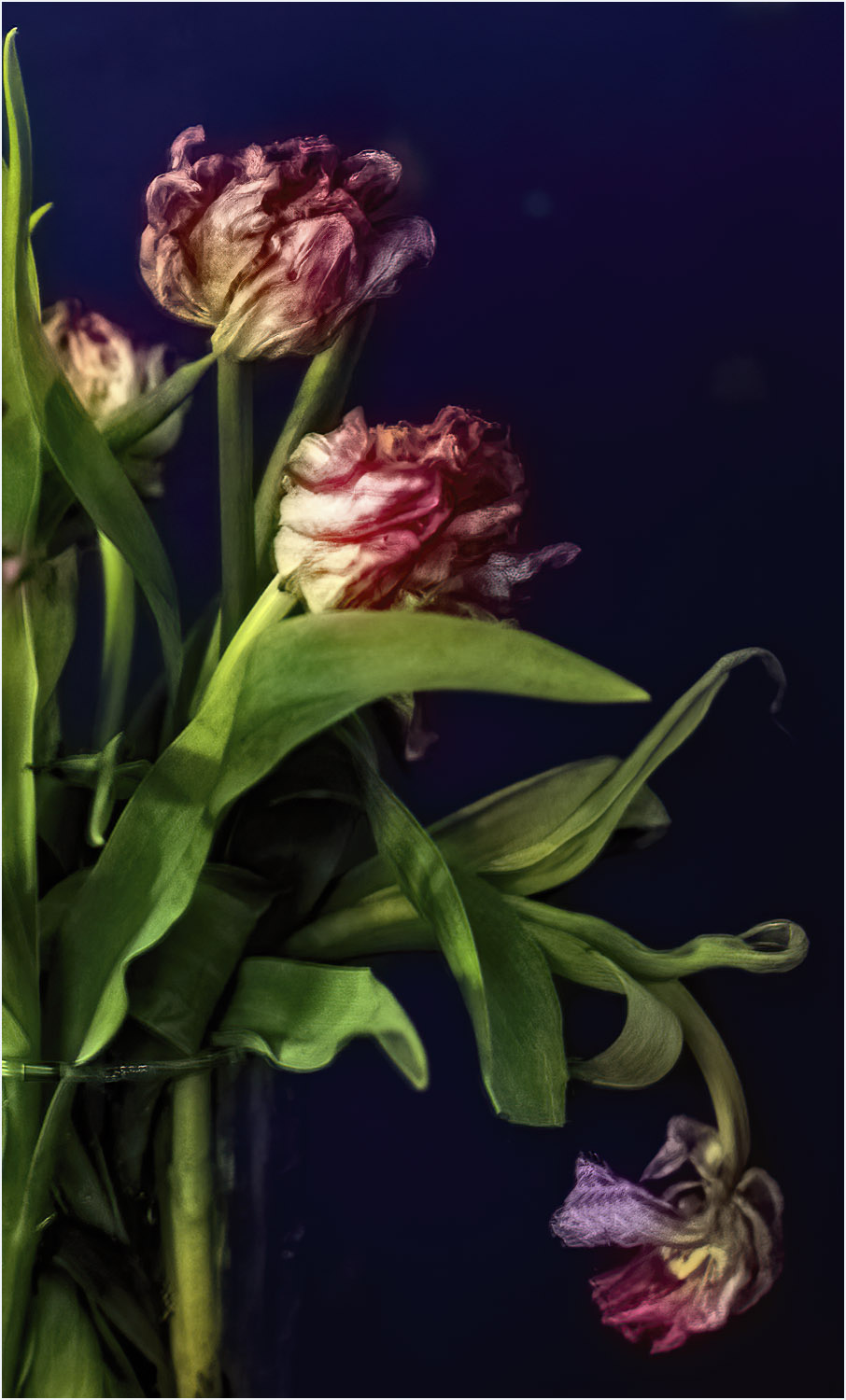 ---
---
---
Julie Deer
Hi Alison, You have shown us a very interesting image. I like the deep thoughts behind the image too. When I first saw the cropped image, I thought there were dust bunnies present, but soon realised that they were the dots on the wallpaper. I like the lighting here and agree that the leaf on the left needs a little more room. I do like that tulip at the bottom that is falling out of the vase. &nbsp Posted: 06/17/2021 02:14:28
---
---
---
Jamie Carrier
I looked at your image before reading your story behind it. Very interesting. One usually sees fresh flowers and my mind was trying to make them fresh. Then I read your comments. The black background really makes the flowers stand out. The composition is well done. I like the fact the vase is not whole. It adds to the thoughtfulness of the photo. &nbsp Posted: 06/17/2021 14:48:16
---
---
---
Please log in to post a comment