Vincent Cochain, EPSA
---
November 2023 - Jeanne
Original
About the Image(s)
Technical: 1/125, f/8,0, ISO 50 at 83 mm (FF) - 2 Flashes

Our club photo organized a studio 2 weeks ago. It was an opportunity, as I am not used of this kind of pictures. I discussed with the model (the president's niece) to explain what I wish. We have done some tests, and I was happy with this one. Directly taken in square format.

Treatment only in LR. Decrease the clarity, but I used 2 masks on the face with adjustments and one radial to decrease the light around the face.
---
This round's discussion is now closed!
7 comments posted
---
---
---
Jerry Hug
Vincent, I do like this image. Kind of a unique use of the woman's long straight hair covering 1/2 of her face. I also like the even skin tones on her face in the B/W version.
You could consider giving a little brightness in the upper top left side of her head. I the head kind of disappears in the image. Still, a very strong image. Thanks for sharing. Jerry
&nbsp Posted: 11/07/2023 10:23:56
---
---
---
Ken Wilkes
The hair covering one side of the face is a creative touch. The front lighting tends to flatten the face. I think placing the light at 45 degrees horizontally and/or vertically creates shadows that add depth, dimension and drama to the portrait. I feel this makes for more interesting portraits, but just my preference. &nbsp Posted: 11/12/2023 11:48:25
---
---
---
Kathryn Delany
Vincent love the pose and the concept. The black and white conversion works. I agree with the previous comments about the light on her face. There is room to give the face more depth. &nbsp Posted: 11/12/2023 19:18:29
---
---
---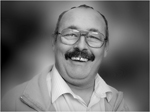 Paul Hoffman
I use to love doing this type of image with girls that had hair of the right style, you have capture her well but you lighting is flat.
One way is the 45 degree angle light, but the one I use to like was a light directly from the side of the hair and a reflector from the other side and then a spot light on the background to do separation.
But what can you do with this, well she is nice and you can relight it. I am only using a low res image but had a quick fiddle. &nbsp
Posted: 11/14/2023 07:18:06
Vincent Cochain
Thanks Paul for your comment.
The lightening is an important subject, not easy to master... &nbsp Posted: 11/15/2023 15:06:37
---
---
---
Fran Yates
I love the Creativity of the Portrait. The others have discussed the lighting changes they would make. I would like to see her hair on the top right and left lightened just a bit. Just to give a touch of more separation. Beautiful and Dramatic. &nbsp Posted: 11/15/2023 12:54:30
---
---
---
David Halgrimson
Wow, hard to not stare, the subject catches the eye and keeps it there. The catch light works, could be a little brighter. The eye looks sharp and the lashes and brow have good detail.

I think Pauls example is closer to giving the subject depth and still keeping the compelling look of the subject. &nbsp Posted: 11/15/2023 14:54:05
---
---
---