Ken Wilkes
---
May 2023 - Bryce Canyon Cloud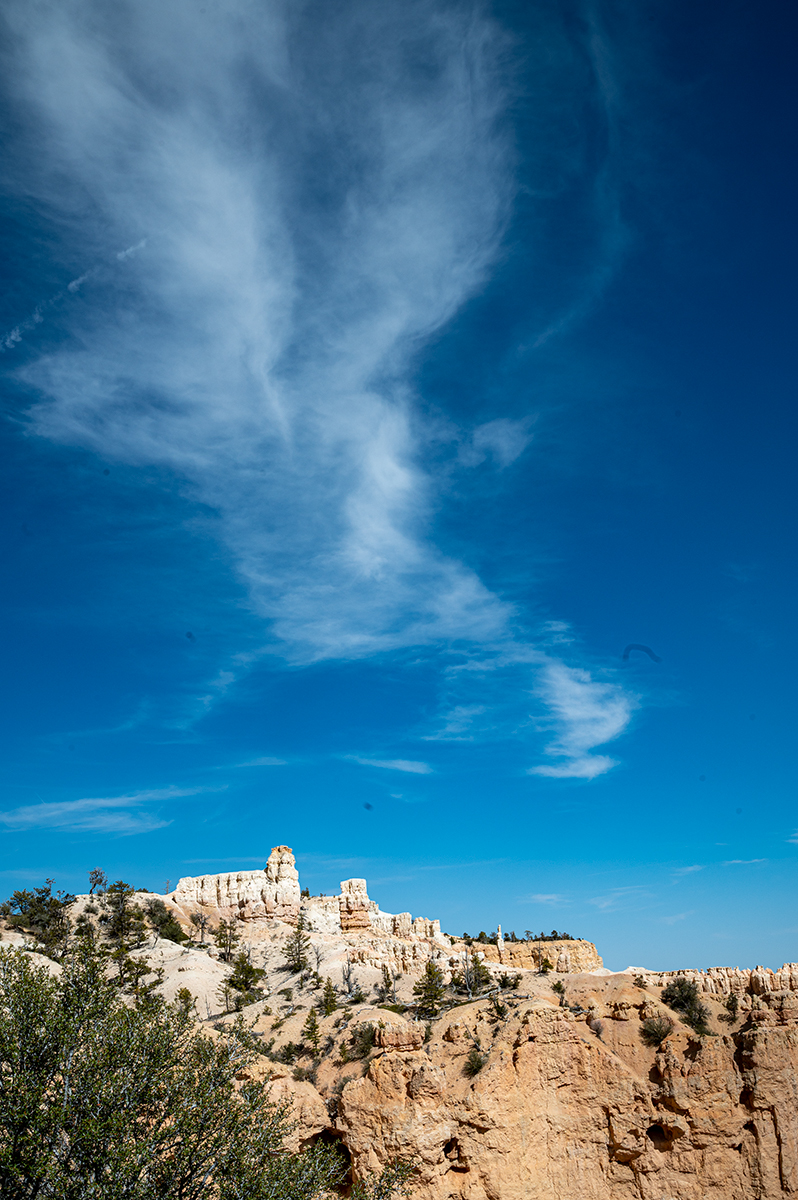 Original
About the Image(s)
Captured with Nikon Z6ii and Nikon 24-120 mm lens.

This was handheld at 1/200, f13, ISO 200 late afternoon. It was converted to B&W in Photoshop Camera Raw.

I liked the cloud formation and saw it as the primary subject in this image. I felt the simplicity in the image would make a compelling B&W.
---
7 comments posted
---
---
---
David Halgrimson
The clouds are great and work well in B&W. There is some good light on the cliffs that provided contrast and draws the eye some.

Couple things I might suggest, for next time, 1, if the clouds are the main subject, crop from the bottom to make the cliffs less prominent, and 2, compose more to the left to fill the frame with clouds and eliminate the open sky to the right and cropping of clouds on the left. &nbsp Posted: 05/09/2023 17:56:31
Ken Wilkes
I like and agree with your suggestions about cropping. Thank you! &nbsp Posted: 05/11/2023 09:20:06
---
---
---
Vincent Cochain
I really like the clouds. Good to have taken a picture.
I concur with the comments of David. With a composition more to the right, you could have a diagonal of the clouds.
You have dust on the sensor. Some spots on the color version, less in the B&W, but still present. &nbsp Posted: 05/10/2023 03:45:52
Ken Wilkes
Yes, I thought I had them removed in the B&W version. Guess I need to clean my sensor. &nbsp Posted: 05/11/2023 09:22:12
---
---
---
Jerry Hug
I like the image. Agree with Dave's suggestion. Crop off some of the bottom to give more emphasis to the clouds. I would also burn down the bottom of the image. That would also give more emphasis to the clouds.

Personally, I do not believe that there can be any B/W image that does not get some dodging and burning to help make the image more acceptable. Jerry &nbsp Posted: 05/10/2023 08:57:07
---
---
---
Kathryn Delany
Ken nice capture and the conversion is a good choice. I do like how you handled the foreground cliff by darkening it, although that puts the focus on the cliff tops vs the clouds. A crop up from the bottom would help shift the composition to being more about the sky/clouds and Vincent's suggestion to shift the crop in from the right so that the clouds provide a diagonal line would perhaps strengthen the image over all. What happens if you shift the sky to a darker tone, would that provide more drama? &nbsp Posted: 05/17/2023 11:54:07
---
---
---
Fran Yates
Again, agreeing with everyone to crop up and put more emphasis on the cloud. I would also like to see a bit more contrast between the sky and the clouds. Perhaps upping the Clarity might help. I love the rock formations at Bryce, but that is another subject. &nbsp Posted: 05/17/2023 15:37:07
---
---
---
Please log in to post a comment