Vincent Cochain, EPSA
---
May 2023 - Reflection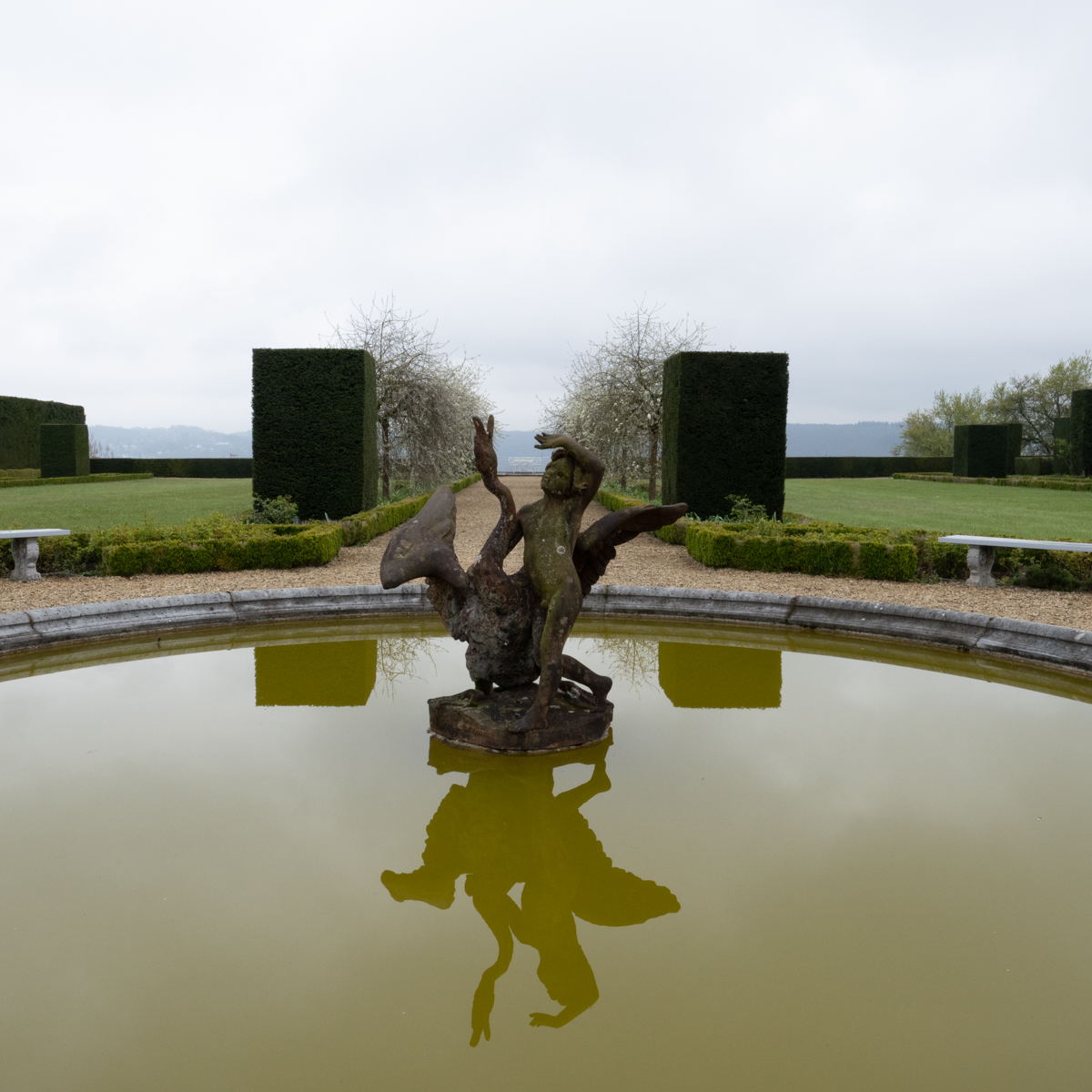 Original
About the Image(s)
Technical: 1/90, f/16, ISO 640 at 16 mm (FF)

I was in the garden of a castel. I like this perspective, the reflection and the symmetry. With the camera Sony a7R-IV it is possible to directly take the picture in the square format (also possible with other cameras, fi Nikon 850). This possibility is interesting as you think in a square format and you have a different view. The camera takes the picture in the format 3:2 but you only see the format 1:1. In LR you can have the format 3:2 back if you wish. Always useful….

Treatment only in LR. Decrease the highlight and the shadow. Increase the texture (+48) and the dehaze (+39). Some adjustments in the B&W (minus blue, yellow and green).
---
5 comments posted
---
---
---
David Halgrimson
The square format works well and creates good balance to the image. The path and trees in the background pull the eye as a vanishing line. I wonder if it were shot from higher or lower if the path would be a stronger element, not that it needs to be.

The reflection is sharp, however the rest of the elements appear out of focus. Focus is a peeve of mine, so I tend to see it maybe more than I should. &nbsp Posted: 05/01/2023 14:12:48
---
---
---
Jerry Hug
Vincent. The B/W really improved the image. The original seemed to have no clouds. The B/W also brought out more details. Not all images make a great B/W because there are not enough tonalities to make a difference. I think your attempt seems to work. A little dodge and burn may be an option? Jerry &nbsp Posted: 05/02/2023 08:56:37
---
---
---
Kathryn Delany
Vincent, I love square formats as a compositional tool. So this is a good start. That said I think this image is also about symmetry so a vertical composition cutting out the blocky trees on the left and right edges would focus the attention on the subject of statue, reflections and sky. Try bringing up the reflections in the pond more. It becomes a question of your story where do you want the viewer to focus. Right now the biggest area of contrast are the two blocky topiaries either side of the statue. The clouds could be more dramatic, though there is already a large amount of noise added from your processing of pulling the texture out of the somewhat blown clouds, so it may not be possible. The statue does seem a bit soft so maybe darken it more so it it more silhouetted? Great eye in seeing this composition. &nbsp Posted: 05/17/2023 11:59:05
---
---
---
Fran Yates
I like the square format as it lends to the symmetry of the reflection. I believe I can set my camera for square format and will try it.I am glad that you converted it to Black and White as the water in color is too murky and not pleasing. The sky looks a bit overworked and noisy. I would suggest trying a Graduated Neutral Density filter and a denoise program. Next to the reflections of the short pillars, there are branches reflected. I would try to remove them, as they are a distraction to the reflection. &nbsp Posted: 05/17/2023 15:32:28
---
---
---
Ken Wilkes
I, too, like the square crop and the symmetry in this image. I would try cropping in to eliminate the blocks on the far right and left to make it more symmetrical. Seems a bit strong on the contrast.. Would like to see more detail in the statue and blocks. &nbsp Posted: 05/19/2023 11:35:59
---
---
---
Please log in to post a comment