Larry Crook
---
January 2022 - Health Education"
About the Image(s)
This is an old image that I originally took with a point-and-shoot film camera on Black and White film - probably Ilford. At the time I was working with MSF - Doctors Without Borders - in Burma and it was not easy to get film.

I scanned the negative and adjusted the contrast and structure in SEP 2 a year ago. Because the students were not in focus I never used the image until last week when I tried to improve the focus using Topaz Sharpen AI. I am very impressed with the improved sharpness, especially in the eyes.

Your thoughts?
---
This round's discussion is now closed!
5 comments posted
---
---
---
David Halgrimson
A great catch with all the children reacting to ?? The sep tone works well for the subject. The lighting is very good coming from camera left and creating depth. They are a lively bunch which gives the image interest and impact.

You had an image from here in January 2020 but this one is much stronger.

I can't see anything to change.

&nbsp Posted: 01/13/2022 16:54:28
---
---
---
Jerry Hug
Outstanding image. The excitement of the children tells the story. You were spot on with the exposure and lighting.

I think you did a great job bringing the old negative back to life using your digital skills. All of us could probably find old negatives the have so much meaning in our lives.

Your technique of doing this is truly outstanding. Incrediable memories can now be shared again. Jerry &nbsp Posted: 01/15/2022 06:15:49
---
---
---
Steve Knight
What a terrific image. The hand gestures of the kids obviously following the lead of an unseen speaker and the one boy turned to his neighbor making him laugh-just a wonderful story. &nbsp Posted: 01/15/2022 23:59:19
---
---
---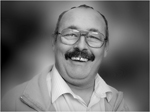 Paul Hoffman
We in the west look at this and would say what a poor standard of education they are having, but then you look at this image and you see all the happy faces and you have to ask who is having the poorer education as our children are not this happy.
Those three boys in the centre that standout make this image, but I do find the child bottom right a touch disturbing with the harsh defocus. But a great social image. &nbsp Posted: 01/16/2022 07:00:47
---
---
---
Vincent Cochain
A lot of information in this image: children are looking te something attractive or exciting (but we don't know what), we can see their daily condition (clothes, infrastructure, ...) at school.
We can't see such image anymore in our country... This is real live. Thanks to show it to us.
&nbsp Posted: 01/19/2022 08:27:01
---
---
---