David Halgrimson
---
October 2021 - Mushroom
Original
About the Image(s)
Had to lay flat on the ground on my belly to capture this beauty. I was after the gills and wanted to be sure they were well in focus. This mushroom was 5 - 6 inches 12 - 15 cm across the top. It took a lot of moving around and fiddling with the lens, manual aperture and focus, very difficult to see what the DOF and focus was while composing the shot. I think I would have liked a little more DOF for the mushroom but not the grass.

After some research, I think this is a Amanita Brunnescens mushroom, very poisonous and could kill anyone who eats it. It also throughs off spores, I was very close but fortunately it was not windy and I am still kicking. Won't be getting close anytime soon.

I used a Panasonic Lumix GX8 with a 35mm CCTV lens at f/1.7, ISO 200, handheld.

Processed in Lightroom, lowered the highlights and blacks, raised the shadows and whites and added texture and clarity. Converted to B&W in Silver Efex Pro 2 using preset #23 with some tweaking. Added the boarder in Silver Efex Pro 2.


---
3 comments posted
---
---
---
M. Arfan Asif
The image is quite experimentative. I believe you did want more DoF and it was not achieved. I do understand that at such close distance without a suitable macro lens there are going to be such challenges. The DoF is too shallow and limited for the mushroom. With an ISO 200 it is quite grainy probably due to the crop. &nbsp Posted: 10/02/2021 12:06:53
---
---
---
Jerry Hug
The gills are real sharp and that saves the image. The top of the mushroom is soft but you still see the shape. With the background so close, I do not have an issue with the DOF. Love the B/W image over the color. The color really distract from the subject. &nbsp Posted: 10/03/2021 09:27:42
---
---
---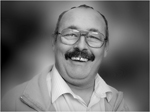 Paul Hoffman
With the black and white you have the added depth from the shadow and tones even though you don't have any depth on your image. From a distance your image looks like a mushroom and the focus comes into play the closer you get to it, but I am talking far away.
For me the big reason this does not work is the harsh brightness of the stalk of the mushroom. Good test and good to see. &nbsp Posted: 10/15/2021 06:58:51
---
---
---
Please log in to post a comment