Sylvia Bacon
---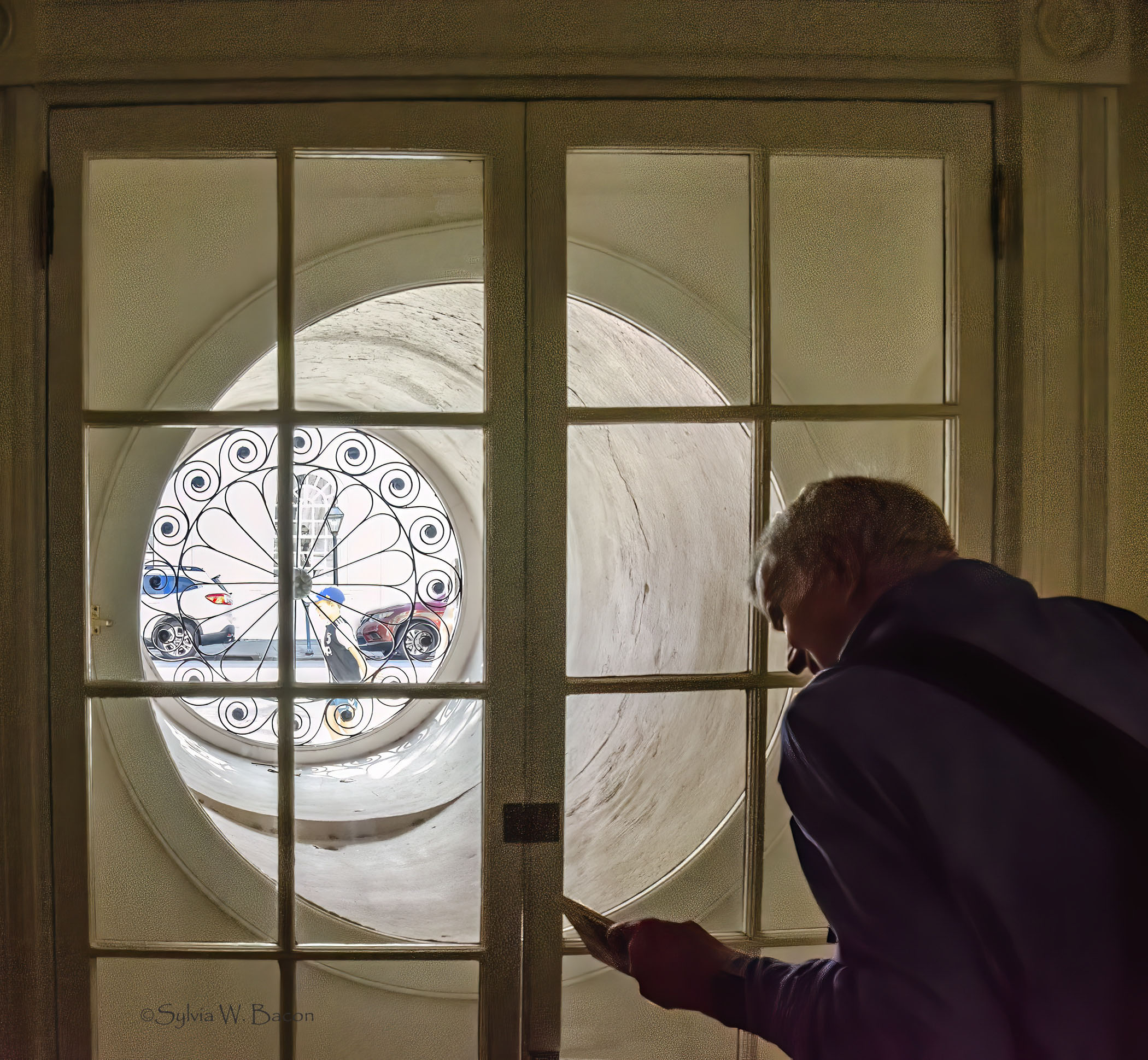 November 2023 - Provost Dungeon
Original
About the Image(s)
Recently our photography club went on a photo shoot in Charleston, SC, and this was taken in the hallway of the Old Exchange and Provost Dungeon. Note the iron work on the circular window, Charleston is well-known for the beautiful ironwork gates and ornaments throughout the city.



Nikon D7000, Nikon Lens 18.0 – 105.0 mm, Focal length 18.0 mm, f/8, ISO 6400, Exposure 1/640, Pattern metering, Shutter priority



Basic adjustments in Adobe Camera Raw, Topaz DeNoise AI, Photoshop Dodge and Burn, cropped. I would welcome any suggestions for a title and other thoughts. Wishing everyone and their family a wonderful Thanksgiving!!
---
This round's discussion is now closed!
13 comments posted
---
---
---
Regine Guillemin
Great job Sylvia, on getting this picture. A high contrast image not easy to capture but you managed it. You chose a great depth of field in order to get the foreground and background well focused. The composition is quite clever. 1st you seemed to have been very careful about positioning the central frame of the door away from the circular window, which pleases my eyes. 2nd All the concentric circles on the mid ground, act as leading lines and help my eyes to read the picture from the foreground to the background. At first sight, I saw an Eye. A great great composition and unique picture. Congrats!
Here is my title even though I am not really good at giving titles to my photographs. But yours inspires me . "Watch out! Big Eye is watching " . Very well done &nbsp
Posted: 11/08/2023 19:19:58
Art Jacoby
I like the BW. Maybe even more contrast. &nbsp Posted: 11/09/2023 21:00:23
Sylvia Bacon
Regine, thank you for your critique and sharing your thoughts. Getting this image took a little maneuvering and a bit of patience. There were 12 of us in this long narrow room at the front of the building and I literally had my back against the far wall and stood on tip toes to get the angle and positioning I wanted. I like your b&w edit, it gives the image another look. Cropping also adds to the overall picture and your interpretation is a little difference than Art's. Your version frames the scene and Art's version is even tighter, both of these ways is much better than my initial crop. Lastly, LOL on your suggested title! &nbsp Posted: 11/26/2023 07:51:42
---
---
---
Art Jacoby
Sylvia Bacon
Art, as always, thank you for suggesting another way to edit this picture. To me, your version and Regine's, draws the eyes more to the interesting circular window, the unique ironwork Charleston is known for plus the street scene. Whereas, the man could be ominous looking especially if one did not notice the paper in his hand! I really like your edit and seeing the small area of color, thank you! &nbsp Posted: 11/26/2023 08:05:04
---
---
---
Gabriele Dellanave
I must confess that I'm not familiar with the place but in any case, I like Art cropped image with the color version. Well done job, Sylvia. &nbsp Posted: 11/22/2023 05:50:37
Sylvia Bacon
Gabriele, thank you for sharing your thoughts, I am glad you like this image. As a side note, this building in Charleston, SC, was the site of South Carolina's ratification of the US Constitution in 1788 and during the American Revolution, British forces converted the bottom floor in to a military prison. Lots of history connected to it! &nbsp Posted: 11/26/2023 08:21:22
---
---
---
Marge Barham
Sylvia you did a great job creating this photo. I picture you rushing to get it before that man moves away. Without the man is a good shot but with the man its a whole new layer to the story. I love the wrought iron gate and the circles and the squares. Nicely done Sylvia. &nbsp Posted: 11/22/2023 14:11:16
Sylvia Bacon
LOL Marge, you are so right! I kept hoping the man would not move as I was moving around to get the shot. Luck was with me. Thank you! &nbsp Posted: 11/26/2023 08:24:56
Marge Barham
Sylvia there is lots of skill that went into this shot. It's not always luck. &nbsp Posted: 11/26/2023 19:11:01
Sylvia Bacon
Thank you, Marge, for such kind thoughts. &nbsp Posted: 11/26/2023 19:25:58
---
---
---
Sunandan Ghosh
From here to the open earth - depth of field is well established here with the shades of colour. The principal object, the human figure, is following the Rule of the third. A nice presentation by Sylvia. &nbsp Posted: 11/25/2023 14:26:10
---
---
---
Sylvia Bacon
Thank you, Sunandan, for your kind words! &nbsp Posted: 11/26/2023 08:25:57
---
---
---