Gabriele Dellanave, PPSA, BPSA
---
November 2023 - Parisians remaking the symbol of Paris
About the Image(s)
My image for November 2023 title: "Parisians remaking the symbol of Paris." Riding the city tour buses we run intros this image, and the bus was stopped a traffic light. I think that, sometimes, we cannot always go for the first prize, it is difficult and time consuming. A good laugh is worth a prize as well.
Camera Leica D-Lux with Summilux 2.8-34mm. Exp.:1/1.250; F f/5.6; Focal length 34mm; ISO 200.
Post production PS/LrC.
---
This round's discussion is now closed!
7 comments posted
---
---
---
Art Jacoby
---
---
---
Regine Guillemin
Great sense of humor Gabriele. And good eye! There was only one spot to get this view and you were at the right place at the right time!
I really like the superposition of the Art Deco lamp post with the Eiffel tower. I think the portrait crop enhances your subject. I chose a B&W version. what do you think? well done seeing this ephemeral image. &nbsp
Posted: 11/08/2023 19:40:59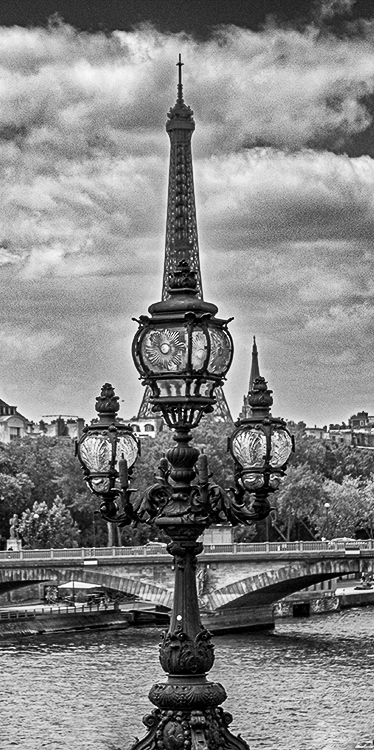 Art Jacoby
I like the BW better than the color. &nbsp Posted: 11/09/2023 20:50:08
---
---
---
Kurtis Sutley
I'm glad I took my time to comment. Initially, I was wondering why you would take a picture of a light pole. LMAO. Sometimes things just come together. My only suggestion might be to boost the saturation. I like the color portrait crop. &nbsp Posted: 11/10/2023 18:31:40
---
---
---
Sylvia Bacon
Gabriele, you were certainly in the right place at the right moment. I also prefer this in a portrait mode and like seeing the nice colors (Art's 1st edit), for me the colors add additional interest. You have a great eye and immediately saw what a great picture this could be and a good conversation piece!! &nbsp Posted: 11/19/2023 09:00:06
---
---
---
Gabriele Dellanave
Well, I must admit that this image even with the limitation of the subject, considering the whole image deserves a better life. Yes, is a good conversation piece, it deserves better bright colors and cropping, but a light pole....? is a bit reductive. Happy Thanksgiving my friends.




&nbsp Posted: 11/22/2023 02:20:40
---
---
---
Marge Barham
Timing and moving a tiny bit created a terrific thought provoking photo. I too had to look twice before I realized this had to be intentional. I do love Arts vertical colorful idea.
A very HAPPY THANKSGIVING TO YOU AND ALL. Yikes its almost 2024??? &nbsp Posted: 11/22/2023 13:51:20
---
---
---