Kurtis Sutley
---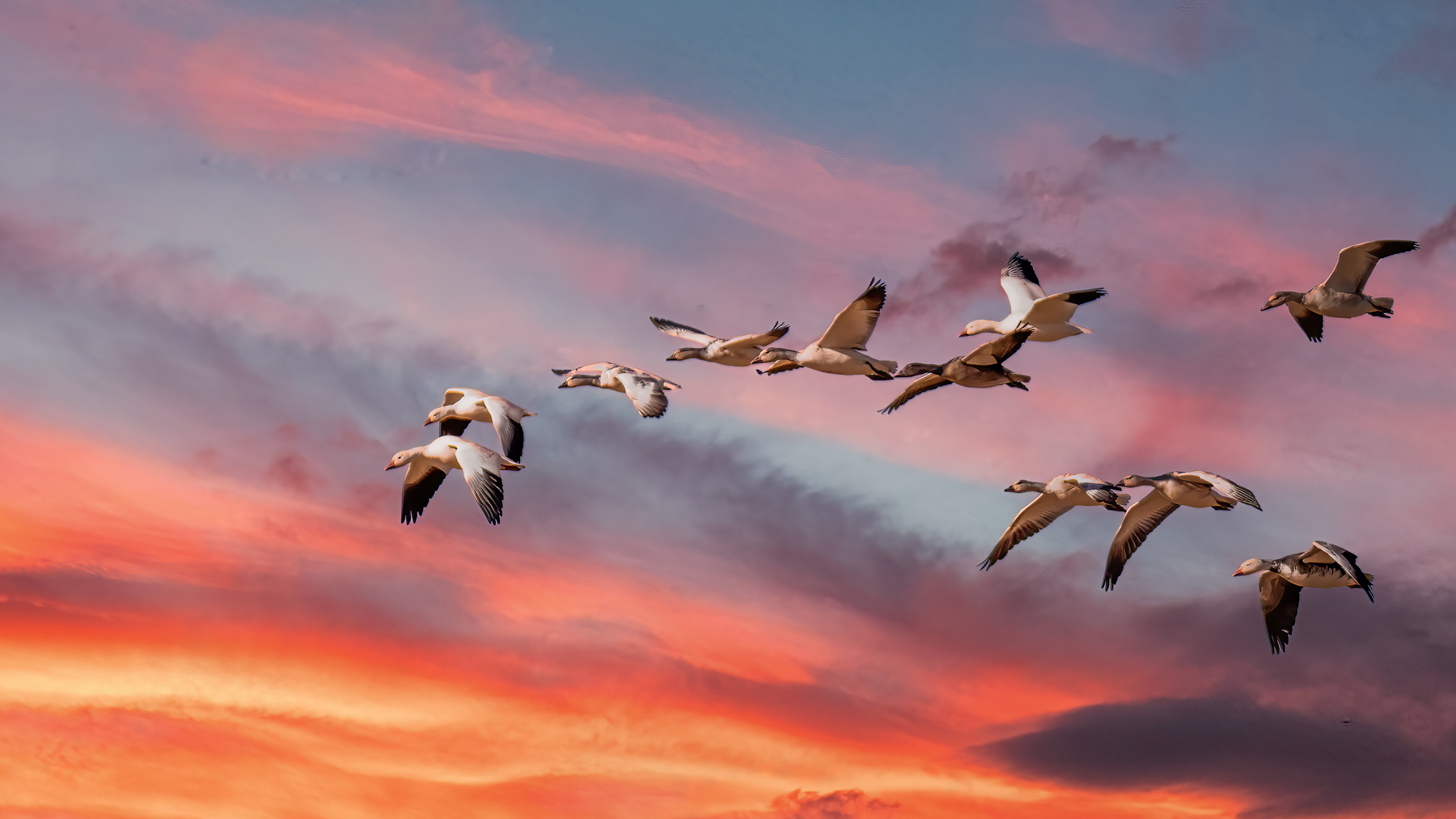 May 2022 - Evening return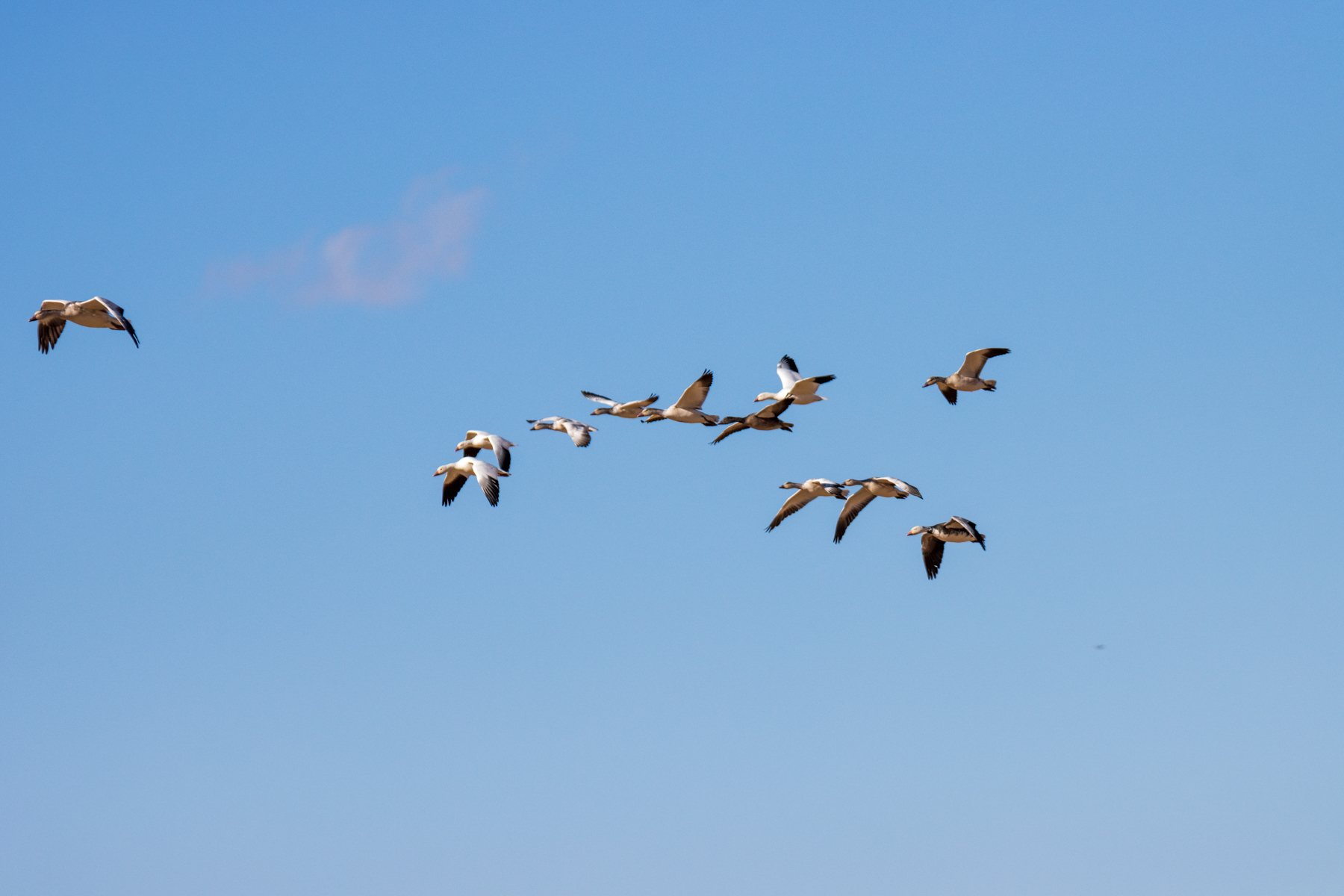 Original
About the Image(s)
This image was shot last Nov. at Bosque Del Apache in New Mexico. I used a
Canon 90D paired with a Tamron 150-600 DI Vc G2 @273mm. Settings were ISO
200, f/6.3 @ 1/2000sec. Process was basic tone adjustments in Lightroom
Classic with Landscape profile and Lens Correction. DeNoise and Sharpened
with Topaz software and added a more interesting sky using Luminar Neo.
Completed post processing back in Lightroom Classic with Contrast and
Presence adjustments and a final crop. I've done a little testing and have
found that when I crop doesn't seem to change the effectiveness of Topaz
Sharpen. If you crop first, it does affect time required to sharpen. I also
added a very slight vignette. If I'm going to use both Topaz Sharpen and
DeNoise, I do DeNoise first. Lightroom will not allow you to use either as a
plug-in without changing format to TIFF. Once it's a TIFF file it will
remain so until exporting from Lightroom. So, my workflow goes: Lightroom
RAW - Topaz DeNoise TIFF - Topaz Sharpen TIFF - Luminar AI/NEO TIFF -
Lightroom TIFF - Export JPEG. If I use Photoshop, it is also a TIFF file.

---
8 comments posted
---
---
---
Gabriele Dellanave
Kurt, I think that your image is a noteworthy image, but I'll be honest, I think needs more work to make a winner image. You went above e behind to improve the image. Composite image are interesting but we must be careful because both PSA and FIAP are forbidding composite images in some classes/divisions like Nature and Travel if I remember correctly. Your image shows a bit of red on the birds, and even most of jurors in photo competitions do not know the difference this image clearly shows that minor problem. The birds shows a strong action and are in good focus. Composition is good as well, and if you can add some of landscape in the lower background it would improve the story tremendously. &nbsp Posted: 05/01/2022 10:52:04
Kurtis Sutley
I completely agree. &nbsp Posted: 05/03/2022 07:33:52
---
---
---
Art Jacoby
I admire and appreciate how you have actualized your vision. I think it has great impact and communicates your experience of being in the Southwest. For me, the sky overwhelms the birds, which I think are the main subject. I toned down the sky, brightened the birds and cropped some from the top. I also flipped it. &nbsp
Posted: 05/02/2022 22:39:03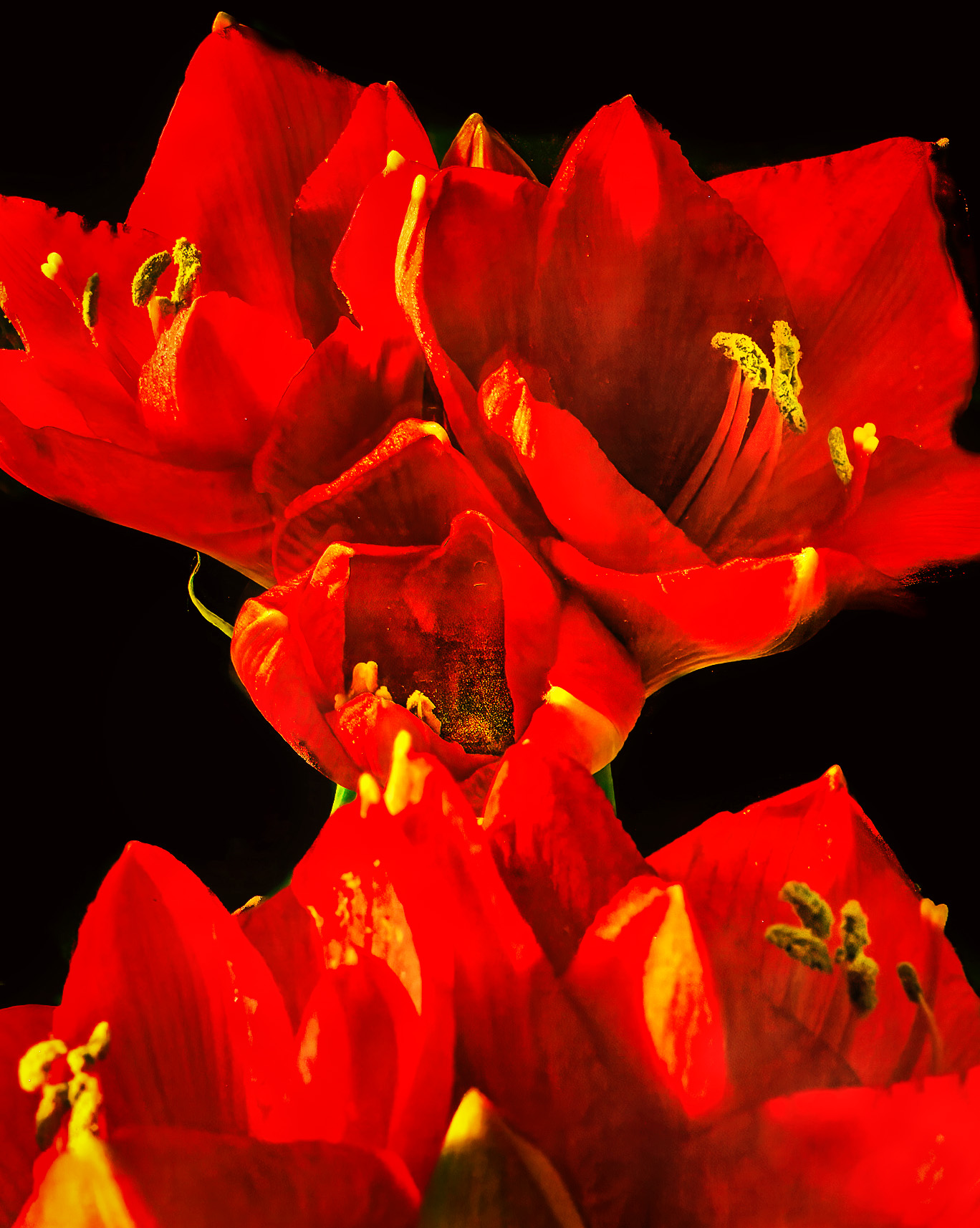 Kurtis Sutley
That will work too. &nbsp Posted: 05/03/2022 07:35:37
---
---
---
Sylvia Bacon
Kurtis, this is a great picture, the birds are in focus and their flight formation is interesting. Although, to me though, the sky colors are overwhelming and seems to dominate the picture. I decided to play around with your original to see what happens. Used PS/camera raw filter to brighten the birds. Then took it into PS to flip the image and then used the sky replacement filter to create the beautiful Southwest colors! &nbsp
Posted: 05/11/2022 11:32:11
---
---
---
Regine Guillemin
Kurtis i really love your final image . We just came back from New Mexico and fall in love with the light, the architecture and more . ...I think it is a very successful composition. Very compelling . Flipping the image , in this case is a good idea as well. I am even impressed on how you were able to match the light on the birds .It is always tricky to substitute a sky but to me it is very successful. I have no more to add to improve this picture . I would definitely print this picture . Congrats!!!! Also mentioning your workflow was really appreciated. Thank you &nbsp Posted: 05/16/2022 17:56:59
---
---
---
Kurtis Sutley
I printed it on metal and it's on my office wall. Thanks for noticing the sky tint on the wings. &nbsp Posted: 05/18/2022 20:24:02
---
---
---
Marge Barham
Kurtis, you lost me way in the beginning of your editing, but Kudos to you to keep going until you came up with exactly what you were looking for. I think you did a beautiful job and glad that it's on your wall. Well done.
&nbsp Posted: 05/24/2022 19:06:26
---
---
---
Please log in to post a comment