Marge Barham
---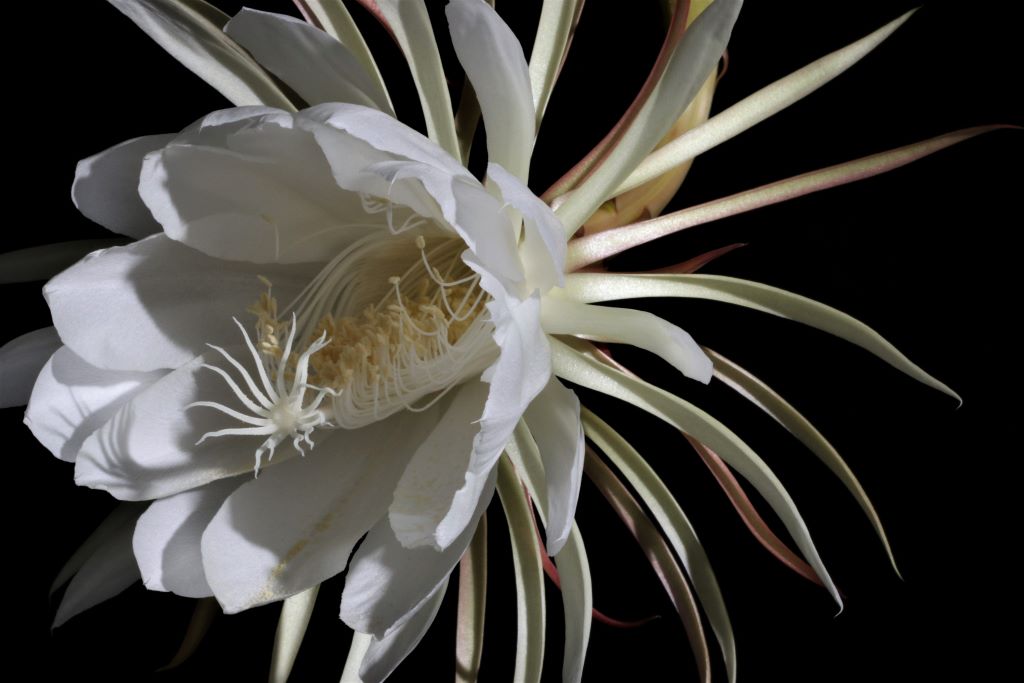 September 2021 - Just once a year, just one night.....
About the Image(s)

A friend gave me a very weird looking cutting from a very special plant and for several years it hung in a basket, from a tree, on the side of my house. Several years of waiting and last year all of a sudden there was a bud. It was really very small and very tight so I never thought it would bloom that night. But sure enough, the next morning it had indeed bloomed and was now drooped over dying. Gone!

Well, this week, I got another opportunity. Last Saturday I noticed not one but two small buds on the plant. I removed the entire plant from the tree and placed it in my screened patio, so not even the horrible mosquitoes were going to stop me from getting a shot. I was determined to photograph the Night-blooming cereus this time for sure.

I set up my camera. I set up the plant hanging over my pool towel stand with the buds hanging down just perfectly. And I watched it, and watched it, and watched it. Four days had passed before I noticed a change in one bud and I knew immediately tonight was the night. I was ready. Waiting and watching the bud opening very slowly. The just around 12 midnight it was in its full glory. And, in the morning wilted and dying. All that waiting for a one night show. But this time, I had a second bud that was showing promise it was ready to open too. Once again I watched while the bud slowly opened to full and beautiful bloom. In the morning it was all over. Two glorious night-blooming cereus blooms after so many years of waiting. Can't wait till the next bud shows up.

Night-blooming cereus is the common name referring to a large number of flowering ceroid cacti that bloom at night. The flowers are short lived, and some of these species, such as Selenicereus grandiflorus, bloom only once a year, for a single night. Other names for one or more cacti with this habit are princess of the night, Honolulu queen, Christ in the manger and queen of the night.

My camera was Canon 80D, with Canon 100mm Macro lens and settings were 1/250 sec, f 22 and IOS 400. I used a flash to create the black background.

---
6 comments posted
---
---
---
Art Jacoby
Marge Barham
Thank you Art. I am already waiting for next year. You did exactly what I wanted to do but lack your skills. You took it from a beautiful capture to a real stunner. Thank you. &nbsp Posted: 09/21/2021 18:48:08
---
---
---
Kurtis Sutley
I like what you did with the black background. I like how the thin petals draw my eyes to the main bloom. I think you have once again validated the value of (1) patience and (2) knowing your subject. I'm with Art in that I think the center of the flower needed a little lightening. Other than that, congratulations on your patience. Very nice image. &nbsp Posted: 09/08/2021 14:43:03
Marge Barham
Thank you Kurtis. I certainly agree. It needed Art's special touch. &nbsp Posted: 09/21/2021 18:49:48
---
---
---
Barbara Kuebler

(Group 12)
Really beautiful, Marge! Well worth waiting for! &nbsp Posted: 09/16/2021 11:05:31
Marge Barham
Thank you Barbara. Art's touch makes it POP! &nbsp Posted: 09/21/2021 18:51:22
---
---
---
Please log in to post a comment