Regine Guillemin
---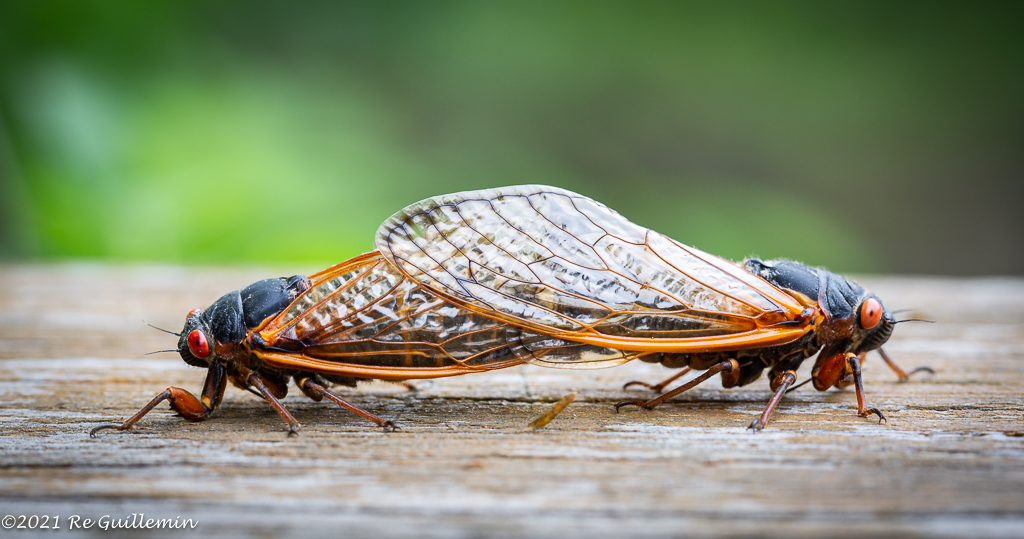 June 2021 - The Mating
About the Image(s)
I have started to document this phenomenon that occurs every 17 years on The East Coast of the USA. The invasion of trillions of the Brood X Cicadas. this emergence offers Hope , it is an indication that the Forests are healthy enough to function.
I remember witnessing this phenomenom in 2004 but I wasn't a photographer at that time . I became fascinated ,after recording a video with my I phone , watching the birth of one cicada on the bark of our Cherry Tree. Absolutely amazing !!!! then i decided to take my camera and capture different steps of their life after having spent 17 years in the ground ….discovering these creatures on my computer was quite an experience …
Among hundred of pictures taken , I have picked this one up to share with you. "The mating"
I used the tripod with a 100mm macro Lens . So I could use a greater depth of field F/8 with a slower shutter speed. But I am always unsatisfied with the sharpness of my pictures . Here I used Spot metering and my focus point was centered on the wings. I was expecting get their eyes sharper. Any thoughts about how to get a sharper image ( wings and eyes) ? I thought the choice of F/8 was a good choice .. I am not sure to understand the relation of the distance between the camera and the subject….thank you
Settings : ISO 200 !00mm F8 1/13 sec Canon Mark III & 100mm Macro Lens on Tripod.

---
1 comment posted
---
---
---
Art Jacoby
Kudos to you for the project and this great capture. For me, the symmetry is the hook that takes the image to another level. You could try f/11 since one the legs is soft. You could also use exposure compensation to tone down the highlights on one of the wings. I used Nik Viveza to bring out more detail and tone down the highlights. I also cropped, burned in some of the background, added a vignette, sharpened the leg with the sharpen tool and used the dodge tool to brighten the eyes, &nbsp
Posted: 06/06/2021 22:39:37
---
---
---
Please log in to post a comment