Gabriele Dellanave, PPSA, BPSA
---
May 2021 - Pixels City
About the Image(s)
This image is a creation stemming from a Macro of a cell phone circuit. In this long days of inn and out lockdowns I'm trying to waste as much time as I can with my camera toys. This is an image of a cell phone circuit. It is a single shot elaborated in Photo Shop, then Color Efex2, Viveza, and Dfine last touch. I used my Lumix G9 camera on a tripod, a Neewer 24x24 inch/60x60 cm Photo Studio Shooting Tent Light Cube Diffusion Soft Box, a Macro lens Olympus 60mm/2,8mm. A lot of time and thousand shots. Just if you like to try. If you really care this the EXIF: shutter speed 1/100; focal 60mm; f/2.9; ISO auto set to a max of 3200 ISO.
---
5 comments posted
---
---
---
Art Jacoby
Well seen and executed. You have taken something that everyone takes for granted and ignores and created something original, kudos. I, of course, pushed it even further and used an S curve, gave it a portrait orientation and flipped it horizontally. I do think the added contrast adds another dimension but I like your original. &nbsp
Posted: 05/02/2021 22:27:16
Gabriele Dellanave
Indeed Art, I too like better my copy. First I do not like the vertical solution. I think that this exercises in creativity are good, it let you explore the medium in more different ways, especially it times of pandemia, but I think also, that you can push the creativity at point, one step further you wasted your time. But it still fun to do that. &nbsp Posted: 05/03/2021 16:30:26
---
---
---
Kurtis Sutley
What a marvelous visual meal for the eyes. I really like the flow and complex color patterns that compliment the texture. I'm envious of the imagination needed and the creativity of composition. It's a gift. I love how the spiral seems to fling the texture away from the implied central singularity. Well done. &nbsp Posted: 05/04/2021 21:44:11
---
---
---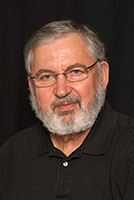 Isaac Vaisman M.D.

(Groups 4 & 58 & 72)
Gabriele, very cool and original says it all. &nbsp Posted: 05/10/2021 10:18:29
---
---
---
Regine Guillemin
Very interesting abstract picture .Great creativity here ... Thank you for sharing. &nbsp Posted: 05/10/2021 16:39:20
---
---
---
Please log in to post a comment