Peter Cheung
---
November 2023 - Prayers
About the Image(s)
This photo was taken few years ago in a temple in Taipei. I forgot the name of the temple but it is big Taoism temple with lot of people praying sincerely. The gathering of people praying in the Taoism temple conveys a sense of reverence and harmony. I used Nikon D800, Nikon 24-70mm, f/5.6, 1/60 sec, ISO-800, 24mm to take a shot of the moment. In post-processing I cropped the picture a little bit and adjusted the highlight and shadow.
---
This round's discussion is now closed!
3 comments posted
---
---
---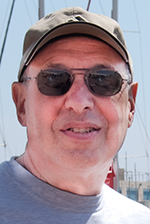 Howard Frank
Peter, Great color and good detail with an interesting perspective. The only suggestion I would make is to darken the upper left corner where the view is outside the temple. &nbsp Posted: 11/18/2023 14:52:20
---
---
---
Bob Scott
Very good shot in terms of story and interesting mixtures of color and texture. I would clone out some shoe tips on the lower left.
I tried the darkening Howard suggested, but the upper left seems blown out and didn't darken so I decided to crop stout.
I cropped down to eliminate most of the light areas on the wood on the upper right. . I don't think you need so much of the reddish-brown ceiling on the upper left. Be nice if you can figure out how to create a toe tip for the boy with the light greenshirt in the for ground and put a little space beneath him. I also cloned the lower right corner to not have a slice of different color and matched the surrounding wood.
I did not try creating that toe tip. Sounds like a lot of work. &nbsp
Posted: 11/22/2023 12:24:41
---
---
---
Ricarda Dudek
Peter: Any photo with children always tugs at my heart and this one is no different.
The colors are outstanding and the photo certainly does tell a story. I agree about the suggestions given by Howard and Bob. My only question is: What is a crop stout? The toe tip would be nice, but what bothers me more is the white (ghost image, fog?) that is in the photo between the pillars and the temple wall. Love the background information you included in your explanation of the photo. &nbsp Posted: 11/27/2023 13:36:02
---
---
---