Lee Ann Stamm
---
September 2023 - Infinity
Original
About the Image(s)
Before I get to my description, I'd like to thank everyone for comments of the past. I went back to my beginning with this group and copied all your helpful comments regarding images I'd like to use in shows or exhibits. I will periodically be using those comments to make those images better. Thank you for all the great feedback.
My husband, Tim and I are off to Ireland the first couple weeks of September. It's the first time we have travelled overseas. We are so excited. Hope I can bring back some great images for your critiques.

I have had a love-hate relationship with this image. I will see it on the computer and love it. I print it, with the coloring staying the same, but I hate it. On the computer, I see a ship going into and coming from infinity with its passengers. This was taken off shore at Burlington Harbor Marina in Burlington, Vermont, and the fog in the background eliminated most of the opposite shore-line. It seemed to me that it came out of nowhere. However, then I think that a ship in the middle of the ocean may have the same feeling. I'm truly conflicted as to whether to keep it or toss it. Help me make a decision, and if I should keep it, what changes should I make?

Taken with my Sony ILCE-7rM4 with a 24-105 mm at a local length of 70 mm. Settings were 1/3200, f11, ISO 5000, Manual. After looking at these settings, I feel that they must have been set for something else. I'm confused all the way around.



---
4 comments posted
---
---
---
Ian Chantler

(Groups 4 & 31)
Hi Lee Ann
It works for me I find it tranquil,peaceful and calmimg,the seagull is the final piece I think without the seagull it would be slightly unbalanced very minamalistic and I for one say keep it it is wonderful. &nbsp Posted: 09/13/2023 15:34:41
---
---
---
Peter Curcio
I like the image as it drew me on first glance. Having been in many photo competitions I believe that is what a good image is supposed to do (draw you in). There is a lot of negative space which adds to the image. I can also see your love/hate relationship with the photo. &nbsp Posted: 09/20/2023 13:13:52
---
---
---
Ricarda Dudek
Lee Ann: Love how you include the original photo along with a detailed explanation of what you did to get the end result as we see it.

I, personally, love the solitude of the ship, the seagull, and the island. They are all individual entities that mirror aspects of ocean life. And yet, somehow they all join together to compliment each other to create an ocean scene of serenity. The fog definitely makes the image. It projects an ethereal presence that instinctively draws the viewer in to the photo.

If you decide to keep the image, my suggestion is to bring the seagull down a bit (I noticed you did bring him over more to the left). Then, I would adjust the cropping accordingly.

Hope you are having a wonderful time as you venture throughout Ireland!

&nbsp Posted: 09/20/2023 18:36:30
---
---
---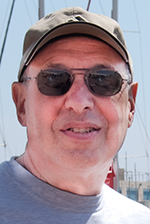 Howard Frank
This image really exemplifies the thought of infinity. I like the idea, but, I think everything is a bit too small. You could bring the bird and the island in closer to the boat and crop in a little closer and still retain the feeling you are going for. &nbsp Posted: 09/24/2023 09:51:59
---
---
---
Please log in to post a comment